The Galapagos Islands are one of the most amazing destinations for luxury travel. During your cruise you will not only be able to enjoy its breathtaking landscapes and have close encounters with its endemic wildlife you will also enjoy a great variety of activities on board a luxury cruise. The advantages of cruising on board a luxury yacht are many, from having a dedicated staff that will take care of everything while you cruise the islands to having your own marbled bathtub in your suite.
Clear your mind surrounded by unique landscapes
Take some time for yourself and practice your warrior pose on the deck of a luxury cruise. Knowing the importance of fitness for the mind and the body, many vessels in Galapagos provide spaces for yoga or meditation. There's nothing like clearing your mind while surrounded by the otherworldly beauty of the Enchanted Islands.
Take a relaxing bubble bath in your private tub
After a long day of hiking through trails that take you through blue-footed booby nesting sites, snorkeling with colorful fish and kayaking around stark cliffs, you can relax and unwind with a bubble bath in your private tub. Some boats have marble tubs in each of the cabins, and the suites have two if you don't feel like sharing. A perfect opportunity for some self-care during your Galapagos vacation.
Indulge yourself and try new flavors
We know that cuisine is an integral part of the luxury experience. There is nothing better than enjoying some of the freshest seafood you will taste in your life, prepared on the grill of your luxury yacht. This outdoor experience will let you experiment with new flavors that combine the best of international gourmet food with traditional Ecuadorian cuisine. All while enjoying bespoke cocktails on the deck.
Stargaze in the middle of the ocean
Away from the light pollution, you can enjoy magnificent views of the night sky from the sundeck of your luxury yacht. Since Ecuador is located on the equatorial line, you have the unique opportunity to see constellations from both the northern and southern hemisphere at the same time. The crew of your cruise will make sure that you're nice and cozy while you're stargazing with hot cocoa to keep you warm on the breezy Galapagos nights.
Enjoy a unique romantic moment in the Jacuzzi
Romance is in the air in the Galapagos. Enjoy some quality time with your significant other in your luxury cruises' Jacuzzi. The crew will provide the champagne, the islands provide the ambiance. Details such as this are what makes the Galapagos the perfect destination for honeymooners or if you just want to celebrate love in one of the most beautiful places on Earth.
Swim with playful sea lions
Only in the Galapagos will you have the opportunity to witness some of the most adorable creatures on earth perform their aquatic acrobatics from only a few feet away. The islands are known for the various species of sea lions that roam the shore. But don't think you'll only meet them on land. There is a very good chance that sea lions will swim right next to you while you're snorkeling. It's truly awe-inspiring to get a chance to spend some time with these friendly and majestic creatures. Don't forget your camera for some close-up snapshots!
Spot the endemic wildlife of Galapagos
Galapagos is a place like no other in terms of wildlife. They are home to animal species you won't find anywhere else on earth. Giant tortoises, marine iguanas, Galapagos penguins, and flightless cormorants are just some of the unique denizens of the archipelago. Since these animals are so used to human visitors, they don't shy away when tourists approach. This makes the Galapagos one of the few places in the world where you can be only a few feet away from exotic animals. However, remember that they are wild animals and maintain a respectful distance.
Enjoy a relaxing massage on board
Galapagos is a destination packed with activities. You'll spend your day hiking, snorkeling, and kayaking which can leave you a bit worn out by the end. There is no better way to give yourself a break than with a relaxing full body massage. A part of the luxury cruising experience is having custom services at your fingertips. This is why many of the cruises on the islands will provide different massage options – from shiatsu to hot stones – as part of their services for their distinguished clientele.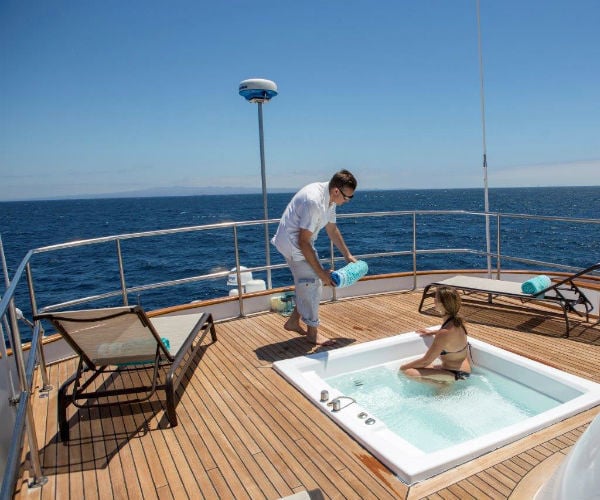 Carlos Beate is the Commercial Manager at Andando Tours. Andando Tours offers exclusive traveling experiences, specializing in sailing around the Galapagos Islands and overland along the magnificent Avenue of Volcanoes on the Ecuadorian Andes.
If you would like to be a guest blogger on A Luxury Travel Blog in order to raise your profile, please contact us.