Sure, you can schlep around southern Croatia on tiny country roads or travel on public ferries to various boutique winery locations on the mainland and islands to sample award winning wines made by boutique Croatian wineries; however, why?  Instead, cruise on your own luxury charter yacht from winery to winery with crew to take care of your every need.  As a bonus, enjoy beautiful crystal-clear water, history, lovely scenery and great 5-star on-board service from your stellar crew.  It is the Dalmatian wine area of southern Croatia where wines mix with water and where vineyards planted in ancient terraces built by Greeks and Romans tumble down slopes on the coast and islands; as wines have been made in Croatia for over 2500 years…albeit with some disruptions.  With the settling of Croatian daily life after the War of Independence ended in 1995, wine making began anew with gusto.  Old family wineries are back in production, and new wineries have sprung up, both of which are producing award-winning wines.
Many of these wines locally produced by boutique Croatian wineries will never be tasted outside of the area or off the island where the wine is produced, as the boutique batches are so small and the locals so knowledgeable about great wines, that the vintages never last long enough for a bottle to be exported.  Some varietals at these boutique wineries are sold out to locals in the know before the grapes are even picked.
Visiting wineries in Croatia will ratchet up your wine knowledge to another level as wine making in Croatia is with different grapes than those grapes used in wine making in France or California.  In Croatia, be prepared to hear grape names such as Plavac Mali, Pošip, Teran and Malvasia, rather than Merlot, Cabernet, Pinot Noir and Sauvignon Blanc.
To taste wines and learn about wine grapes grown in Croatia on a crewed yacht charter in southern Dalmatia, request a cruising itinerary between Split and Dubrovnik to visit these five wineries.  And don't worry, your Captain will make all arrangements for reservations at each winery, including private transport if needed, and will provide you in advance any menu choices, and costs for your final decision.  You need only relax and enjoy each wine tasting experience, one after another, at each winery.
Three wineries are located on the Peljasac Peninsula, where grapes grown for red wine making are said to produce particularly fine wines, many of which have won awards.  Two wineries are located on Hvar Island, where grapes are grown that produce fine wines, however also, the winery vintners are skilled at blending varietals for award winning wines.
Peljesac Peninsula Wineries
Across from Korcula Island, the soil of this peninsula, particularly on the south coast where arid conditions as well as the salty breezes cause the indigenous Plavac Mali vines to grow grapes from which a red wine is made that has a deep color, is full bodied, and rich and velvety, with a high alcohol level of 13 – 15%.   These wine qualities are so specific that wines made from these grapes, grown in either Dingač or Postup, two coastal villages, are the first of the Croatian rebirth in wine producing to receive an appellation (protected geographic origin) so that only wines from grapes grown in Dingač can bear the name Dingač, and only wines from grapes grown in Postup can bear the name Postup, both prestigious names for wines made from grapes grown in these locations, that are wines valued for excellence.
Some of the vineyards within these appellations are on land that is so steep that workers harvesting the grapes must be harnessed and lowered by ropes to gather the grapes for the vineyards to use every inch of land in these two grape growing locations prized for the natural growing conditions.  Vintners at wineries in this area tend to produce wines using one specific red grape and one specific white grape and do not blend varietals.
Saints Hills Winery
Available by van after docking or anchoring in Orebic, with vineyards in Dingač, this winery produces a wine called Dingač from their SV Lucia Vineyard in Dingač.  Other wines to taste include Nevina, with grapes grown in their vineyard near Istria, another great wine grape growing area, and SV. Roka from their SV. Roka Vineyard at the base of the Peljesac Peninsula. Saints Hills Winery offers a Vintner Tour to see the wine making process, and at a cost, several different choices of wine tastings paired with perfect food tidbits for each wine or multi-course lunches or dinners with each course of food chosen to showcase a wine.  A menu is available from which to choose a wine and food pairing experience in advance to enjoy Saints Hills Winery wines.  Reservations required.
Korta Katarina Winery
Conveniently located right on the coast so that your yacht can anchor in front of the winery and your crew can bring you ashore to visit the winery by ship's tender. To visit, simply walk up the hill from the beach and the tender dock and the winery awaits.  The Plavac and Zinfandel grapes used by Korta Katarina are grown in vineyards in the highly preferred areas around the villages of Dingač and Postup for making certain red wines and a rose wine.  Their white wines and white sparkling wines are produced from Pošip grapes grown around the village of Cara on nearby Korcula Island.
Korta Katarina Winery offers three different tours, all at a cost and with reservations required:
Basic tour: 1 hour in length, tour of the winery, plus tastings of KK Pošip, KK Rosé and KK Plavac Mali wines.
VIP tour: 2 hours in length, tour of the winery plus tastings of KK Pošip, KK Rosé, KK Plavac Mali and KK Reuben's Private Reserve wines paired with some tidbits of local delicacies designed to match with each wine being tasted.
Gastro wine tasting: 3 hours in length, tour of the winery plus five course lunch of specialty designed local foods, with KK Pošip, KK Rosé and KK Plavac Mali, KK Reuben's Private Reserve and KK Sabion (sparkling wine) wines. Reservations required at least 2 days in advance for this tour.
Grgic Hills Winery
Founded by native Croatian Miljenko "Mike" Grgic with his daughter Violet Grgic, after founding successful Grigich Hills Estate Winery in Napa Valley, California.  The "h" is added to the end of the family name for the winery name in Napa Valley for pronunciation purposes, to have the "ch" compensate for the soft Croatian "c".  In his own country, Mike Grgic, has named his winery Grgic Winery.  Wine is in Mike's blood, and his story follows the long history in Croatia of making wine.  Mike was born in 1923 into a Croatian Family on the Dalmatian Coast of Croatia that owned a small winery and vineyard.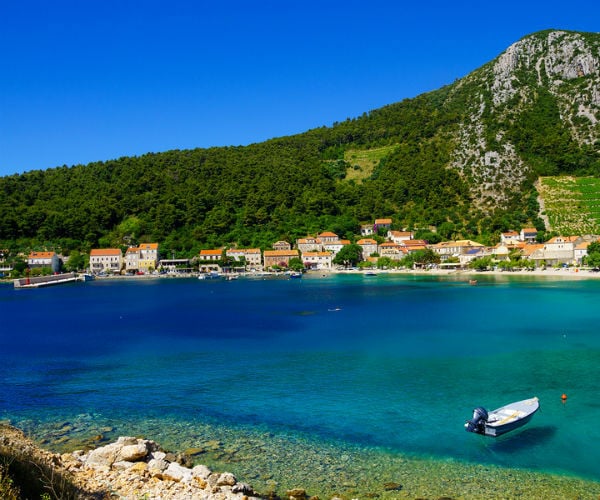 Every year, just as his grandfather and great grandfather before, his father made wine. Miljenko, just as every Grgic child before, was weaned from his mother with a home-made mixture of water and family made red wine.  Mike recalls he was first initiated into grape stomping at the age of three.  This winery produces two wines from two different grapes: one a red wine produced from the Plavac Mali grape grown in Dingač, for a red wine bearing the prestigious Dingac Appellation, and the other a white wine made from Posip grapes grown on nearby Korcula Island.  When in Napa Valley, Mike Grgic noticed a remarkable resemblance between the Zinfandel grape and Plavac Mali grape native to Croatia.  Working with Scientists at the University of California, Mike believes there is now proof that the Zinfandel grape is Crljenak Kaštelanski, a grape native to Croatia and parent of the Plavac Mali grape.
The family prefers to produce only two wines and place their energy into creating the best red wine and best white wine possible.  Therefore, there are only two wines to sample, but the wines being sampled are being produced by an international award-winning Vintner, Mike Grgic.  Visiting the winery is simple, no reservations are necessary, and the charge for tasting the two wines is minimal.  Tastings occur in the Tasting Room where wines can also be purchased.  There may or may not be a short Vintner's tour, depending on how busy the staff at the winery might be.  Wines may also be enjoyed on the terrace, as the setting of the winery is spectacular.  The building is on Trstenik Beach on Trstenik Bay at the beginning of the Peljesac Peninsula.  With the sparkling bay in front of the winery, olive trees, wild herbs, and vineyards in the surrounding landscape, this is a fabulous visual and olfactory experience.  Visit by ship's tender after anchoring in Trstenik Bay.
As a bonus, close by Grgic Hills Winery are the villages of Ston and Mali Ston, where shellfish farms exist in abundance in the coastal waters.  The opportunity to sample fresh oysters and mussels just plucked from the sea is around every corner.  The waters in Ston Bay are perfect for growing very tasty oysters and mussels, as the Karstic Springs empty into the bay, providing an abundance of phytoplankton, and minerals.  The oysters farmed are the European flat oysters called Kamenice.  The mussels farmed are called Dagnji.  However, no matter the type of oyster, it is the water in which the oysters are farmed that provide Ston and Mali Ston oysters that specific fabulous taste.  And what could be better than dining on oysters while drinking great wine?
Hvar Island Wineries
After wine tasting on the Peljasac Peninsula, cruise to the lovely island of Hvar, one of the sunniest locations in Croatia.  Wine has been produced on this island since before the Greeks laid out Stari Grad Plain, now part of a UNESCO World Heritage Site along with the ancient nearby town of Stari Grad.  The Plain was laid out by the Greeks into small plats and the stone walls outlining each plat are still in existence and used as demarcation lines today.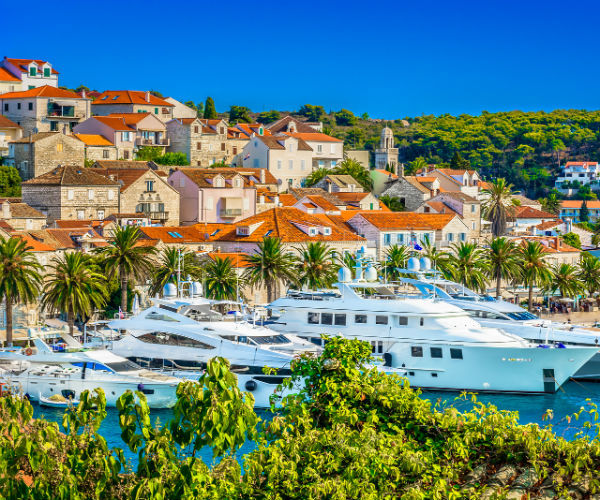 Zlatan Otok Winery
An award-winning winery located on Hvar Island in Sveta Nedjelja.  Near Stari Grad, with vineyards planted on the sunny coastal slopes around Sveta Nedjelja, the location on the water of this winery is spectacular.  Grapes are also grown in Makarska and Sibenik, Croatia.  Some of the wines produced are aged in a cellar 70 meters under the sea where there is always the perfect constant cool temperature.   The under-sea level cellar is within the Zlatan Otok restaurant, Bilo Idro.
Wine tastings are available in the under-sea level cellar which has a glassed window through which to view the sea bottom.  While the cellar is a spectacular location for a wine tasting only, additional wine tastings in the restaurant should not be overlooked; as fresh fish are delivered every morning to the restaurant kitchens.  These fish are cooked over an open wood fire in the restaurant and delivered right to your table to enjoy in conjunction with Zlatan Otok wines.  Reservations are recommended, and there is a cost depending on whether a simple wine tasting, or wine paired with foods in the restaurant overlooking the sea is of interest.  There are 16 wines currently being made by Zlatan Otok winery, including 3 dessert wines.  The grapes used are usually a blend of grapes grown in their vineyards on Hvar Island and elsewhere along with grapes that might be purchased from independent grape growers.
Duboković Winery
Located in Jelsa on Hvar Island, this tiny boutique winery makes several different white wines, and red wines, including a wine named "2718 Sati Sunca u Boci" which translates into "2718 Hours of Sunshine in a Bottle".  Also produced is a rose, and several dessert wines.  This is a family run winery overseen by the patriarch, Ivo Dubokovic.  Visit this winery for wine tastings, which are usually provided by Ivo Dubokovic with reservations and at a cost.  The setting for wine tasting is by candlelight in the wine cellars, a lovely venue, and tastings are accompanied by foods picked that complement each wine being tasted.  This is a true boutique Croatian winery recommended not only for the quality of the wines to be tasted but also for the genuinely personal family experience provided by Ivo and the Dubokovic family when presenting their wines.  Also available are olive oil tastings of several locally produced olive oils, along with olive oils that have been flavored with macerated herbs and chilis.  All wines and olive oils are available for purchase.
For the wine lover, can it get any better?  Visit five wineries producing excellent Croatian wines, enjoying very fresh oysters and mussels and tasting olive oils, all while in the capable hands of your Captain and crew, when on a luxury yacht charter cruising along the Dalmatian coast and islands of southern Croatia.  All you need do is to relax and enjoy.
Missy Johnston is Owner of Northrop-Johnson Yacht Charters Newport. Northrop-Johnson Yacht Charters is a luxury crewed yacht charter company offering top notch private yachts with great crews in every worldwide cruising destination.
If you would like to be a guest blogger on A Luxury Travel Blog in order to raise your profile, please contact us.