By
Paul Johnson
on Oct 30, 2018 in
Accommodation
,
Bars
,
Europe
,
Featured
,
Food and Drink
,
Going Out
,
Hotels
,
Regions
,
Restaurants
,
Travel Miscellany
,
United Kingdom
,
Western Europe
Formerly the Rampsbeck Hotel, Another Place is a 40-bedroom luxury hotel occupying a sublime position on Ullswater, the English Lake District's second largest lake, and set in 18 acres of grounds that extend all the way to the lake shore. This is a secluded spot where you can enjoy the fresh air whilst keeping watching for red squirrels and other wildlife.
The welcome
We entered via the original Georgian wing of the hotel and immediately felt we had entered a hotel with its own unique charm. As they say on their website, "Another Place is more than just a hotel" and it certainly felt like that, instantly making you feel cosy and at home. This is not a stuffy, formal hotel but one where you can relax from the moment you enter.
Check-in was friendly and efficient, and we were kindly walked to our room which was in the newer, more contemporary wing of the hotel, passing the spa, gym and 20-metre infinity pool with its own lake view along the way.
The room
We stayed in room 8 – a family suite in the extension to the hotel's main building, with views over the grounds and out towards the lake and fells beyond. We were glad to be able to bring our dog with us since he was nursing a fractured wrist – Another Place is dog friendly but only certain rooms allow dogs.
Our 'room' consisted of a generous master bedroom with a large double bed, a bathroom and a separate bunk room for the children.
Seating at the window allowed for maximum enjoyment of the view.
There was also a small desk with tea and coffee making facilities, and a flask should you wish to take your brew with you onto the fells. (Flasks were also available for purchase at reception.)
Our boys' was a simple bunk but perfect for their needs and afforded us some privacy which isn't always available with a family suite.
The bathroom
The bathroom was clean and clinical but tastefully so, with white floor-to-ceiling tiles and contemporary bathroom fittings. As well as what you can see pictured, there was a bath and shower over it, but these things are never so easy to photograph well in a confined space!
Toiletries were branded from Watergate Bay – Another Place is a new hotel collection from the team behind Watergate Bay Hotel in North Cornwall.
The facilities
In addition to the pool, spa and gym facilities already mentioned (my wife had a lovely treatment at the spa), the hotel has two restaurants. We found the service a little more attentive at the Rampsbeck Restaurant, which also enjoys lake views, but there is also The Living Space bar and terrace to choose from, and we found the food good in both.
Pictured below are some of the dishes from the Rampsbeck Restaurant: broad bean and pea veloute with spring onion and herb biegnet; crispy pork belly with Summer cabbage and Asian broth; and smoked salmon with avocado, egg and truffle, respectively.
For our mains, we favoured the fish – pictured is the cod loin in dashi with foraged sea vegetables and potatoes, and the delicious combination of stone bass with a chorizo cassoulet.
I refrained from having a dessert but, had I realised that 'Fondant with Jersey ice cream' was in fact a chocolate fondant, I would have been persuaded… instead, I had to watch my younger son enjoy it! He assures us it was very good!!!
The Rampsbeck Restaurant was also where a buffet breakfast was served each morning. It included a good array of choices and – much to our children's approval – came complete with its own waffle station.
On our second night we dined at The Living Space – a more informal dining area and perhaps more suited than Rampsbeck to families with younger children, but still with some great menu options.
I can heartily recommend the Cumbrian steak served with a garlic butter butter and garden salad…
…which was cooked to perfection (I asked for rare!).
Before or after dinner, you could relax in the library – a comfortable space where you could chat to other guests or simply relax and read a book over a drink or two.
I also liked the terrace area just outside and felt it was a clever use of space and joining of merging of the two buildings, whilst also being sheltered from the elements.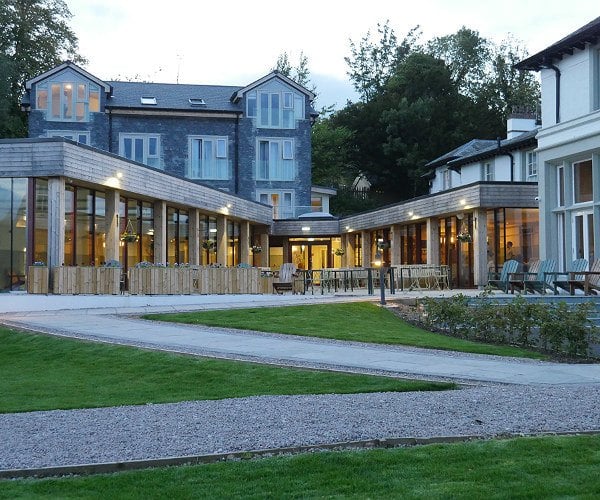 Other nice touches
The hotel seem keen that you enjoy your surroundings and so you should… in 2017, the Lake District joined the likes of the Grand Canyon and Machu Picchu in achieving UNESCO World Heritage Site status. There are several places where you can sit out and enjoy the grounds…
…but better still, venture out on to the fells (hills) or enjoy watersports on the lake since it is there on your doorstep! The hotel has formed strong ties with local outdoor pursuits enterprises and can easily add activities such as paddleboarding, mountain biking or wildlife walks to your booking.
We were actually in the area for a sailing event that our sons were competing in at Ullswater Yacht Club, just on the opposite shore. From there, you could look back at Another Place and appreciate the hotel's beautiful setting.
As for the sailing, our boys had some problems with their spinnaker on the first day, but thankfully still managed to qualify for the RYA's zone squad training this coming winter!
Cost
Family suites start from £285 per night.
The best bit
The hotel has done an incredible job at transforming a traditional Lake District hotel into something that is lively, vibrant and modern, yet still has a cosy, homely charm at the same time. It is not stuffy and does not take itself too seriously, and somehow seems to have found the magic formula for an easy-going atmosphere.
The final verdict
If you're looking for a place to relax and 'get away from it all', try Another Place.
Disclosure: Our stay was courtesy of Another Place.