By
Paul Johnson
on Nov 15, 2018 in
Accommodation
,
Attractions
,
Cyprus
,
Featured
,
Food and Drink
,
Going Out
,
Middle East
,
Regions
,
Restaurants
,
Travel Miscellany
,
Vacation Rentals
On the outskirts of Protaras in southern Cyprus, close to Konnos Bay and set back from the fairly busy Kavo Greko Road that runs between Ayia Napa and Protaras, lies Chloe Villa available through Imagine Villa Rentals (their reference CV614). It might not seem like much at first – it's shielded from the road by a fence and electric gate and the first thing you see on entering is a forecourt where you can park your car if you choose to hire one; instead, we opted for a taxi ride from the airport at Larnaca which Imagine Villa Rentals can organise for you at a competitive rate since brothers Andreas and Angel from the IVR family run a round-the-clock taxi service.
But walk up the steps to the property and you soon realise there is much more to this place than your first impressions might give you. This secluded four-bedroom villa not only has its own pool, but also plenty of outdoor space – sun loungers, large bean bags, gardens, a covered outdoor seating area and an outdoor barbecue. This is a place where you can truly relax and enjoy the Cyprus weather. This is after all a country that gets on average 326 days of sunshine per year and, in a recent survey of 14,000 expatriates around the world conducted by InterNations, ranked Cyprus as the second best climate in the world (Costa Rica was ranked first and Greece third).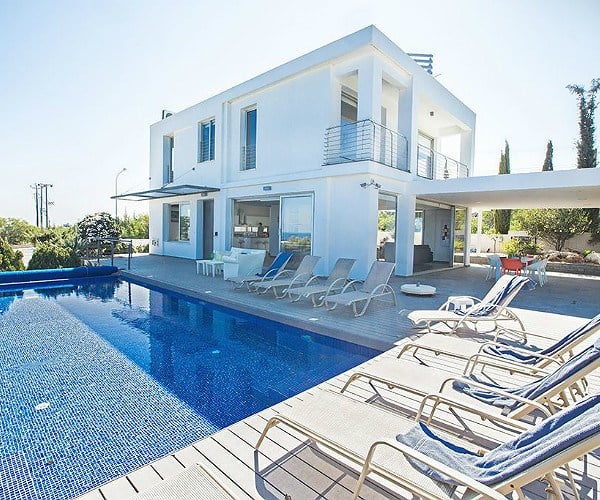 Step inside and you'll continue to be delighted with the quality of the villa. There's an open plan dining area with a kitchen off to one side and a generous living area beyond.
And from here you can enjoy views out over the garden towards Konnos Bay.
The kitchen is a very sociable space, with a large island in the middle, and is equipped with everything you might expect and more:
We didn't have plans to use it much as we were intending to eat out each evening, but it was nevertheless useful to be able to rustle up a quick lunch, such as some Greek dips and salad.
On arrival, we had been kindly greeted with a bottle of white wine…
…as well as a fridge stocked with some essentials for our first morning (bread, milk, butter, jams, marmalade, juice, etc.) – a nice extra touch which showed that they were thinking about their guests.
The kitchen itself was well equipped with fridge, freezer, dishwasher, kettle, toaster, coffee percolator, milk frother, sandwich toaster, oven, microwave and blender, as well as pans, crockery, cutlery, kitchen utensils and even some Imagine Villa Rentals branded coffee mugs.
Exploring the rest of the ground floor further, the airy living space is occupied by two large sofas and a corner devoted to a pool table and table football. This is a really family friendly space, with large patio doors that slide open to the outdoors, and where the kids can have a lot of fun, be it playing on these games or the table tennis outside, or going in and out of the pool.
There's also a large flatscreen LG TV here with access to several hundred satellite channels, including BBC and ITV, as well as channels in multiple other languages, and a JVC stereo system. There was also a router here which provided a good WiFi signal throughout the property, as well as to the outside seating area.
Upstairs there are four bedrooms – a master bedroom with en suite facilities and a balcony…
…another double-bedded room that shares the same balcony…
…and triple and twin rooms that are particularly well-suited to groups travelling with children. In all the property can sleep up to nine people.
There's also a shared bathroom on this floor and complimentary Oliva toiletries are provided, plus there is a landing with washing machine, ironing board, etc.
From these upstairs rooms, you can enjoy beautiful views out towards the area surrounding Protaras and the sea beyond.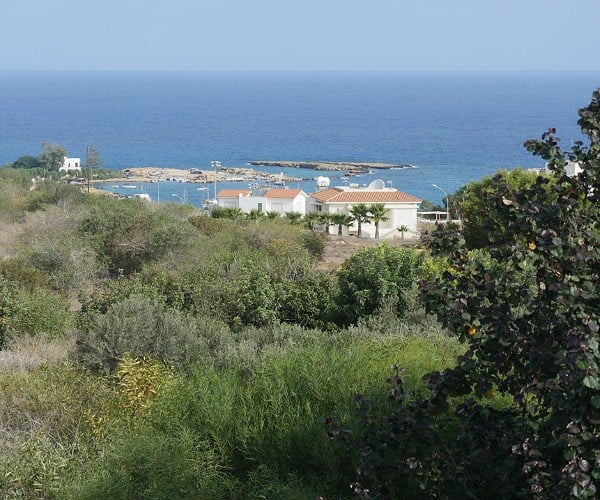 Maintaining the grounds outside must be a constant challenge given the consistently hot weather but the gardens are well kept and with a nice splash of colour here and there.
Keep your eyes peeled in the garden and you might just seem some fauna as well as the flora.
Lizards can be seen quite frequently but they are quite well camouflaged and soon dart away if you go anywhere near them.
We were really looking to just put our feet up so didn't worry about a hire car during our stay, opting instead to just take a taxi whenever we wanted to venture anywhere. There are some shops in walking distance, though, and Konnos Bay is reachable on foot also. There's a beach there, protected on three sides; with its crystal clear waters, it's widely considered by locals as arguably the best beach in southern Cyprus. And there's a family friendly watersports centre there, too, offering everything from floating sun beds to luxury boat charter. The picture below, looking down on the beach from above, was just taken on my iPhone when we went for a run one evening, so please forgive the image quality!
Our favourite place to eat out in the area was most definitely Kafkaros. They always made us feel so welcome,
The fish meze was particularly good and very fairly priced, the calamari amongst the most tender I've ever had anywhere. The octopus (pictured) was also delicious!
On another evening I opted for the kleftiko which was so soft and tasty, faland ling off the bone so easily; order early if this is what you fancy as they only do so many as, once all portions have been ordered, that's it for the evening since it is cooked for so long.
Another firm favourite, particularly with the children, is the lava cake which seemed to be on the menu of many establishments in the area. I was pleasantly surprised by the restaurant as our previous visit to Cyprus had been a little disappointing when it came to eating out, but Kafkaros is a traditional taverna that's well worth a detour.
Although we tended to take a taxi as there were five of us and it was quite dark, Kafkaros is actually walkable from Chloe Villa, and would take about 15 minutes to reach on foot. This would definitely be our recommendation when staying at this beautiful villa.
Chloe Villa is available from €1,530 to €4,000 per week, depending on season.
Disclosure: Our stay was the result of a joint collaboration with Cobalt Aero (sadly no longer operating) and Imagine Villa Rentals.