Feeling like you always have the same old Christmas celebrations? Or feeling overwhelmed at the prospect of tackling crowded supermarkets in-time to get all the trimmings to go with your turkey? Fear not! There is still time to make this a festive season to remember by treating yourself to a Christmas abroad. Even better, check into a hotel rather than self-catered accommodation and enjoy the ultimate of luxuries… someone else preparing a sumptuous Christmas lunch for you or perhaps a Champagne-filled celebratory Christmas Eve dinner!
Whilst a holiday in a far-flung destination can be tempting, it can also be surprisingly tiring travelling extended distances. For an impromptu getaway, Provence is the perfect choice for those of us living somewhere in Europe. With flights from London to Marseille taking just under 2hrs and available right now for the bargain price of around £70, there is little to stop you packing your case and heading out here for the festive season!
Don't think because we're getting close to the big day that there is going to be a shortage of things to see and do. Far from it! The Christmas season in Provence traditionally begins on the 4th December and runs right through to Candlemas on the 2nd February so a visit between now and the big day could be considered perfect timing.
Having checked into your hotel a good bet would be to ask at reception what Christmas markets are around locally. As no doubt you'll be aware, the French love markets (and happen to be very good at them). Christmas is no exception making these markets a 'must visit' affair. The big towns and cities such as Marseille or Aix en Provence will host the largest markets so are a good starting point.
The market in Marseille is being held this year at the Old Port (an area of town worth exploring even without the added attraction of a market) and runs from 17th November to the 6th January. Aix en Provence (one of the prettiest towns in the region) is running their Christmas market from November 21st to December 31st. If you don't have room in your bag to bring gifts (or forgot to pack them in the first place!) then you're sure to find the perfect present or two at either of these events.
France has a lively café culture as well as great restaurants meaning a trip to a Christmas market can easily turn into a full day out. I'd suggest starting with a leisurely breakfast at your hotel (and make the most of the delicious pastries whilst you're at it), then head into town. If you're feeling the chill after an hour or so then pop into a café for an Espresso. Just be prepared to flag down a waiter as they get very busy around 11am. Head back out for some more shopping before finding a restaurant for a light lunch. Many restaurants offer a 'Plat du jour' which basically translates as 'dish of the day'. Often, rather than just one dish though it will comprise of a starter, main and optional dessert and can be incredible value (anything from €10 to €15 per person for three courses).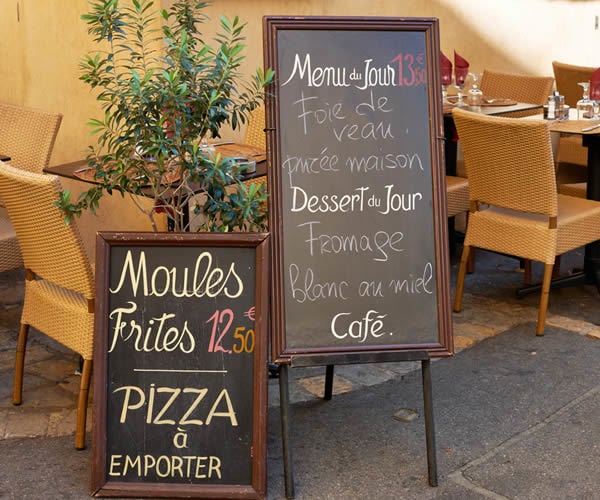 If you're shopped out after lunch take a stroll around the wider town or city to soak up the sights and sounds. At this time of year, whole streets are often decorated with lights, street performers are out and about and an energetic bustle fills the air as people rush around preparing for the big day. Even if you've long forgotten what Christmas used to feel like, you might be surprised how palpable the excitement is in the air.
Christmas wouldn't be Christmas without overindulging a little on the food and drink front and you're well placed in Provence to make sure you do exactly that! The French really know their stuff when it comes to food and Christmas helps bring out the very best in gastronomic delights. Things are done just a little differently in this part of the world with the main Christmas meal held on Christmas Eve (24th December). This meal is called 'le Gros Souper' and translates as the big supper. 7 dishes are traditionally served to begin, each paired with their own wine before, if the mood takes you, there is an interlude where families traditionally go to Midnight Mass.
Afterwards, everyone returns to sample 13 Desserts… quite literally 13 different desserts! And don't forget a glass or two of Vin Cuit, a sweet, strong dessert wine accompaniment. Of course, if you'd rather a more 'traditional' Christmas meal then there are plenty of establishments and restaurants that will lay on just such a feast, both on Christmas Eve and Christmas Day.
Having had a chance to put your feet up and relax over Christmas Day itself, thoughts can turn to getting out and exploring once again. A popular destination post-Christmas is one of the many Santon Fairs that are around and about. Santons are little painted clay figurines which depict characters from everyday walks of life in 19th Century Provence. Hugely collectable, families can amass a significant number of these figurines which are laid out at home in a traditional village setting which can include cottages, farms, bridges and more. Even if you just pick up one or two, they make a nice Christmas memento to take back home.
If all the food and drink has you desperate to get some exercise, then head to the coast. Although I can't make any promises, the sun frequently shines in Provence even in the depths of winter, offering ideal conditions for a brisk stroll or a long hike depending on how energetic you're feeling. The perfect way to conclude your impromptu Christmas abroad perhaps?
However you ultimately decide to spend your Christmas may I wish you all a Joyeux Noël!
Su Stephens is Owner of Olives & Vines. Olives & Vines is a luxury holiday company based in the South of France offering stays at their beautifully designed holiday house and boutique hotel in Le Castellet.
If you would like to be a guest blogger on A Luxury Travel Blog in order to raise your profile, please contact us.