When it comes to quaint colonial towns, Colombia is almost bursting at the seams. For the discerning traveler, this nation's pueblos promise a window into the past through their timeless terracotta roofs, cobblestone lanes, ornate churches, and tree-lined squares.
These refined architectural stylings were introduced during the colonial era, when European conquistadors from Spain and Portugal constructed towns and cities drawing influences from their home countries. Fortunately, many of the most charming elements of Colombia's colonial towns have been wonderfully preserved and even protected with UNESCO World Heritage status, offering both a snapshot into the region's heritage and a sense of magic in the air.
Here, we present only five of some of our favorite Colombian pueblos.
1. Santa Fe de Antioquia
While Colombia is a country that drips in colonial towns, the department of Antioquia flies the flag of the most enchanting of them all – with the village of Santa Fe being a particular highlight. A delightful ensemble of red-tiled roofs, whitewashed walls and cobblestoned streets that remain virtually unchanged since the village's founding in 1541, this sleepy colonial town welcomes you with its arms wide open.
A Santa Fe "travel experience" is mainly about absorbing the sense of a bygone era. Spend the day simply wandering along its cobblestone streets (in the shade, when possible). In this way, you'll take advantage of the photogenic Spanish colonial architecture that remains intact to this day, lending the village such a charming feel. Meandering through these narrow streets, you'll see elaborately carved, typically Antioquian woodwork around windows and doorways. Among these whitewashed houses, many are arranged around atmospheric courtyards, into which warm and truly friendly owners are likely to invite you for a look.
Recommended accommodations: While Santa Fe de Antioquia has excellent hotel facilities, our suggestion is that you stay at the Hotel Mariscal Robledo, a historic building that was once home to many of the city's wealthiest citizens. Named for Mariscal Jorge Robledo, the Spanish conquistador who founded the city, the hotel also serves a resort, a banquet hall and an antique museum.
2. Guatape
While discovering the big-city bustle of Medellin Colombia, you may want to take a break from the hectic pace for a day or so. By taking a 2-hour drive through the scenic Colombian landscape, you'll reach the enchanting village of Guatape. Surrounded by green hills, this remarkable town is situated in the middle of a series of interconnected freshwater lakes.
For a picturesque view of these lakes, and of the town itself, you can walk up the 740 steps of the gigantic El Peñol boulder, whose peak stands majestically at 7,000 feet (2,100 meters) above sea level. Your effort will pay off once you reach the top, where you'll take in unbeatable views of the landscape beyond.
Upon your descent, you will complete your journey to nearby Guatape itself, a great place to enjoy lunch and take a pleasant walk around this colorful village. The charming town is known for the fresco-like adornments on its traditional houses, as brightly painted bas-relief depictions of people, animals, places and shapes cover the skirting boards of many dwellings. While the weekends in Guatape are remarkable for the festival atmosphere, when the town is packed with Colombian tourists, during the week you can explore the surrounding nature at a more relaxed pace.
Recommended luxury accommodations: For your stay in Guatape, we suggest The Luxe Villas by The Charlee. Each villa connects with nature by opening onto a balcony with mountain, lake or river views, while the lodge itself makes that connection with a private beach and boat dock. While the in-house restaurant serves Latin American cuisine, each villa is also equipped with full kitchen facilities in addition to all the conveniences of a big city hotel.
3. Salento
Set among rugged hills, smack in the middle of the country, you'll discover the area that produces some of the finest coffees in the world: the Colombian Coffee Region, a UNESCO-declared World Heritage site.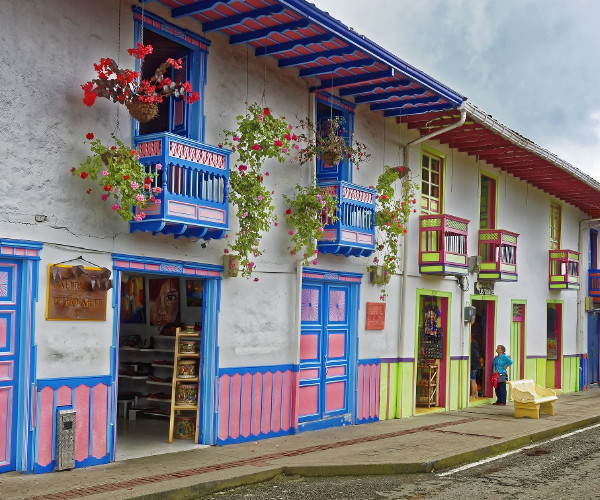 But here and now, we're spilling the beans on one of the best places to visit in this coffee region: The quiet pueblo of Salento. Strolling down La Calle Real, its main street, you'll breathe in a half-hippie and half-colonial atmosphere flush with the aroma of coffee; and while here, you'll learn how that richly caffeinated drink is made by visiting surrounding coffee plantations and by spending time with local farmers, locals, drivers and coffee entrepreneurs for real insights into the culture of Colombian coffee.
Just outside of the village of Salento, you'll find a verdant valley that's the most Instagram-able wax palm sanctuary in the world. Wandering through this valley, you'll marvel at these 200-feet-tall trees that seem like whimsical kinds creations right out of Dr. Seuss.
Recommended accommodations: As a single day in Salento will most likely not be enough, we suggest a "glamping" (glorious camping) experience at the Lumbre Glamping luxury lodge. Albeit it's situated just outside the village, but it sits in the midst of some completely awe-inspiring countryside. Quite distinct from the typical backpacker lodging for which Salento is known, Lumbre pampers travelers with gourmet Italian dining, guided town and country excursions, en-suite bathrooms, and even fondue chocolate treats.
4. Villa de Leyva, Colombia
Appearing as if time has stood still, the Colombian town of Villa de Leyva is an enchanting composition of red-tiled roofs, whitewashed walls and cobblestone streets that have remained essentially unchanged since the 16th century.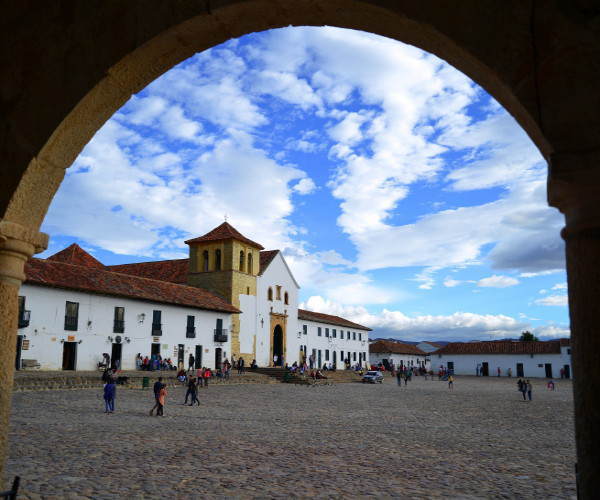 Though inhabited by the Muisca civilization long before the invasion of armed Spanish, the town's name was changed to honor Andrés Díaz Venero de Leyva, the first president of the "New Kingdom of Granada" (the Spanish colonial provinces of the age).
Visitors today are likely to be mesmerized by Villa de Leyva's main square; huge and fully cobbled, this plaza covers more than 14,000 square meters, while its center is adorned by an imposing fountain. Surrounding the plaza are the parish as well as one- and two-floor buildings whose white walls predominate, though these contrast with the green balconies and doors and the red-tiled terracotta roofs.
Recommended accommodations: After a morning drive from the Colombian capital city of Bogota, you'll reach the Meson de los Virreyes Hotel. A magical and captivating place situated in the village's historic center. Its colonial style and atmosphere evoke the tradition and comfort that we believe will contribute to making your stay unforgettable.
5. Barichara (Santander)
Although Barichara is somewhat difficult to access — being a flight or a night's drive from either Medellin or Bogota — the town's isolation has allowed it to stay so well preserved and true to its roots. The moment you arrive, you'll understand why this village was declared a Colombian National Monument in 1978.
Setting out on foot you'll explore the typical white architecture and meander through this spectacular village seemingly forgotten by time. You can stop at the Cathedral of the Immaculate Conception, which rises gracefully above the surrounding square, and venture inside to discover its beautiful columns and its gold-leaf altar. Delving into Barichara's artistic side, you'll visit the "Park for the Arts," a serene retreat that's home to 22 different sculptures crafted by local and international artists.
From this, you'll understand why Barichara means "place of rest" in the indigenous Guanes language. But while rest is precisely what travelers find in the calm and silence essence of Barichara, this contemplative experience can be complemented by enjoying adventure activities — such as paragliding, horseback riding and rafting — in the neighboring village of San Gil.
Recommended accommodations: While you're in Barichara, we suggest a stay in one of the eight charming rooms at the Casa Oniri Boutique Hotel. Combining colonial architecture with contemporary interior touches, it creates a dreamlike atmosphere. Located in the center of town, near the main square, Casa Oniri is also an ideal starting point for touring this picturesque colonial town.
We invite you to visit any of these Colombian pueblos to experience their culture, enjoy their cuisine and interact with their inhabitants who are always welcoming to visitors.
Alfonso Tandazo is President and CEO at Surtrek Tour Operator. Surtrek Tour Operator is a well-established firm, specializing in custom-designed luxury tours in Ecuador, the Galapagos and throughout the rest of South America.
If you would like to be a guest blogger on A Luxury Travel Blog in order to raise your profile, please contact us.