After staying at Chloe Villa on the outskirts of Protaras, we moved to another Imagine Villas property, closer to the town centre of this eastern Cyprus resort. Referenced as property ME16 on their website, this luxurious 4-bedroom villa enjoys sea views from a quiet residential setting just a short walk from Protaras centre and the sandy Blue Flag beach of Fig Tree Bay.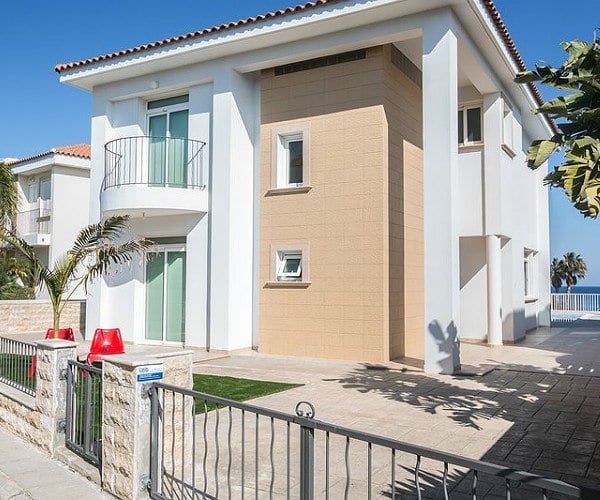 Entrance to the property is via a small gated front garden, with the front door leading into a hallway and the main living area beyond.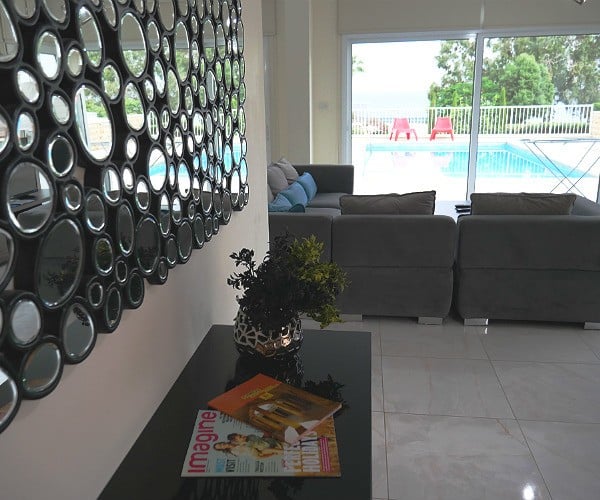 Literature outlining the cultural heritage of Cyprus, as well as Imagine Villas' own magazine, were amongst the available reading material.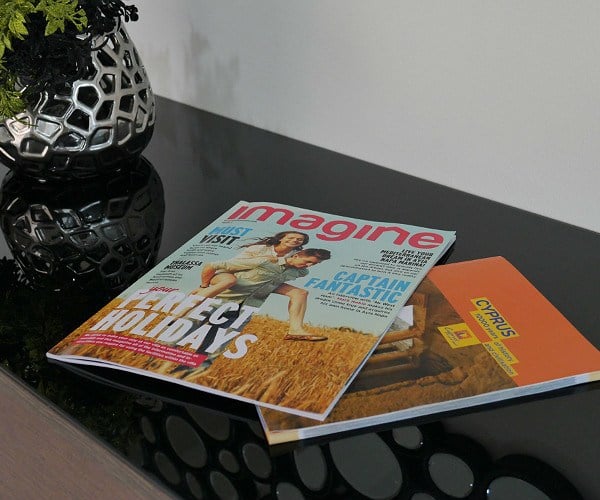 The living space is occupied by a large, L-shaped sofa that focuses upon a TV with DVD and multiple satellite channels.
This sweeps round to an open planing dining with seating for up 8 people.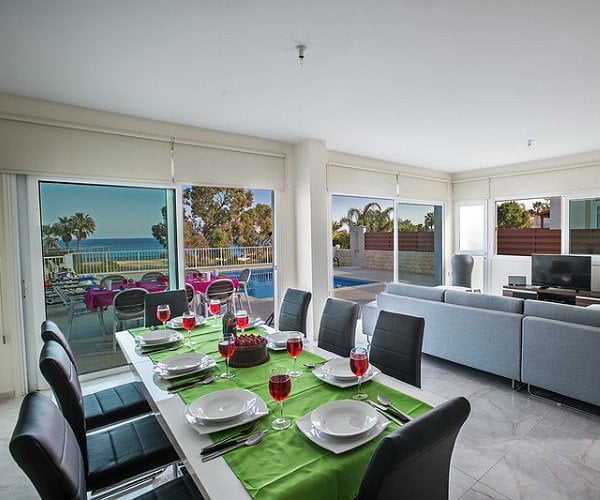 Beyond this is an easily-accessible, compact kitchen.
The kitchen is fully equipped with everything you might need: oven, hob, toaster, kettle, microwave, fridge/freezer, dishwasher, coffee percolator, Nespresso machine, washing machine and so on. As with the previous property, some essentials such as bread, jams, marmalades, etc. were all provided.
Also on the ground floor is a twin bedroom with neighbouring shower and wet room, perfect for guests with limited mobility.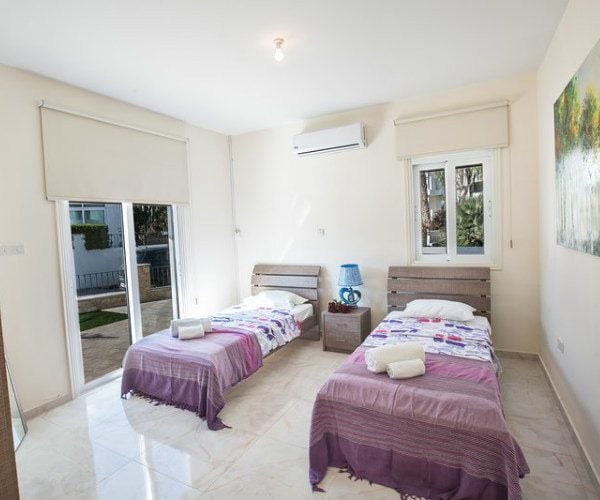 Upstairs are three further bedrooms – one double en suite with a small balcony looking out to sea, as well as a twin-bedded room that shares the same balcony and another double-bedded room.
Rooms are simply decorated with light, neutral tones, giving a clean and airy feel throughout the property.
A second shared bathroom on the first floor comes complete with corner bath and separate shower. And, as with the last property, complimentary Oliva toiletries, made with nutrient-rich olive oil, were supplied.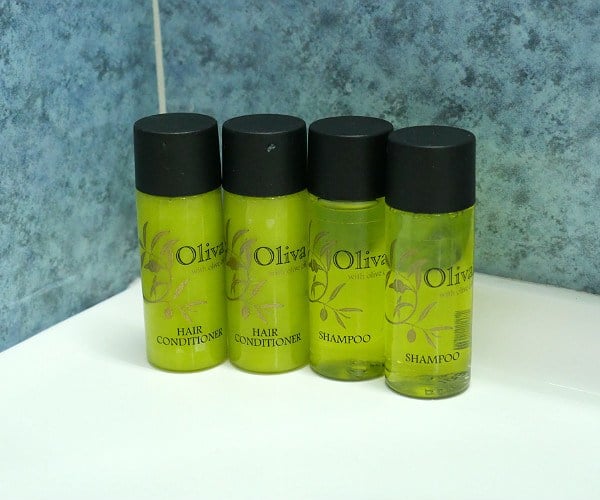 At the rear of the property is a terraced area with an outdoor dining space, barbecue area, swimming pool, sun loungers and outdoor shower. This is a lovely area in which to relax, spend time with family or enjoy some light exercise.
Steps lead down to an extended strip of garden, with artifical grass interspersed with flowers and planted areas.
Beyond this is a public coastal walkway and a small, sandy cove that was never overly-busy and, in fact, we sometimes had it completely to ourselves! And all this is just a few minutes walk from the property.
Coastal walks are available in either direction, but Fig Tree Bay and Protaras are reached by turning left as you head out of the rear of the property.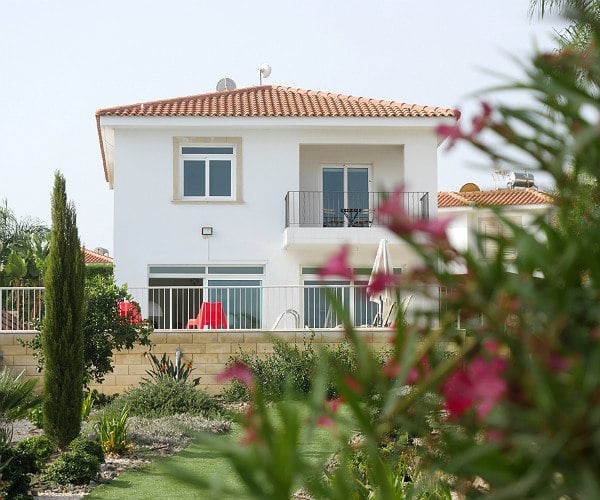 This also takes you past various hotels, bars and a watersports centre.
After 10 minutes or so of wandering along the coast, you soon see the 500-metre expanse of sand that is Fig Tree Bay, so named because of a fig tree on the beach. We actually saw a number of fig trees in the vicinity but one situated towards the rear of the beach looked more established than the others and perhaps accounted for the bay's name.
The coastline here has a very laid-back feel to it, and there are a number of tranquil bars where you can relax and watch the world go by.
In fact, the beach here was ranked 13th among the best 25 beaches in the world according to Trip Advisor this year, and the fourth best in Europe.
In fact, it's so relaxing that even the local cats are completely chilled out, too!
Back at the villa, a convenience store could be found by taking a short walk inland (in fact, it was hard to miss!). Its unique appearance aside, the shop was handy for some basic essentials but for anything more substantial you would probably want to go further afield.
Protaras itself is a touristy resort but thankfully unlike its near neighbour, Ayia Napa, which has largely built its reputation on partying and an over-exuberant nightlife scene. Protaras on the other hand has retained a calmer atmosphere. Our favourite places to dine in the town were both on the main strip and happened to be next-door to each other and under the same ownership.
Andama offers traditional Cypriot and Greek dishes, and piatakia can be found on the menu. In Spain they call it tapas… in China they have dim sum… Italy has antipasti… but in Cyprus and Greece they call it piatakia. Pick one as a starter or a selection to create a meze for the table.
Alternatively, choose from a number of traditional dishes. They do a really good moussaka here but, because it is prepared fresh each day, there are a limited number of portions available so you may be out of luck if dining late.
Also recommended is the boneless sea bass fillets with sliced potatoes and seasonal vegetables wrapped and cooked in greaseproof paper.
Next door is The Corner, a more modern offering with a completely new Mediterranean menu compiled by their own creative executive Chef Antonis Kavazis and celebrity Chef Stephanos Chrysanthou. The menu consists of popular dishes such as classical salads and carpaccios, to steaks, pasta and seafood.
Corner baked haloumi cheese and sun-dried tomatoes 'candy', wrapped in filo and coated with sesame, served with honey mustard sauce and balsamic herbed oil, and octopus carpaccio brushed with herb oil and served with 'melitzanokeftedes' eggplant-feta fritters and rocket leaves, were two of the highlights to be found among the starters.
From the main dishes, I really enjoyed the chicken breast cubes flamed with vermouth in a mango sauce served with steamed wild rice.
And don't forget the lava cake. This seemed to be a staple dessert at most of the restaurants we visited during our time in Cyprus.
On our last full day, winds picked up and we saw a different side to Fig Tree Bay.
For the most part, the beach is very family friendly but you do of course need to be wary of any changes in the sea conditions.
For surfers and other watersports enthusiasts, it was an opportunity to have some fun!
Of the two properties we stayed in with Imagine Villas, opinion was divided as to which was our favourite. Both are well-equipped and finished to a high standard, and each have their own attributes. In the end, after much deliberation, we concluded that the adults favoured the proximity of the sea and Protaras whilst the children favoured all the extra kid-friendly additions (such as the table tennis, pool table, etc.) of the other property. Whichever you choose, you will not be disappointed.
Disclosure: Our stay was the result of a joint collaboration with Cobalt Aero (sadly no longer operating) and Imagine Villa Rentals.