22 Michelin stars over Andalusia
Every November, with much anticipation and fanfare, the Michelin Guide announces its updated list with what is widely considered the authoritative voice on the world's best restaurants. With ideal growing conditions and plentiful produce, Michelin stars in Andalusia have been ascendant over the past decade as the gastronomy of the region gains more and more clout and world renown. It's no coincidence that a majority of these restaurants sit near the Mediterranean Sea, where the bounty is even greater than that by land, and many of them have earned their fame with a focus on the specialties therein. Andalusia now boasts an impressive 22 stars in all. That's twice as many as the region was awarded only four years ago, and the province of Malaga is leading the charge with a new total of 10 stars, including
Spain
's only newly awarded three star accolade, the highest awarded, to Dani Garcia in Marbella. Angel Leon earned Andalusia's first three star award just last year with his restaurant Aponiente in Cadiz. He has a second establishment nearby that also earned a star last year, making him Andalusia's most lauded chef.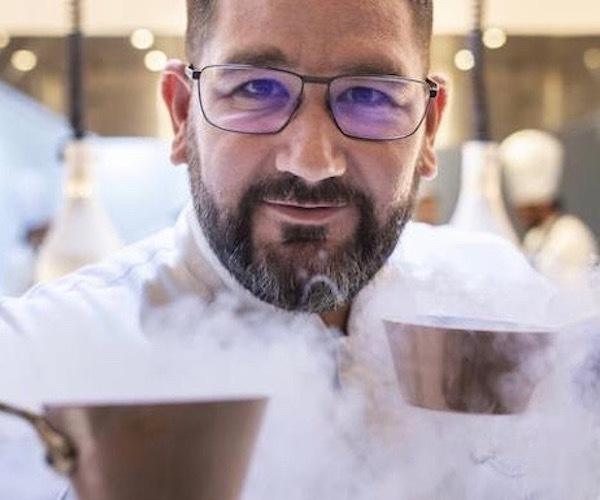 Angel Pardo, head of External Relations for the Michelin Guide, put it simply: "Andalucía is growing a lot." And while Angel Leon, with his four stars combined, has reason to boast, he summed up the increased star count by humbly adding, "Andalucía is fashionable." The 22 Michelin stars in Andalusia are spread across 18 different restaurants. Here you find a round up of all of them by region.
Malaga
Dani Garcia ***, Chef Dani Garcia, Marbella
Dani Garcia stole the show this year as the only Spanish chef awarded a new third star, joining the ranks of the most excellent chefs world-wide. Garcia carries on in the molecular tradition of fellow Spaniards Arzak and Adria with an evolving approach that is distinctly Mediterranean. More than a meal, a visit to Restaurante Dani Garcia is an engaging and dramatic experience.
Skina *, Chef Marcos Granada, Marbella
Located in the historic heart of Marbella, Skina has the distinction of being the smallest restaurant in the world to hold a Michelin star, seating just 14 diners. Two head chefs collaborate to highlight traditional Andalusian influences with a modern, creative flair.
Messina *, Chef Mauricio Giovanni, Marbella
Opened in 2003, Messina earned its Michelin star in 2016 and has renewed the honour every year since. The menu is constantly changing and relies heavily on the fish and seafood from the nearby Mediterranean Sea. Chef Giovanni delights diners and critics alike with obvious technique displayed in simple, elegant presentations. Here you find no pretense, just skillfully prepared and delicious food.
El Lago *, Chef Juan Jose Carmona, Marbella
Another long lasting mainstay of the prominent Marbella dining scene, El Lago earned its first star in 2005. The cuisine here is ever evolving, and such is the commitment to development that the restaurant exhibits a weeklong presentation of the latest trends in gastronomy once each year, with rotating daily menus.
Jose Carlos Garcia *, Chef Jose Carlos Garcia, Malaga
Malaga native Jose Carlos Garcia proudly bears the mantle of Malaga city's finest restaurant. Delicate flavours mix with the freshest of ingredients and every plate is as pretty as a picture. Set in the Muelle Uno area of the Port of Malaga, the restaurant overlooks the harbour and lends the sophistication that this cosmopolitan city deserves.
Sollo *, Chef Diego Gallegos, Fuengirola
Chef Gallegos, born in Brazil, brings elements of South American cuisine to the table and touches of Asian fusion. He's best known as "the caviar chef" for his reliance on locally sourced caviar and sturgeon from the world's first sustainable, organic caviar farm in Granada province. He uses only sustainably farmed fresh water fish on his menu and offers a welcoming and casual approach to dining.
Kabuki Raw *, Chef Luis Olarra, Casares
In recent years, Japanese cuisine and fusion have become an integral part of the new Malagueñan kitchen. Kabuki Raw has emerged as the finest example of more orthodox Japanese cooking, with a Mediterranean influence. Only the finest raw materials make it to the table, and an onsite vegetable garden provides the accompanying organic produce.
Restaurante Bardal *, Chef Benito Gomez, Ronda
The scenic town of Ronda had not displayed a Michelin star since Dani Garcia left Tragabuches in 2004. That changed when Chef Benito Gomez, originally from
Barcelona
, came to town. After opening in summer of 2016, Bardal gained its star after little more than a year in business. Ronda is a major wine producer within the province of Malaga and Bardal proudly serves many of the best to compliment two extensive tasting menus of 16 and 20 courses. Chef Gomez doesn't like to be pigeonholed, saying his style of cooking has no label.
Cadiz
Aponiente ***, Chef Angel Leon, Cadiz
Since earning his first Michelin star in 2010, Angel Leon's reputation has grown from strength to strength. He earned a second star at Aponiente in 2015, and became the first three Michelin star chef ever in Andalusia in 2018. Known as "the seafood chef," Leon avoids the obvious choices from the sea making delicacies out of lesser known and less fashionable fruits of the sea. His creative use of plankton, for example, has begun to catch on and can now be sourced in specialty shops along the coast.
Alevante *, Chef Angel Leon, Cadiz
As if his three stars with Aponiente were not enough, Chef Angel Leon operates a second restaurant in Cadiz that also boasts a star. The dishes here reflect the themes and successes of his flagship restaurant, Aponiente, but is a bit more accessible and casual. Located in the only five star hotel of Cadiz, El Puerto de Santa Maria on the beach just south of the city of Cadiz, a meal here is a unique experience easily turned into a daylong outing.
Jerez
LU Cocina y Alma *, Chef Juanlu Fernandez, Jerez (new to the list)
One of two Andalusian restaurants debuting on the Michelin list this year, LU Cocina y Alma only opened one year earlier and immediately created a buzz for its creative approach. Employing classic French techniques with a Spanish flair, Chef Fernandez dazzles with a multi-sensory and fantastical theme relating to Alice in Wonderland. It's a dreamlike experience on the plate as well as in the dining room.
Jaen
Baga *, Chef Pedro Sanchez, Jaen (new to the list)
The other of the new new entrants to the Michelin star club this year, Baga is an intimate and meticulously run restaurant and the first establishment in Jaen to ever earn a Michelin star. The 15 course tasting menu changes by the season, relying on the produce and products of the time, with a contemporary Mediterranean palate.
Cordoba
Choco *, Chef Kisko Garcia, Cordoba
Born in 1978, Chef Kisko Garcia is one of the youngest chefs of the "new Andalusian cuisine" movement. Based in Cordoba, he draws on local classics and adds touches reminiscent of the city's Moorish past. Tradition blends with modernity and the simplicity of pure products contrasts with the complexity of refined techniques.
Noor *, Chef Paco Morales, Cordoba
Chef Paco Morales has an impressive résumé, having worked at such famed restaurants as Mugaritz and El Buli before opening Noor to high expectations and fanfare. He has not disappointed. Noor revives the forgotten gastronomic heritage of Al-Andaluz, focusing heavily on the era of Moorish rule from the 10th century, incorporating earlier influences, and delivering diners through centuries of Andalusian culinary development. It's an exciting approach aiming to rediscover and reinvent ancient recipes, ingredients and techniques in what Chef Morales himself calls a "cultural project".
Sevilla
Abantal *, Chef Julio Fernandez, Sevilla
The well established Abantal has held its star for more than a decade now. The attention to detail is as evident in the sleek presentation of the dining room as it is on every beautifully presented plate. Steeped in its Andalusian roots, the cuisine draws on Moorish-Arab influences fused with imaginative and adventurous modernity.
Huelva
Acanthum *, Chef Xanty Elias, Huelva
Chef Xanty Elias, a native to Huelva, brought to the city and the wider province its first Michelin star after having trained for two years at the three-starred Arzak restaurant in San Sebastian. Two different tasting menus, changing every six months, continue to excite guests with an ever evolving and often thematic approach.
Almeria
La Costa *, Chef Jose Alvarez, El Ejido
In operation since the 1960's, La Costa lends history and tradition to the haute cuisine of Almeria. It wasn't until 2006 that the establishment finally earned a Michelin star under Chef Alvarez, whose innovation and modern touch built on the longstanding success of the restaurant. With three separate dining rooms, the restaurant offers tapas in the tavern, an informal dining room for gourmet gastronomy, and a tasting room where guests can sample the specialties of the chef.
Alejandro *, Chef Alejandro Sanchez, Almeria
Alejandro professes to believe in simple cooking based on respect for traditional Almerían ingredients. To see the sophistication of his creations, you might not call it simple yourself… There is no question as to the purity of the ingredients, often taking on the elegance of Japanese cuisine, particularly evident in his passion for local fish and seafood.
Alan Hazel is Owner and Director of Cortijo El Carligto. Cortijo el Carligto is a private Andalucían hideaway and luxury rental estate in the hills of Malaga, Spain, overlooking the Mediterranean.
If you would like to be a guest blogger on A Luxury Travel Blog in order to raise your profile, please contact us.
Did you enjoy this article?
Receive similar content direct to your inbox.