The Amazon rainforest is one of the most unique and intriguing habitats on the planet. Bursting with life on land, in the water and in the skies, this magnificent jungle is on many a traveller's wish-list. Long gone are the days of sleeping in lines of hammocks whilst being attacked by mosquitoes, today there is an impressive selection of luxury lodges to choose from, and here are 5 of the best;
1. Anavilhanas Jungle Lodge
Anavilhanas Jungle Lodge offers luxury in a peaceful and natural setting. Located 180kms from Manaus on the banks of the Rio Negro, you can see first hand the wonders of the Amazon. With only 20 highly private bungalows, which are all fully equipped with the necessities of air conditioning and a mini bar, you're sure to feel secluded from the outside world and feel immersed in the rainforest. Its sustainable and carefully considered lodges were built to offer a low environmental impact on the surrounding forest. Upgrade for a unique stilt-suspended bungalow nestled surrounded with glass walls, a 32-inch television and a balcony.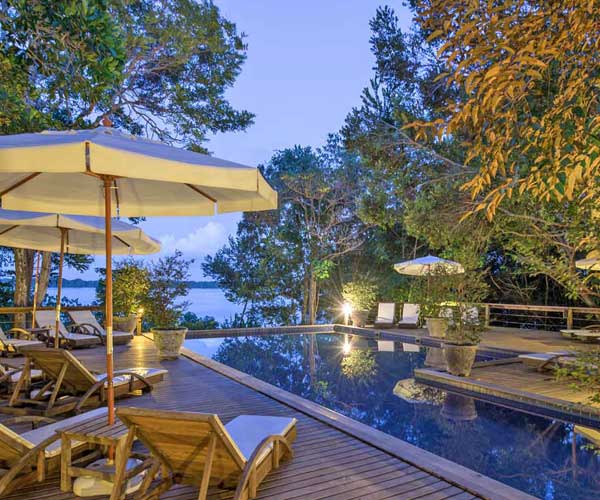 The packages include meals at the hotel's restaurant with dishes featuring Amazonian flavours or food from home. A good selection of activities are on offer too – hike through the towering jungle, and watch nature take over with bellowing howler monkeys, colourful toucans and glowing frogs. Venture to the waters on canoeing trips and go piranha fishing, spot prehistoric alligators and play with the Amazon River Dolphins.  Why not visit the local indigenous tribes and find an untouched world. When relaxing at the lodge, guests can relax by the swimming pool with a cocktail in hand from the bar.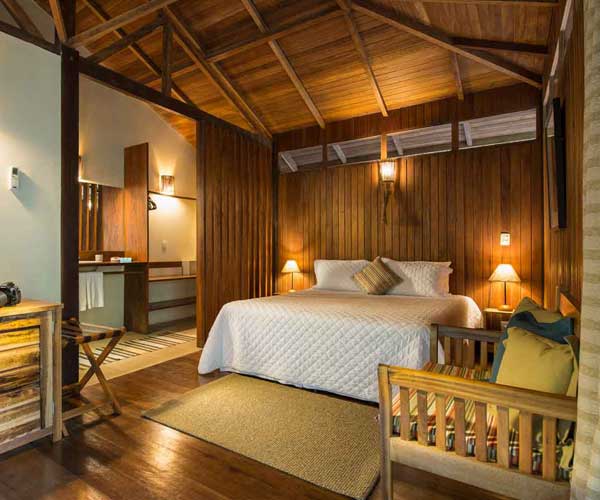 2. Mirante do Gaviao Lodge
Looking for a luxury experience, within the depths of the forest overlooking the Amazonian river? The Mirante De Gaviao Lodge offers a grandeur escape within natures treasure. Situated 2½ hours away from Manaus, you will be taken through the Amazon along the banks of the Rio Negro until you reach your journeys end. Patricia O'Reilly, the Brazilian based architect who designed the hotel, wanted the structure to be influenced by the hotels surroundings as seen by the wooden arches which represent the winding vines around the trees. She specialises in sustainable structures with low environmental impact which was ideal for the amazon's strict regulations.
All the 7 suites and bungalows feature air conditioning, a large terrace, mini bar along with a king size bed. However, if you wish for an upgrade to the top suites, a hot tub on the balcony is waiting for you. On site the restaurants' menu specially prepared by local Chef Deborah Shornik. The selection of dishes all local ingredients along with international favourites for everyone across the globe. The full board package basis means all your dishes will be paid for, as well as the opportunity to immerse yourself in what the Amazon has to offer. Why not try canoeing along the river searching for the creatures hidden within or explore the forest by jungle trekking? The hotel also offers piranha fishing, pink river dolphin spotting, boat-based safaris all provided with a professional guide who speak English, German and French.
3. Cristalino Jungle Lodge
It's not just the many happy guests who love this lodge, National Geographic has announced the Cristalino Jungle Lodge is one of the world's best ecolodges! The 29,000-acre private reserve within the Amazon is perfect for those who wish for a birdwatching holiday experience, with 586 species been recorded in the district, including many endemics. The lodge prides itself on the importance of its conservation projects as it works directly with locals to protect the primary rainforest.
Cristalino offers boat excursions led by experienced guides for hiking trails, birdwatching, canoeing as well as wildlife observation from a 50-metre-high canopy tower (to catch a glimpse of the monkeys, toucans, tapir, giant river otter and macaws). If you prefer to relax on your holiday, the lodge has a floating deck especially for sunbathing and relaxing with a book, with steps leading to the Cristalino River perfect for swimming. The onsite restaurant is perfect for unwinding after an adventurous day with its laid-back atmosphere, so no need to worry about taking a suit! The large selection of international and local dishes will give you a taste of home in the tropical surroundings. The lodge has a selection of accommodation types to choose from. You have a choice of standard, superior or a private bungalow, but all the room types are comfortable, modern and welcoming.
4. Tucano Motor Yacht
The Tucano Motor Yacht is a traditional Amazonian boat ideal for exploration of the river. Perfect for guests who want to fully immerse themselves in the incredible Amazon and its wildlife. Meals onboard are basic but fresh and filling, and the cabins are traditional and comfortable.
There are 9 private cabins on board – all air conditioned, with large windows and insect screening, private bathroom with toilet plus hot water showers. The top deck of the Tucano is open plan with a large sun canopy perfect for spotting wildlife or simply relaxing and watching the world go by.
5. Untamed Amazon Superior Cruise
Untamed Amazon is an exciting one-of-a-kind project that brings a unique concept to boat design that changes the standards in live-aboard vessels. The main floor of the Untamed Amazon has 8 guest suites – each 18 square meters in size – 6 of which are double suites, and two of which are set up as single suites. Six suites can accommodate two guests, in super single beds and includes a private bathroom, air conditioning and plenty of open space for clothes, equipment and storage. Two suites accommodate single guests, also with private bathrooms, air-conditioning and plenty of open space for clothes, equipment and storage. The suites all feature outside-facing, ceiling-to-floor panoramic windows.
The upper level is for guests to relax, enjoy a beverage and re-live the days adventures. It features a spacious living and dining room, and an open lounge where drinks and appetizers are served. There are also two big Jacuzzi tubs for up to 10 guests on this floor. This 3rd level is home to the full commercial kitchen where a trained chef and his team create sumptuous meals, as well as serving as the command and navigation center for the vessel.
Simon Williams is Director of Humboldt Travel. Humboldt Travel is a luxury travel company specialising in tailor made holidays to Latin America.
If you would like to be a guest blogger on A Luxury Travel Blog in order to raise your profile, please contact us.