With the Christmas holidays finished and the children back to school you might be breathing a sigh of relief and looking forward to a little bit of downtime! Not for long however… the school holidays keep on coming with February half term just around the corner, quickly followed by Easter and then May half term!
Rather than leaving planning a Spring family holiday that will keep everyone happy and fully occupied until the last minute, it might be worth getting a jump start and organising your trip now. You'll then be able to fully relax knowing that come a few weeks' time there will be no last minute (and expensive!) dash to book ferries, flights and accommodation!
So, where to go? Simple… Provence! Great weather, good food, easy to get to and lots to do… it really is the perfect family holiday destination. To give you a flavour of what's on offer I've listed ten top family activities (in no particular order) that will keep everyone smiling.
Head to the beach
Spring can be a great time to visit one of the many wonderful beaches that dot the Provencal coastline. Although the water might be a bit chilly for swimming in February things begin to heat up quickly as the year progresses.
And as an added bonus the real crowds won't descend until the summer meaning it's much less busy. Try the beaches at Bandol – this pretty town has several wonderful sandy beaches to choose from as well as easy access to restaurants and ice cream vendors! Les Lecques Beach is also a good choice – its shallow waters make it perfect for the kids.
Marseille
A city like Marseille offers more than enough attractions to keep everyone properly entertained all day. As you'd expect from a city of this size there are endless shops and lots and lots of cafes and restaurants to enjoy.
As a coastal city, Marseille also has a huge port which the kids will love exploring. If they need to blow off some steam then head to Marseille's Parc Borély. It's a great picnic spot with gardens bordering the sea and lots of space to explore.  There are also carousel rides and a skateboard park.
Parc Pastré
Whilst you're near Marseille another destination to consider is Parc Pastré. Located at the southern end of Marseille, this beautiful park covers over 110 hectares in which you'll find fitness trails, huge gardens, streams, lakes, and ponds to explore.
There is also an equestrian centre – perfect for the budding riders in your family.
Go biking
Provence offers a fantastic array of on and off-road biking opportunities. Roads are well maintained and it's easy to find lots of quiet areas, relatively free from traffic. With distances being greater than in some countries, biking offers a great way to explore as you can cover much more ground than if you were on foot.
There are also miles and miles of dry trails to enjoy on a Mountain Bike. Enjoy cycling down easy trails through fields of lavender to optional high alpine paths which will test keen bike rider's technical skills to the max.
A day out at Circuit Paul Ricard
For an adrenaline rush head to the Paul Ricard Race Track. They have lots of activities for you to try your hand at including Go Karting and Quadbiking, mini motorcycling to guided tours of the famous track itself.
The circuit also hosts a lot of race day events throughout the year so it's worth checking their events calendar to see if any appeal to you. With a restaurant on site as well as a free fall jump, zip wire, climbing walls and an activity course with ropes, there is more than enough to keep the entertainment levels high throughout the day.
Take a trip to Porquerolles Island
The island of Porquerolles is located off the coast at the southern end of Provence. Accessible by ferry, the crossing offers a fun way to start a day's exploring. Visiting in low season is especially recommended as visitor numbers are lower.
Your best bet is to hire bikes for everyone before setting out around the island. There is loads to see and do but you'll definitely want to make some time to spend on the beach. There are lots to choose from and all are beautiful. There is also a dive centre – great if you have a family who loves water activities!
Tree climbing
Head to Le Royaume des Arbres and get ready to explore the canopies of the French forest in Le Castellet! With high wires and zip lines, a range of courses ranging from lower ground for the little ones, to high wire activities there is something for everyone.
Expertly supervised, you can also be sure this is a safe activity for the kids.
White Water Rafting in the Gorges du Verdon
A destination in its own right, the Gorges du Verdon is the deepest gorge in France and is one of the must-see natural wonders of central Provence. It's worth driving or biking around the edge of the gorge, stopping off to take in the views before heading down to the lower end of the gorge where you'll be able to jump on a raft for a white-water rafting session!
With no previous experience required it's a great way to get an introduction to white water activities. Just be prepared to get wet!
Head to a market
The kids pocket money burning a hole in their pocket? Let them run loose at a French Market! Always fun, markets still feature heavily in French day-to-day life and offer a cultural experience that's not to be missed.
The kids will have the opportunity to try out their school French phrases (c'est combien?) and buy a souvenir or two. The adults will enjoy a saunter among the stalls and perhaps find time to stop for a coffee and pastry.
Head out on a boat
Getting out on the water is always fun and there are endless ways to do so in Provence. From trips down canals through to sailing in the open waters of the Mediterranean there is a boating experience that is sure to suit your family.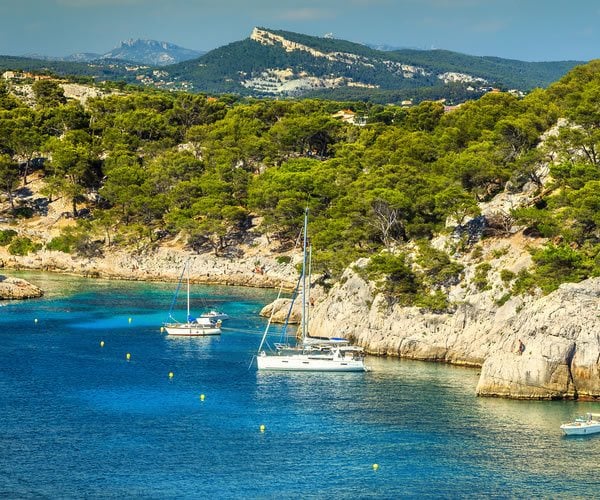 Many will choose to enjoy a coastal excursion, perhaps on a catamaran which will allow you to fish, explore secret inlets and bays along the coast and swim. A guided tour by boat of the Calanques is highly recommended.
Provence really is a 'something for everyone' destination – it's most definitely not just for the kids. Adults alike are able to enjoy a brilliant holiday in this most versatile of destinations ensuring everyone has an enjoyable holiday. Have fun!
Su Stephens is Owner of Olives & Vines. Olives & Vines is a luxury holiday company based in the South of France offering stays at their beautifully designed holiday house and boutique hotel in Le Castellet.
If you would like to be a guest blogger on A Luxury Travel Blog in order to raise your profile, please contact us.