Top 5 honeymoon eperiences in South Malawi
When it comes to planning your dream honeymoon destination, Malawi may not initially spring to mind. But if you're one of the lucky ones to have experienced Africa's most complete destination, or still considering where to head off to for your piece of paradise, then Malawi should sit high on your list when you check out these Top 5 Honeymoon Experiences to be found in South Malawi. (And there are plenty more great honeymoon experiences further North!)
Gone are the days where honeymooners flick through a catalogue and pick out a 'default' honeymoon destination. Why? Because everyone has done that. You'll hear stories of how your cousin headed to the white beaches of
Maldives
, or your great aunt basked in the Hawaiian sun. Although these typical destinations offer exactly what they advertise, heading to Malawi can offer you not only beautiful weather and stunning sandy beaches (yes, Malawi is landlocked but offers some of the most pristine beaches in the southern hemisphere) but also exhilarating scenic, cultural and wildlife experiences that will beat any other.
1. Watch the sunset from Mumbo Island
After an enjoyable yet stressful time planning your wedding, a honeymoon is your time to relax and connect with your loved one as you share your life together, and there is nowhere better for that than Mumbo Island. Mumbo Island is a private island of untouched wilderness within the Lake Malawi National Park that has been delicately converted into a paradise hotspot. The rustic charm and lack of tourists allows you to relax without even trying. So much so that hearing the waves gently brush against the rocks as you sleep is like listening to a sleeping-aid soundtrack.
One of the best highlights of a stay on Mumbo is their complimentary evening boat rides. As the sun is beginning to set, you meet one of the guides at the end of the jetty who will help you down into the little wooden boat resting on the water. As you drift away from the island into the vast Lake Malawi, look up and see the African fish eagles patrolling the skies from up high. As the sun begins to set, the guide will turn off the engine so you can unwind and experience the stunning red sun drop beneath the horizon. As Malawi sits on the west of Lake Malawi, you'll be able to see sunrises all across the shoreline, but a sunset is best experienced out on the lake and nowhere better than Mumbo Island. It doesn't stop there. If you time your honeymoon right, there are now yoga and relaxation retreats taking place throughout the year. Mumbo Island can be for the peaceful traveller, but also the adventurous. Kayaks are available to go gliding around the island spotting birdlife as you go. You can also snorkel in shallow waters around the island, discovering the underwater world of tropical cichlid fish, or head through the untouched wilderness and walk around the entire island in a couple of hours.
2. Get up close with the Big 5 in Liwonde National Park
A safari in Malawi isn't about tick lists and convoys of vehicles driving around the parks, as seen in some of its neighbouring countries. Instead, you'll head deep into the wilderness to get up close with the wildlife without disturbing their habitats, and most likely never come across another group of visitors.
Liwonde National Park is most proudly known for its diversity of wildlife, giving thanks to the Shire river which winds through the heart of the park. Boat safaris are an alternative way to see wildlife and can be much more comfortable than a bumpy ride on the back of a 4×4. On a boat safari you'll spot incredible bird life found only in Malawi, see and hear hippos as they parade through the water, watch elephants as they come down to drink and wash in the river, observe crocodiles resting on the banks as they prepare for their next meal, and so much more. There are only a couple of safari lodges in Liwonde National Park all offering inclusive activities.
3. Visit a local village and meet Malawian people
Malawi is known as 'the warm heart of Africa' because of its people. Malawians are known as the friendliest in the world and will share their lives with anyone who wishes to learn more. To truly find out about Malawian culture, a visit to a local village is one of the most memorable experiences you can have.
As you're welcomed into the village you will be able to try their local food, learn about their way of life, get involved in their activities, watch their traditional dances and check out their ceremonial costumes. Getting involved with the community spirit will leave you with some of your fondest memories. One of the most popular is the Njobvu Cultural Village, located just outside the Liwonde National Park. This is in a great location and can be easily visited before or after you go on safari. But all of Malawi's lodges have great connections with their local communities and can arrange village visits for any of their guests.
4. Walk through the clouds at the top of Zomba Plateau
Zomba Plateau is one of Malawi's hotspots. This great slab of rock towers over the historical town below. The steep winding road up the plateau will take you through thick forest and open up stunning views. As you walk through the plateau you will hear and see baboons swinging through the trees. Even though you're high in the clouds, look out for trickling waterfalls, streams and even lakes.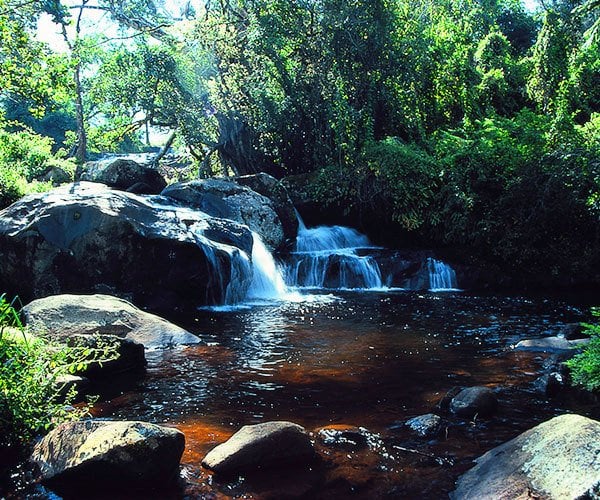 You can also hire bicycles on the plateau and venture further afield to some of the plateau's historical sites including Emperor's view, named after Emperor Haile Selassie of Ethiopia who visited in 1964. This site is a fantastic spot to take a picnic and look out at the stunning scenery below, including Malawi's highest peak Mount Mulanje rising in the distance. As you head back, there are plenty of curio huts on each corner where locals hand make fantastic creations including wood carvings, jewellery, pieces of art and other souvenirs – perfect for a gift for family and friends back home. There is a choice of accommodation on the plateau and in the town below, including small, friendly, family-run forest lodges and a unique low-rise hotel right on the very edge of the plateau.
5. Discover why Lake Malawi is known as the 'Lake of Stars'
Lake Malawi is often said to be the 'jewel in Malawi's crown', and there is no doubt it lives up to this title. This huge mass of water stretches two thirds the length of the country, offers incredible aquatic life, and sandy white beaches that rival any tropical beaches around the world.
Coined as the 'Lake of Stars' by David Livingstone, a Scottish missionary who was one of the first Europeans to explore Malawi (previously known as Nyasaland) over 150 years ago, Lake Malawi is a spectacle at night. Although the clear skies offer stunning
stargazing
, it is the hundreds of so-called 'stars' on the water that leave you fascinated. As fishing is more successful at night with the cooler temperature and lack of predator birdlife frightening away the fish from the surface, hundreds of fishermen climb into their traditional dugout canoes, armed with their nets and a lamp that glitters through the night sky. It is this illusion that creates the beautiful scene of 'stars' across the lake. With many of the country's lodges and hotels found on the lakeshore, you can dine out by, or even on,  the beach and watch as the lamps glisten all around the lake. There really is nothing more romantic for your Malawian honeymoon.
Kelly White is Director of the Malawi Travel Marketing Consortium. Malawi Travel Marketing Consortium aims to provide you with the best information to make Malawi your tourism destination.
If you would like to be a guest blogger on A Luxury Travel Blog in order to raise your profile, please contact us.
Did you enjoy this article?
Receive similar content direct to your inbox.