By
Missy Johnston
on Feb 25, 2019 in
Attractions
,
Croatia
,
Cruises & Boat Travel
,
Eastern Europe
,
Europe
,
Food and Drink
,
Going Out
,
Leisure Travel
,
Regions
,
Speciality Travel
,
Travel Miscellany
Or… of wine, oysters, truffles, Dalmatian peka bell cookery, and even song. A luxury yacht charter along the Dalmatian Coast of Croatia is a combination of this and so much more, including Klapa singing, all of which is the real Croatian experience when cruising through these beautiful blue green waters. It is along the coast and on the various islands, that a luxury yacht charter culinary adventure in Croatia can truly be found.
Wines
The Dalmatian Coast and Islands are home to many award winning boutique wineries as the soil, sun and climate produce spectacular wine grapes. These wine grapes are considered so special that several locations on the Peljasac Peninsula just north of Dubrovnik, where Plavac Mali grape vines are grown, have their own appellations-Dingač and Postup.
When cruising along the Peljasac Peninsula, several wineries can easily be visited (with advance reservations) for wine tastings such as Korta Katarina Winery, and Grgic Winery by just anchoring in front of the wineries. To visit Korta Katarina Winery, your charter yacht can anchor in front of the winery. Guests arrive ashore via the ship's tender for a short walk up the hill to the winery. Anchor in front of Grgic Winery in Trstrenik Bay, a beautiful bay on the Peljasac Peninsula. Head ashore in the ship's tender and enjoy a wine tasting on the terrace under the warm sun with your yacht anchored in front of you in sparkling clear water.
Oysters
The Dalmatian coast has a centuries old tradition of mariculture. The top spot in Croatia for mariculture of oysters and mussels is considered to be Ston and Mali Ston Bays. In both bays, submarine fresh water springs bubble to the surface of the sea beds, which creates brackish water in both bays with a special combination of minerals, nutrient salts and a large quantity of phytoplankton.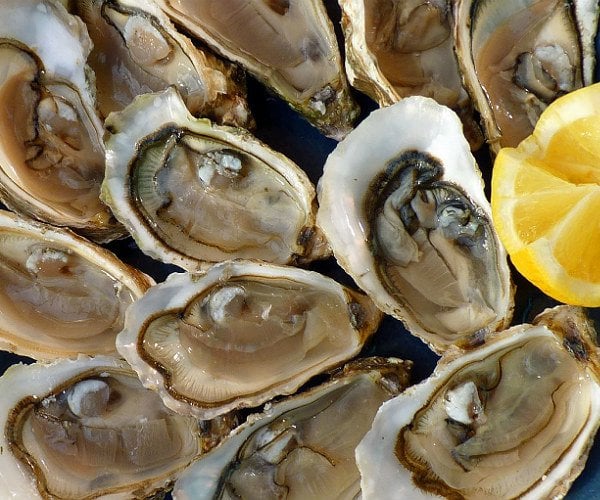 It is this special combination of brackish waters, minerals, nutrient salts and phytoplankton that is felt to produce some of the tastiest oysters in the world. In London at the 1936 World Exposition, oysters from Mali Ston received both the Grand Prix and the Gold Medal Ston and Mari Ston Bays are not newly discovered mariculture locations. Oyster cultivation has been occurring in both bays since ancient times as evidenced by remnants found of Roman oyster farms. While oysters have been farmed here through the centuries, it was not until the beginning of the 19th century, that oysters and mussels were farmed and shipped as a food product for non-local consumption. Wars decimated the oyster farming industry including the recent Croatian War of Independence ending in 1995. However, since the end of the recent war, oyster farming has renewed with a flourish in these same waters in both bays that are crystal clear and sparkling clean.
When on your yacht, stop by ship's tender at a farm raft floating on the water, and ask to buy freshly collected oysters to have raw on board, or cooked in many different ways by your onboard Chef. Or dine at Bota Sare in Mali Ston on oysters and mussels harvested fresh from their own shell farm along with vegetables from their own garden. This is a real sea to table restaurant dining experience where very fresh oysters are served raw and cooked in many ways including grilled on a wood burning fire, creating oysters with a flavor that is out of this world
Truffles
Both black and white truffles can be found in Istria, in northern Croatia. The woods in this area have the perfect combination of soil and moisture in which truffles thrive. Truffle hunting is done with trained dogs in the Motovun Forest in Croatia which is dense with oak trees and where both white and black premium grade truffles can grow to the size of your fist.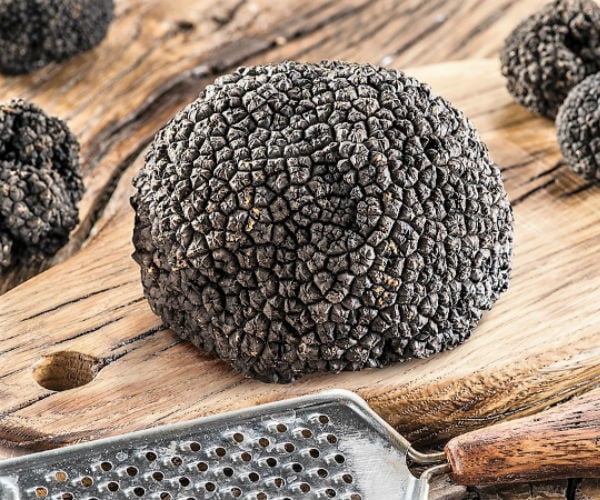 Croatian truffles have not yet captured international notice and so the prices of these underground jewels are still quite reasonable. While a charter in Dalmatia will not bring you near the truffle hunting grounds of Motovun Forest, requesting dishes made by your private on board chef from provisioned Croatia truffles will not cause your charter expense deposit to sky rocket. For the truffle aficionado, having truffle this and truffle that while on board will not break the bank. Before or after the charter one can always travel to Istria, Croatia for the complete truffle experience including hunting truffles yourself with a trusty truffle hunting dog.
Peka bell
A traditional Dalmatian cooking technique, a peka bell is a large dome shaped cast iron lid that covers and bakes food for a period of time.
The peka bell is suspended over a platform, once made of stone, where a wood fire is lit early in the day and allowed to die to embers and ash. The embers and ash are swept to the side, and a combination of meats or seafood, with vegetables and wild herbs are placed in a ring on the hot stone. The peka bell is lowered over the food and sealed with the hot ash and embers and allowed to bake for a considerable time if lamb, less time if octopus. Once done the peka bell is "cracked" by raising the bell which breaks the seal created by the ash and embers. Cracking the peka bell is not to be missed, for as the peka bell rises, your nose is met by fabulous aromas of beautifully slow roasted food, laced with fresh wild herbs.
There are a number of restaurants in Dalmatia that serve peka bell foods, however, a special location where peka bell cookery is combined with a Farm to Table experience, is Gulin Farm in Vela Luka on Korcula Island (reservations required). From the anchorage in Vela Luka, it is a good walk, for those who want to work up an appetite, or van ride to the farm. At Gulin Farm, the wood fire is started early in the day to create the peka bell ash, embers and resulting hot stone. Peka bell foods are set on the hot stone surface, covered by the peka bell, and then sealed with the ash and embers. The food roasted in the peka bell is grown and raised on the farm, and when cooking they use their own olive oil pressed from their olives, and herbs picked wild from their fields. Fresh fish, if requested, is caught that morning from the sea edging their coastal farmland, and grilled over a wood fire.
Klapa singing
Entered on the list of UNESCO Intangible Cultural Heritage of Humanity, Klapa singing is an age old form of acapella singing with religious origins, that was traditionally only men singing, but today can be women as well. Klapa literally means "group of friends".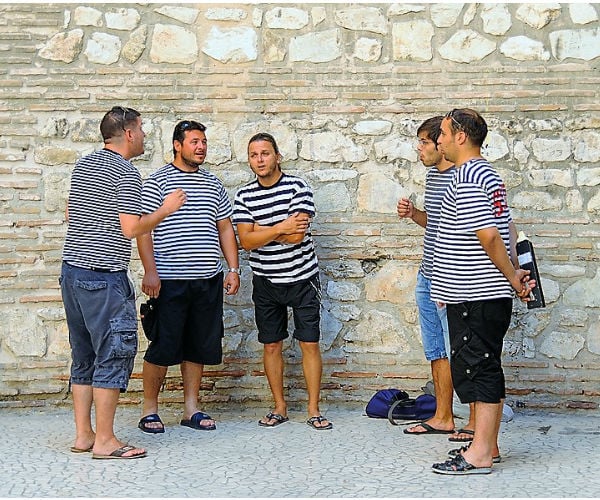 A Klapa group consists of a first tenor, a second tenor, a baritone, and a bass. While there can be any number of second tenor, baritone, and bass singers in a group, there is usually only one first tenor. For centuries, boys, (and now girls) if found to have a singing voice, whether tenor, baritone or bass were home schooled their part for their voice range of various Croatian traditional folk songs, so that at any time, an impromptu group could gather and break out into acapella song, with each singing their part, even though they might be strangers. However, normally it is a group of friends that might be out or gathered in for the night.Today, Klapa singing is a favorite pastime, and a daily aspect of every Croatian's family life. When out at night in Croatia, you might hear a group spontaneously Klapa singing together. A Klapa group sings every morning in the main square in Old Town Trogir from 8:00 to 10:00am. Often the family at Gulin Farm will Klapa sing, perhaps with your charter captain joining in, if Croatian, as any well-schooled Croatian with a voice for song can join any group of Klapa singers at any time to sing acapella their particular part of beautiful traditional Croatian folk songs.
What ever itinerary you choose to do whether on a private gulet, motor yacht, mega yacht, sailing yacht or catamaran in southern Croatia, wine, oysters, truffles, Dalmatian peka bell cookery and Klapa singing can all be part of a luxury yacht charter culinary adventure through the islands and along the coast of ancient Dalmatia, that today is Croatia.
Missy Johnston is Owner of Northrop-Johnson Yacht Charters Newport. Northrop-Johnson Yacht Charters is a luxury crewed yacht charter company offering top notch private yachts with great crews in every worldwide cruising destination.
If you would like to be a guest blogger on A Luxury Travel Blog in order to raise your profile, please contact us.