By
Paul Johnson
on Feb 26, 2019 in
Accommodation
,
Attractions
,
Europe
,
Family Travel
,
Featured
,
Going Out
,
Leisure Travel
,
Regions
,
Restaurants
,
Speciality Travel
,
United Kingdom
,
Vacation Rentals
,
Western Europe
A pheasant scurries across the road as we turn into the drive towards Teal House, our home for a week's holiday in the north-east of England. We are about five miles to the west of Alnwick, widely regarded as one of the top pheasant shooting locations in the UK, and the many pheasants we see during our week in the area have survived the shooting season which ended just a few weeks ago.
Teal House, one of three properties available from Lemmington Cottages, all of which have been awarded the prestigious 5 star gold awarded by the National Quality Assessment Scheme for VisitEngland, and available to book through Premier Cottages, is a lovely four-bedroomed property that certainly doesn't disappoint. This L-shaped ground-floor accommodation has been finished to a high standard and has its own private garden to the rear, with pine forests and the rolling hills of the Cheviots beyond.
We followed the straightforward instructions to let ourselves in on arrival but, should you wish, the owner Lydia is always available to meet and greet in person, as well as assist with recommendations and local information. On entering Teal House you are greeted by an inviting hallway where the two sides of the 'L' meet. A visitors book full of glowing comments offers immediate re-assurance that you have arrived at somewhere rather special.
To the left is a long corridor off which three of the bedrooms can be found. To the right is a fourth bedroom, and the rest of the living space ahead.
The bedrooms can be configured as double-bedded or twin-bedded rooms. Each is furnished and decorated slightly differently but all with stylish yet modern, neutral tones.
Pictures from the local area hang on the walls and there's the occasional fun reminder of the Northumberland countryside that surrounds you. There's only one other house within a mile's drive so expect to see more sheep than people if you plan for a lazy day at property.
Large floor-to-ceiling windows, and doorways that lead out to the garden, mean that the bedrooms enjoy plenty of natural light.
In our sons' twin-bedded room, there were 'Timeout Bags' on each of their beds. These are the brainchild of Lydia's sister and form part of the 'cottage concierge' service offered by Lemmington Cottages.
Bespoke activity packs can be tailored to different ages and are especially popular with younger guests. They included a generous array of gifts from books and games to fidget spinners books and healthy snacks, and a lot more besides – such a lovely extra special touch.
The cottage concierge service also extends to a range of added experiences such as breakfast hampers, private catering, spa treatments, bicycle hire, pony trekking and more, so do ask if you need help or advice with anything.
All four bedrooms have their own private en suite bathrooms with large, neutral-toned floor-to-ceiling tiles.
Floris toiletries are provided – a long-established London-based brand; despite it being the oldest retailer of fragrances and toiletries in the country, it is still family-owned and run to this day despite being established as long ago as 1730.
Bath robes are also supplied – not something that would normally be a 'given' with self-catering accommodation, but occasionally seen at the higher end of the market where the distinction between hotel and self-catering accommodation is becoming increasingly less obvious.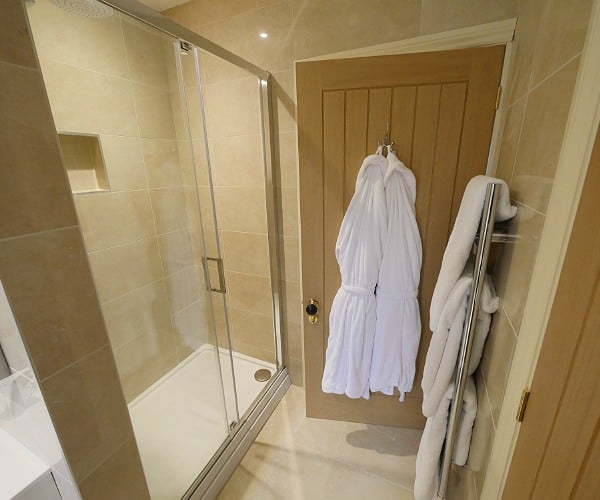 The main living space consists of a long, open plan room with kitchen, dining area and lounge.
A large kitchen island with stools along one side provided a sociable environment for when cooking meals in.
And the owners very kindly provided us with an array of treats on arrival – a bottle of wine, coffee from Lindisfarne, milk and juice in the fridge, a bowl of fruit, a lovely cake and even fresh flowers.
At the far end of the room, beyond a long, central dining area with seating for up to 10 people, is a snug lounge, a wood-burning stove and TV with Netflix (the televisions in the bedrooms also came with Netflix).
Firelighters, matches and a basket of logs were all provided.
Teal House also has its own utility room, with a washer/dryer concealed behind fitted cupboards, and even an armchair, footrest and TV should you wish to have a little quiet time away from everyone else!
A lawned garden gives a secluded and safe environment for children to play out, and sun loungers and areas of decking provide ample opportunity for adults to relax, too.
For older children wanting to get a little more exercise, the drive to the property is just over half a mile long and sees pretty no traffic whatsoever given that it only serves Teal House and one other property, making it perfect for a spot of independent mountain biking.
Whilst you can easily fill your days relaxing at the accommodation, it would be a shame not to explore the local area. Known in tourist circles as 'The Secret Kingdom', yet enjoying increasing popularity, North Northumberland has much to offer.
In the nearby market town of Alnwick, you have Alnwick Castle and The Alnwick Garden. Unfortunately, the castle – dubbed 'the Windsor of the North' and used as the location for Hogwarts in the Harry Potter films – was closed at the time of our visit, but the garden could still be visited.
The centrepiece of the garden is the Grand Cascade, a series of fountains and the largest of its kind in the UK. But this innovative contemporary garden has much more to offer and is arguably one of the most exciting gardens to have been created in Europe in the last 100 years.
One of the most recent additions is a hillside full of wooden swings that look down on the lake below, some dedicated to the memory of loved ones, that provide a relaxing way of passing the time in one of the less busy areas of the garden. In all honesty, the timing wasn't perfect for seeing the gardens at their best, but it is still well worth a visit at any time of year.
For days when the weather is less favourable, a visit to Barter Books makes for a unique morning or afternoon out. Housed in Alnwick's old railway station, this is one of the UK's largest second hand bookshops and a tourist attraction in its own right, attracting an estimated 350,000 visitors per year. You can buy books here but, as the name suggests, a barter system that allows customers to exchange their books for credit against future purchases is also possible. Barter Books also rose to fame in 2000 when a never-issued 1939 World War II poster with the words 'Keep Calm and Carry On' was found in a box of old books bought at an auction, but has since resulted in an international phenomenon with the words seen on posters, mugs, T-shirts and more.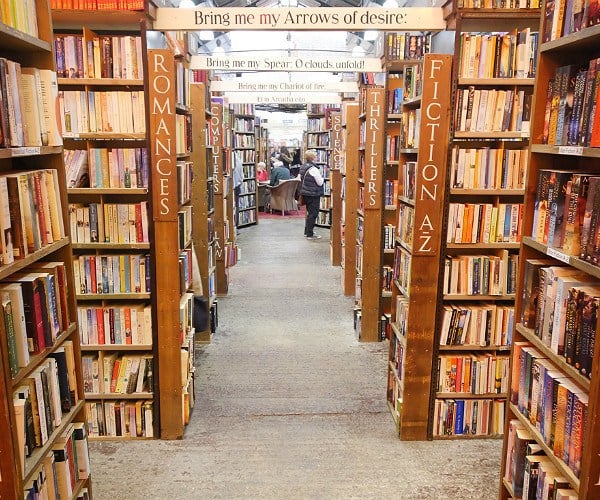 Whilst we also visited nearby Alnmouth and enjoyed a walk along the beach there, some of the area's other treasures can be found further north along the coast.
As well as visiting towns and villages such as Beadnell, Seahouses, Craster and Embleton, we walked along the dunes and beach at Dunstan Steads from where you can enjoy lovely views of the 14th Century Dunstanburgh Castle. Once one of the largest forts in northern England, it changed hands several times during the Wars of the Roses in the mid 15th Century and gradually fell into a state of disrepair. Today, it is owned by the National Trust and managed by English Heritage.
A little further up the coast lies the equally impressive, and much more intact, Bamburgh Castle which you might recognise from a number of television and film appearances, including both the 1971 and 2015 screen portrayals of Macbeth. It too saw considerable damage during the Wars of the Roses but was properly restored in the 19th Century when it came under the ownership of Lord Armstrong and remains in the Armstrong family to this day.
Whilst I've been to the area many times before, and even stayed in Bamburgh several times in the past, I had never actually been inside the castle, so this time we took the opportunity to do just that. By far the grandest room during our visit was the King's Hall which would have been the castle's main social reception and banqueting room.
Also of note were Cross Hall, the billiard room, the scullery, armoury and the many collections of artwork, porcelain and furniture.
There's a mock-up of the dungeons towards the end of your visit which might not be to everyone's taste, especially if you are travelling with young children, but it does provide you with a stark reminder of what times may have been like in the past. Also worth noting is that the guides throughout the castle were welcoming and knowledgeable, and the views from the castle walls are fantastic, particularly if the weather is favourable.
Bamburgh is also well known for its connections with the national heroine, Grace Darling, who – together with her father – risked her life by rowing out in stormy weather to save the stranded survivors of the shipwrecked SS Forfarshire steamship in 1838 which had struck one of the Farne Islands when trying to take shelter from a storm. Grace sadly died of tuberculosis four years later at the age of just 26 and is buried with her parents at the picturesque St. Aidan's Church in Bamburgh.
Near to their modest grave is a very elaborate memorial which depicts Grace holding an oar by her side. A similar memorial can be found inside the church, as well as a depiction of her in one of the stained glass windows.
Across the road from the church is a small museum dedicated to Grace's heroics, and you can see the very boat used to perform the brave rescue. Although small, the RNLI Grace Darling Museum really brings her story to life. The museum is free but donations to the RNLI, who rely on volunteers and have saved more than 140,000 lives since their inception in 1824, are of course very welcome.
Carry on north past Bamburgh and you soon come to the turning for the Holy Island of Lindisfarne – one of the most important sites of early Christianity in Britain, as well as the site of Britain's first Viking attack in 793 AD. This is a tidal island so you do need to check the tide tables before planning a crossing. If you cross the causeway at one of the earliest crossing times, you'll get at least a few hours in which to see the island's main sights.
There's a designated car park in which to park in order to keep traffic out of the village. Around 160 residents live on the island, almost all of which live in the village. We parked up and walked the 20 minutes or so to Lindisfarne Castle. Originally built in 1550, around the time that Lindisfarne Priory went out of use, this Tudor Fort was converted into a holiday home for Country Life owner Edward Hudson by architect Sir Edwin Lutyens in 1903. More recently, the castle underwent a major renovation (2016-2018). Should you still have the energy after climbing the hill up to the castle, you can tpay to take a tour of the castle which is now owned and managed by the National Trust.
Alternatively, you can just enjoy the spectacular views out to the Farne Islands and across to the mainland where you can just make out Bamburgh Castle on the horizon.
On our way back, we were lucky enough to see a seal pup. The Farne Islands accounts for approximately 2.5% of all new seals born in the UK. The Farnes have a healthy population of grey seals but apparently Holy Island is also home to very small numbers of common seals. Having read about the differences between grey and common seals, I'm still not sure which this is, so perhaps someone can confirm in the comments!
The other key site to see on the island is Lindisfarne Priory, a Medieval monastery founded by the Irish monk Saint Aidan in 634 AD. Now in ruins, this important centre of early Christianity is today looked after by English Heritage. Nearby is St. Cuthbert's island, on top of which sits a wooden cross, where Cuthbert is said to have first attempted to live as a hermit.
There is much more to see but little time to do it all justice unless you stay on the island. If you plan to return, be sure not to get caught out by the tides once again… there are plenty of signs on the island to warn you of the dangers, so really there is no excuse. If in doubt, don't chance it!
Once we returned to the mainland, we hugged the coast for a short while; it is not the most direct way back to Alnwick but the likes of Budle Bay are well worth seeing.
Closer to Teal House is the National Trust property of Cragside, the home of hydroelectricity, near the town of Rothbury. Whilst my wife and mother-in-law explored the house and gardens, I went for a mountain bike ride with our boys, taking in a loop that started and finished at the estate but passed through Rothbury, some open moorland and Forestry Commission woodlands.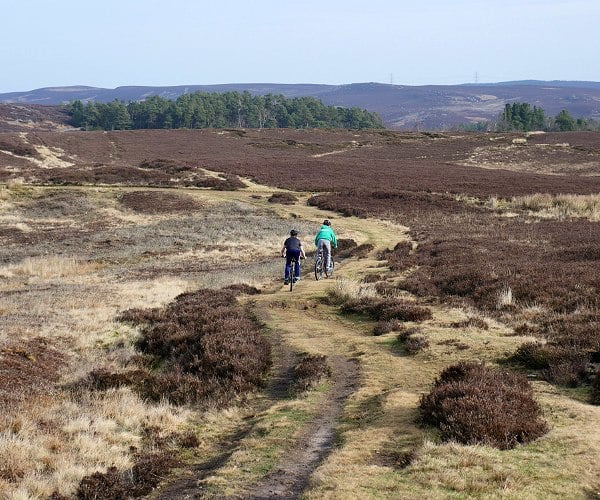 One thing is for sure; there is no shortage of things to do in the area! As far as dining is concerned, we enjoyed meals at a variety of establishments. Crab sandwiches are a must in the area and The Jolly Fisherman at Craster, winner of Northumberland Pub of the Year a few years ago, is a lively place to enjoy one – a busy pub brimming with atmosphere.
Just opposite the pub is L. Robson & Sons Ltd., a fourth generation family business, and producers of the famous Craster kipper. There's a shop there also.
The highlight of our dining experiences was, without doubt, The Potted Lobster in Bamburgh, which was well worth the 45-minute drive from where we were staying. You do need to book ahead, though. As well as a regular menu with staples such as the lager and lemon battered fresh haddock with pea purée, chips and homemade tartar sauce, there is a specials board to choose from. Pictured below are two items from the latter – pan fried cod, sautéed potatoes, garlic king prawns and parsley butter, and pan-fried salmon on a garden pea and prawn risotto – which tasted every bit as good as they look!
Another place you will want to try (but again you need to book ahead) is The Treehouse Restaurant at The Alnwick Garden, situated in one of the world's largest wooden tree houses. It is an experience if only for the décor and setting alone!
The menu was quite limited – just five starters and five mains (one of which was unavailable by the time they took our order) – and even more limited if you're vegetarian (in which case there would only have been one starter and main to 'choose' from). That said, the food was good and the setting unique. Pictured below is the Seareys smoked salmon starter, served with horseradish, pickled cucumber and soda bread.
For my main, I had the braised daube of Northumbrian beef with a pomme purée, smoked pacetta and baby turnips.
Alnwick also has a number of pubs, many of which serve food. Among them is The Hog's Head Inn which serves traditional pub grub. Named after the tavern in the Harry Potter books and films, it can be found on the outskirts of the town and is a handy stop-off point for anyone travelling past on the A1. Pictured is the creamy garlic chicken: chicken breast with baby potatoes and wilted greens in a creamy garlic sauce.
With no end of places to visit and eat out, and quality accommodation to return to each day, it is no wonder the guest book at Teal House is teaming with thanks and compliments.
This is clearly a special place that will attract plenty of repeat guests – and deservedly so.
Disclosure: Our stay was courtesy of Lemmington Cottages and arranged through Premier Cottages. Unlike many of the very large holiday rental websites, Premier Cottages does not add a booking fee to the price of your holiday. This means you can save 15% or more by booking with Premier as their prices are "all inclusive" with no hidden charges, cleaning fees or service costs. In peak holiday periods this can result in savings of hundreds of pounds. With Premier you book direct with the cottage owner rather than through a central reservations number and all properties have been inspected and rated 4* or 5* by the national tourist board.