If you are looking to treat yourself to celebrate a special occasion or just because you feel like it, going on an ultra-luxurious safari might just be the ideal solution you're looking for. While you'll find a vast array of high-end safari retreats, there is just a very small bunch of lodges you could consider ultra-luxurious. Let's have a look at some of them.
Royal Malewane, Thornybush Game Reserve
If celebrities are the perfect indicator to find ultra-luxurious places, then look no further. The amazing lodge hosted the likes of Elthon John, Richard Gere, Nicolas Sarkozy, Bono,…just to name a few. Set in the Thornybush Game reserve, it gives you some of the best game viewing out there. To top it off, the Royal Malewane will provide you with the best service, culinary delights from morning till the evening, an award winning bush spa and amazing accommodation which is in line with the eclectic style you'll find in all the Royal Portfolio properties of which Royal Malewane is part of. The added bonus here is that you have the most experienced team of rangers and trackers you'll find in the whole of Africa, just to make sure you'll have the most memorable safari experience. And the spa is the perfect place to relax between two game drives or just to pamper yourself a little bit more.
Londolozi, Sabi Sand Game reserve
This family-run business is one of South-Africa's original and goes back almost a full century. Today, the ultra-luxurious Londolozi camps are part of Relais & Châteaux. There are 5 camps all lines up next to each other on the banks of the Sand River. While all 5 are top notch, the one that sticks out most is the Private Granite Suites. Set on huge granite rocks, the beautiful designed suites give you uninterrupted views over the river, where elephants regularly pass by. The sunset river bar and sunken cocktail lounge are perfect spots to look out for any wildlife which roams around the camp. The Healing House is the latest addition to Londolozi and it's a place where can connect with the natural world on another level, going from guided meditation to intensive bodywork and yoga. Here, you'll find something for everybody.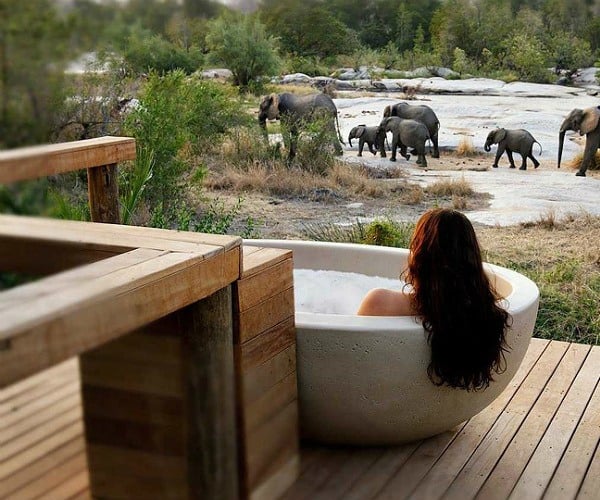 Ivory Lodge, Lion Sands Game Reserve
This lodge is just one out of 4 lodges which are located in the Lion Sands Game Reserve, and they're all part of the famous More portfolio. There are only eight one-bedroom villas and 1 two-bedroom villa which are all making use of a lot of glass, wood and concrete to give it a very clean and contemporary look while still blending in with the surroundings. Personalized service is a given, as is the great wildlife viewings and wonderful gastronomy. The More portfolio is known for its tree houses and at Ivory lodge you can elevate your safari experience by sleeping under the stars in one of the two tree houses. Of course there is once again a beautiful spa which enhances the experience and makes sure you'll feel relaxed after your stay.
Ulusaba, Sabi Sand Game Reserve
Sir Richard Branson has his own private game reserve in South Africa called Ulusaba. It shouldn't come as a big surprise that it received many awards in the past, as it is located in one of the best parts of South Africa to see wildlife. But that doesn't mean the lodge itself is any less impressive. There are two lodges, though the Rock Lodge is the most luxurious and impressive. Located on top of a hill, it gives you impressive views over the landscape. Each room is reflecting different African tribal influences, giving it their specific style. The views are of course all around, even if you are enjoying the outdoor pool. And don't worry about the colder winter months as the pool is heated of course. South Africa is also known for its wines, hence why there is a proper wine lounge which will give you the opportunity to indulge in some of the local finest wines. Ideal to top up that glass and go outside to admire the milky way.
The Motse, Tswalu Kalahari
The Kalahari is an unforgiving place where wild animals roams free and you'll find little signs of human life. The ideal location to escape everything and soak up the wide landscapes, the tranquility and to reload your batteries. The Motse has only 9 suites, instantly giving it that private atmosphere. Its style is African safari chic mixed with some stunning contemporary furniture pieces, giving it an authentic, yet up to date look. During those colder winter months you'll be happy to know that every suite has its own fireplace. The night sky will also warm your heart, as it will be lit with millions of stars which are visible due to the low light and air pollution in this part of the world. Currently they are renovating The Motse to keep it among the best lodges in South-Africa when it reopens in June.