By
Michael Edwards
on Apr 09, 2019 in
Accommodation
,
Attractions
,
Europe
,
Events
,
Food and Drink
,
Going Out
,
Hotels
,
Regions
,
Travel Miscellany
,
United Kingdom
,
Western Europe
A little over a mile long and rarely half a mile wide, Bryher is as close as you will get to the Caribbean around Britain. The rugged island, "The Island of Hills", with a sub-tropical climate, has azure and turquoise seas, a scattering of palm trees and white sand beaches.
With a population of just 90, the island's primary children take a boat to and from school on Tresco, Bryher is the smallest of the inhabited "Off Islands".
A travel adventure
Many visitors take the tiny Skybus from Exeter, Lands End or Newquay airports. Passengers look over the pilot's shoulder, reading the dials and gauges, as the plane skims just 1,500 feet above the craggy shipwreck coast of South West England.
Or there's the Scillonian ferry sailing the 28 miles from Cornwall to this archipelago of islands, called giants' stepping stones by those with a poetic nature.
Hell Bay Hotel
Atlantic-washed-blue clapper boards give this small luxury hotel a New England seaside feel. You could be on an Island in the Hamptons or in California with palm trees and laid-back vibe.
This is a secluded paradise where doing absolutely nothing is always on the agenda – though there's a gym, pitch and putt course, pool, sauna, spa and tennis court if you are moved to action.
Ocean views are every bright, light suite's focus. Whether you are in bed or sat on the wicker sofa your eye is drawn to the foam and spray.
Crack open the complimentary welcoming half-bottle of champagne, sit on your balcony – or in your private garden – and watch those Atlantic rollers completing their long journey.
Walking
Bryher is a paradise for walkers with boots and binoculars. Look skyward to spot cormorant, fulmar, guillemot, oystercatcher and puffin. Beyond the yellow gorse, wild garlic and red poker plants cast your eyes seaward for seals.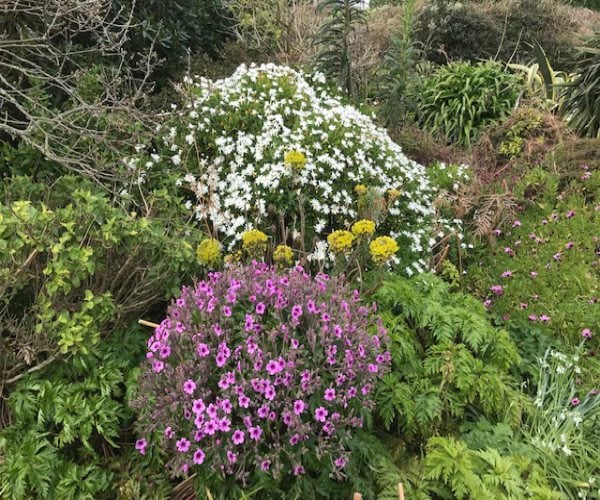 Once Bryher hosted a lucrative flower industry but today all that remains is the occasional bank of colour flourishing in the wild.
Although it is a tiny dot in the ocean, Bryher has a split personality. There is a gentle sheltered coast facing Tresco. In wild contrast, Hell Bay can be a cauldron of crashing, pounding breakers when storms race in from the Atlantic.
Low Tide Festival
Bryher has been an island for a mere six centuries. During the low Spring Tides of May it is possible to walk the sand bar between Bryher and Tresco, though it is advisable to wear flip-flops to avoid stepping on aptly named Razor Clams.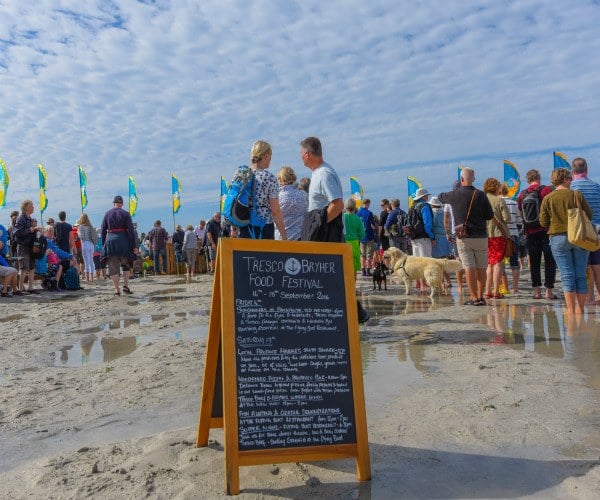 In recent years over 500 people have attended the unique Low Tide Festival with its bands and stalls selling food and drink. Can there be any more appropriate drink than a gin crafted from botanicals foraged from the beaches of the Isles of Scilly?
Crab Shack
From spring through to autumn, Crab Shack on Hell Bay, is an informal pop-up venue that provides the essential taste of the Isles of Scilly.
Visitors and locals gather round a long table to enjoy crab, lobster and scallops. Salads and sandwiches are washed down with drinks from the licensed bar.
Richard Pearce's Studio
Born just yards from the sea, spending his childhood fishing the rock-pools of Bryher, artist Richard Pearce has devoted the last quarter of a century to capturing the beauty of the beaches, light and seascapes of the Isles of Scilly.
His main studio is next to Bryher's only shop in "the Town". For cards and small prints he has another studio, with an honesty box, on Hell Bay.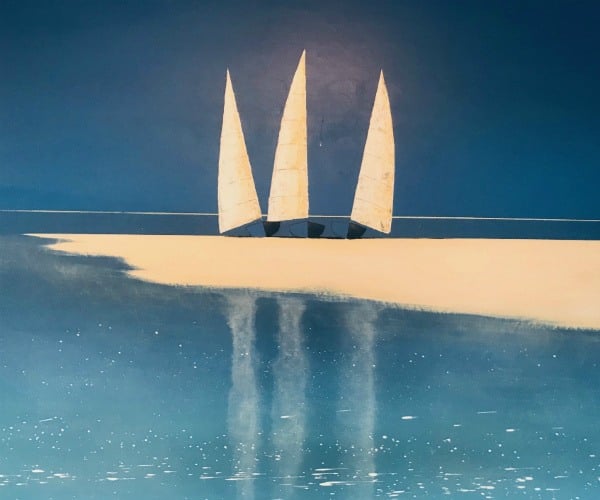 Over twenty years ago, he created the serene image of three white sails against a blue background of merged sea and sky. It has has become Hell Bay Hotel's iconic logo.
Island Fish
For centuries the Pender family have been fishing for crab, lobster, scallops, mackerel, pollock, mullet and a selection of white fish.
Now they have opened the Island Fish shop. Seven days a week from April to October, the shop, provides salads and sandwiches and fish to take away. Everyday the boats, piloted by three generations of the Pender family, unload their catch by 3pm so that they can have the day's catch on sale in the shop and on Tresco jetty by 5pm – fresh for supper.
During the season, Thursday night is seafood paella night when customers can take away a portion. Sunday's takeaway treat is half a grilled lobster, wedges and slaw. Advance booking is required for both.
The Museum
Bryher's Museum, housed in a red telephone box, must be a contender for the title of World's Smallest Museum.
Currently the tiny exhibition tells the story of the making of the film "Why the whales came." Thirty years ago Paul Scofield, David Threlfall, Helen Mirren and children from the island starred in the cinematic version of Michael Morpurgo's novel set on Bryher during the First World War.
Sunset dinner
Hell Bay Hotel's Restaurant overlooks the Great Pool and beyond that the sun sets.
Of course, much of the fish and shellfish on the menu will have been landed by one of the Pender's boats just a couple of hours previously.
The restaurant's daily menu adapts to nature's variations. Last year there was a glut of octopuses and the chef's team had a chance to show their creativity.
With 3 AA Rosettes the restaurant makes the most of local provenance: leeks, potatoes and wild garlic grown just a few yards away epitomise the desire for the menu to represent its locale.