By
Paul Johnson
on May 07, 2019 in
Accommodation
,
Attractions
,
Bars
,
Disabled Travel
,
Europe
,
Featured
,
Food and Drink
,
France
,
Going Out
,
Hotels
,
Regions
,
Restaurants
,
Special Features
,
Speciality Travel
,
Travel Miscellany
,
Vacation Rentals
,
Western Europe
In the heart of a small, pretty village in Provence's department of Var, just under an hour's drive from Marseille, is a new luxury hotel called Mas du Brulat. Built in 1594, some 200 years before the French Revolution, this historic building, which now houses not only a hotel but also a restaurant and bar, brings a new lease of life to the village of Le Brulat.
This quaint village lies close to the beautiful hilltop village of Le Castellet and is part of its commune. Run by English proprietors who have themselves been resident in France for more than a decade, this charming hotel oozes character and is rapidly becoming a big hit with both locals and visitors alike.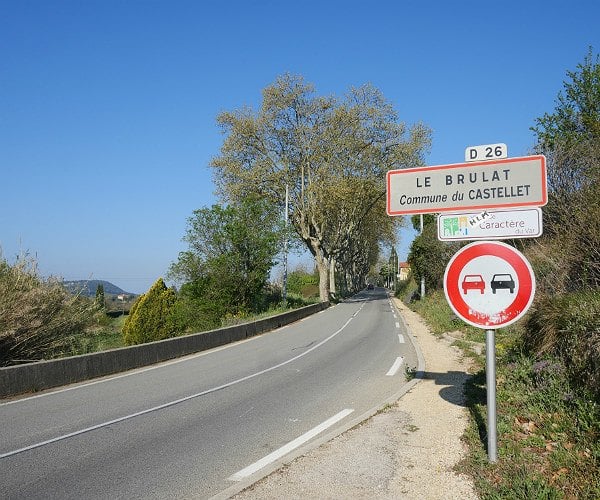 It is in fact the owners' second property in the area, with a large luxury self-catering property – Mas des Avelines – just outside the village already thriving. Both fall under the Olives & Vines brand – a fitting name for an area dominated by olive trees and vineyards. The gnarly vines were a little sparse at the time of my visit but were just starting to come into leaf and would be ready for harvest in September.
Situated on a winding road that passes through the village, Mas du Brulat has just 8 bedrooms – five en suite double rooms, one Junior suite and two suites with a bedroom and sitting room.
Two of the rooms are on the ground floor (with one offering accessible accommodation) that can be used individually or in combination for families, for example. The interior is full of interesting features and clearly has had lots of interior design input – even the stairs up to the remaining rooms have lots of character!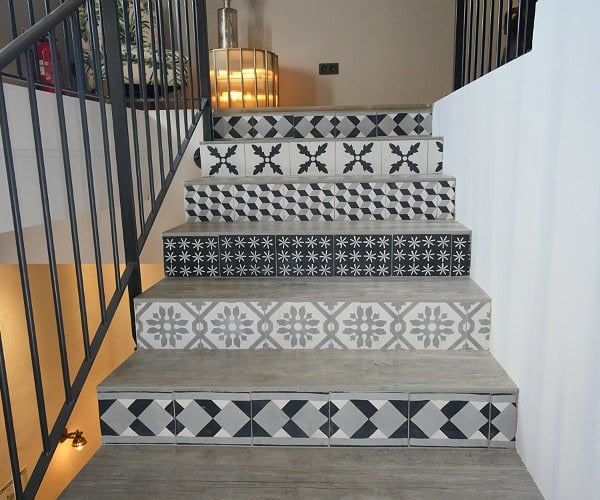 Once upstairs, you are greeted by a landing with some comfortable seating, two very fine statues of dogs, plenty of reading material and artwork on the walls. It's a relaxing space where you could socialise with other residents if you so wished.
All the remaining rooms lead off from this landing. They are each named after different grape varieties. Downstairs is Clairette and Sauvignon. On this floor are Grenache, Cirsault, Syrah, Carignan, Marsanne and Rolle.
I stayed in Marsanne (room 7), a grape more commonly found in the Northern Rhône. This is one of the suites and consists of a hallway with a bedroom, bathroom and lounge off it.
As you can see, the rooms are very elegant – simple, yet very tastefully finished; modern but with a hint of French art deco.
There's an almost industrial style to the bathroom, but with a modern twist that works really well, with the stark black and white contrasts made less stark by more muted tones on the walls.
A separate lounge with a sofa and desk is a nice addition to the accommodation, particularly if you need to work whilst you are away. And, despite this being a rural area, the internet works well.
Returning downstairs, there's a copper topped bar. It's a social space in the evening, with a variety of cocktails becoming a growing speciality, and where a buffet breakfast is laid out each morning.
A mural adorns one wall and additional seating is available for those not wanting to sit at the bar itself.
Beyond the bar is L'Olivier restauarant – a highlight of any stay at Mas du Brulat, but open to both residents and the public. Don't be put off by thinking this is just another hotel restaurant – it is so much more than that. A great deal of thought has gone into making the restaurant a destination in its own right.
Consultant chef Clive Wilson, who has an illustrious career behind him with stints at several Michelin star restaurants, was originally brought in to advise on the design of the kitchen, but has stayed to offer his expertise on the menu and brought with him Nick March, a chef who he worked alongside at Heston Blumethal's Hind's Head pub in Bray.
I'm not going to say too much about the food, other than say that you must try it! Instead, I'll let you draw your own conclusions from this handful of pictures here and the many positive Tripadvisor reviews.
An amuse bouche of cauliflower and Parmesan soup with asparagus and olive oil.
Roasted chicken ravioli with Parmesan and chicken juices.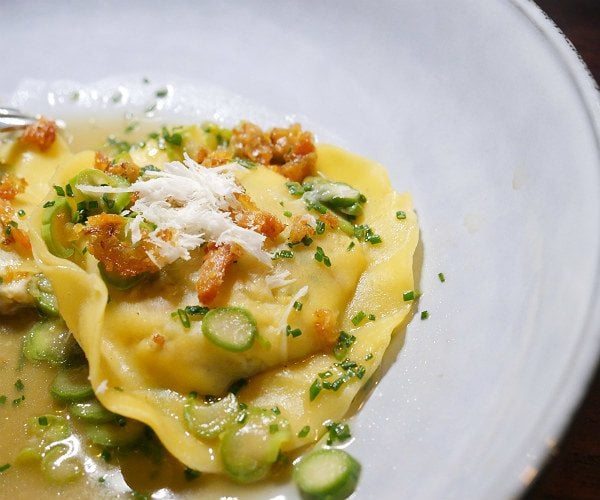 Ragout du sèche (cuttlefish) with a garlic crumb.
A rich (but delicious!) chocolate gâteau with crème fraîche and cherries.
For more insights into the kitchen and food at the restaurant, see my other post about the most beautiful market in France.
Outside, at the rear of the hotel, is a terraced area for al fresco dining with a lovely view of Le Castellet, a landscaped Provencal garden, a heated outdoor swimming pool, pétanque court, fish pond, children's games and private parking.
For those looking for more privacy than is typical of a hotel, or for accommodation that can accommodate a large group, don't forget Mas des Avelines, Olives & Vines' self-catering property, which is just a short drive away. Of course, guests staying there, can also make use of the restaurant.
But it's the location of these two Provencal gems that really makes it. You have the feeling that you are in a sleepy French village surrounded by rosé wine vineyards that is miles from anywhere and yet there is so much to see and do within a short drive.
In fact, step out of the hotel's main entrance and straight in front of you is the village's main pétanque court. From there, just a few steps takes you to the local bar tabac where you can mingle with the locals.
Visitors are treated by a regularly-changing plat du jour – rustic food in a very traditional French setting. When I visited, stuffed pigs' trotters were the order of the day – perhaps not everyone's 'cup of tea' but they were delicious!
The commune of Le Beausset is just a 5-minute drive away and, a little further afield, the picturesque beaches of Bandol and St. Cyr-sur-Mer can be reached within 15 minutes. The Circuit Paul Ricard, the venue for the French Grand Prix as well as a variety of other motorsports events, is only 10 kilometres from the hotel. And if you're in the area on a Wednesday, the market at Sanary-sur-Mer is a highlight you won't want to miss.
The charming hilltop village of La Cadière-d'Azur sits perched among pine forests overlooking the Bandol vineyards, characterised by its narrow streets and the remains of its ramparts. The first records of a settlement here date back to the 10th Century and much of the village's history and medieval character is retained to this day.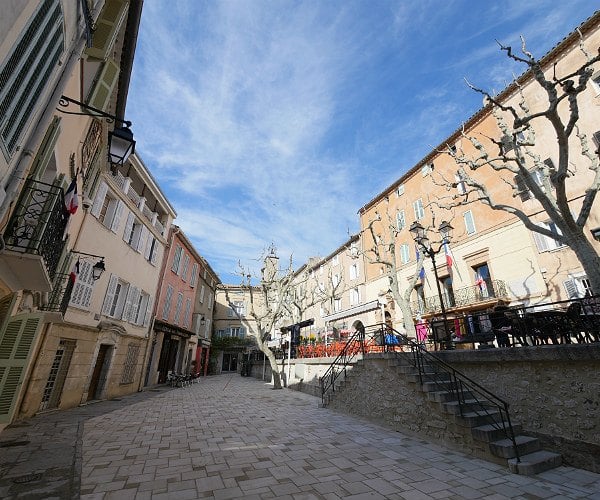 Sitting opposite is the rather more touristy medieval village of Le Castellet which is also worth a visit. This fortified settlement still has some remains of its ancient ramparts; there are also many cobblestone streets, pretty squares and a variety of touristy shops, cafés and restaurants, which are definitely worth exploring on foot.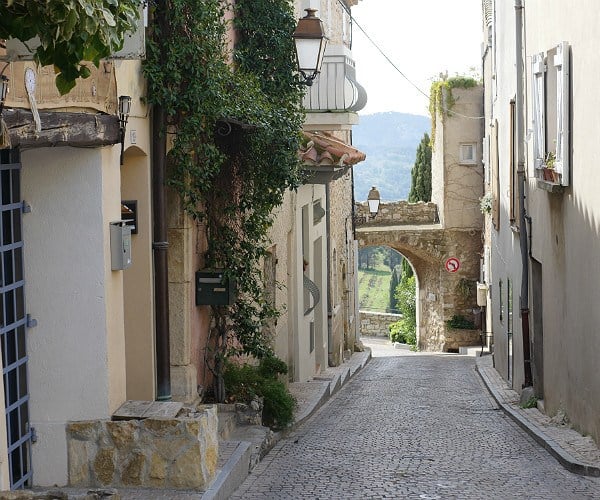 The Mediterranean harbour town of La Ciotat is a half hour drive from the hotel, situated on the Gulf of Amur midway between Marseille and Toulon. It was once a major industrial hub for shipbuilding; however the naval shipyard closed in the 1980s and the port area has transformed itself a very successful re-fit and repair shipyward for superyachts – the biggest of its kind in the Mediterranean and possibly the world. Alongside this, the town has also developed as a tourist destination in its own right. A couple of interesting facts about the town: it was here that the modern day version of pétanque was invented, with the first tournament being held in 1910; there are also interesting film history links since it was here that the Lumière Brothers, two of the first film-makers in history, had their Summer home. Their 50-second-long silent film L'Arrivée d'un train en gare de La Ciotat (Arrival of a Train at La Ciotat) was one of the first ever films to be shown publicly.
From La Ciotat, you can explore the Calanques National Park which over 500 square kilometres. Calanques are coastal inlets and there are some very dramatic examples to admire. I recommend you take the scenic road between La Ciotat and Cassis; known as the Corniche des Crêtes, this winding coastal road twists and turns for approximate 15 kilometres.
The geology along this route is very interesting and there are numerous places along the route where it is safe to pull over and enjoy the scenery around you. It's also a great route for keen cyclists.
When the road is close to its highest point, you will find a good stop-off point from which to enjoy the cliffs at Cap Canaille with the Massif des Calanques in the distance.
At 394 metres above sea level, it is the highest sea cliff in the whole of France and popular with climbers and abseilers who test their nerve over the deep blue Mediterranean Sea below.
At the end of the drive you reach Cassis, a picture postcard fishing port sheltered by large cliffs upon which a medieval fortress sits, just 20 kilometres east of Marseille. It's no surprise to learn that it's particularly popular in the Summer months, with its regular market days (Wednesdays and Fridays), cobbled streets, outdoor cafés and colourful shutters. The harbour is a perfect spot for a leisurely stroll where you can soak in the town's atmosphere.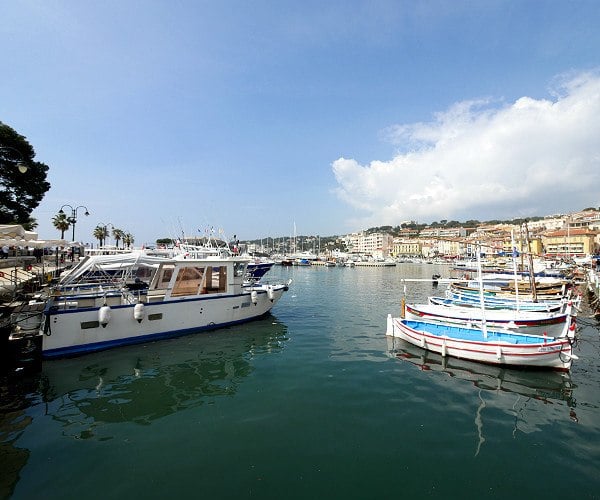 I only scratched the surface of all that there is to see and do in this perhaps less well-known area of Provence but I hope this has nevertheless given you a greater understanding of the region, as well as some insights into an up-and-coming hotel from which to enjoy everything that the Var department has to offer.
Disclosure: Our stay was courtesy of Mas du Brulat, a small luxury hotel in Le Castellet commune of Provence – part of the Olives & Vines brand.