By
Matt Holmes
on Jun 04, 2019 in
Africa
,
Asia
,
Bhutan
,
Europe
,
Iceland
,
Japan
,
Morocco
,
Nepal
,
New Zealand
,
Oceania
,
Pacific Islands
,
Portugal
,
Regions
,
Spain
,
Tanzania
,
Vietnam
,
Western Europe
We know from experience that travelers often begin planning their trip 4-6 months in advance, which means that at this point in the year, people are thinking about their fall adventures. October and November are really great months to travel. Families with school-age kids are home, and there aren't any college students on spring break. You've had a moment to regroup after the flurry of summer activity, yet the craziness of the Christmas season hasn't hit yet. These months also offer fabulous weather for being outside—it's not as hot as summer, but still warm (with one exception on this list!).
Tanzania in October
Tanzania's Great Migration is an incredible natural phenomena. Almost two million wildebeest, zebra, and gazelle travel over 1,000 miles in a circuit from Tanzania's Serengeti to Kenya's Masai Mara each year in search of food and water. In October, the large herds have scattered around the northern Serengeti. Many are still making the crossing back and forth over the Mara River into Kenya's Masai Mara. If you are lucky, you may witness a crossing and the drama that comes with it–truly a sight to behold.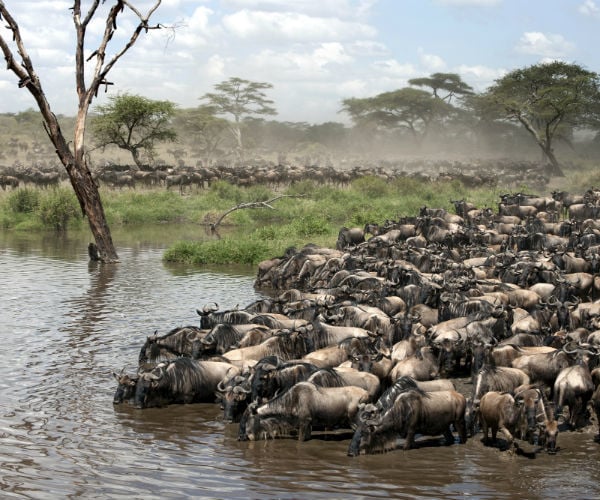 Combining southern Spain and Morocco into one trip is a great way to experience a region with an intertwined history but two distinct cultures. October is the shoulder season in both countries and offers moderate and comfortable temperatures, typically considered the best time to visit. There will be fewer tourist crowds, making wandering the most iconic sites — the Alhambra complex, the "Blue City" of Chefchaouen, and the medina of Fes — much more enjoyable.
The Himalayas in October or November
Autumn in Bhutan and Nepal typically brings the driest weather and the clearest skies, which means you'll have the best chances of seeing Everest and the other Himalayan peaks on your hikes or through a plane window. In the lower elevations, where there is more of a tropical climate, temperatures can still be quite warm, but not oppressive. This is also the harvest time; you'll be sure to see farmers in their fields gathering their crops and Bhutan's ubiquitous red chilies drying on rooftops and patios.
Portugal in October
By October, the intense heat of the summer has passed, and there are fewer tourists, which is better for both urban and rural exploration. While the grape and olive harvests are highly dependent on weather and difficult to forecast, in all likelihood, you'll see at least some harvesting happening. As you head inland into the mountains, the trees and ground cover will begin to change colors, making a lovely contrast to the bright blue skies.
The Pacific in October
In New Zealand, October is one of the best months for spotting dolphins, whales, and penguins (who doesn't love penguins?). It's spring in the Southern Hemisphere, so the landscape will be blooming, and you'll see adorable baby lambs grazing alongside their mothers.
In Palau, the water temperature averages 82-85 degrees Fahrenheit year-round making it a lovely getaway before winter descends in the north. In addition, Palau is located outside the typhoon zone, so severe storms are generally not a concern.
Japan in October or November
While Japan is well-known for its springtime cherry blossoms, autumn also brings a stunning change to the landscape with vivid hues of foliage. It also tends to be the most pleasant in terms of mild temperatures and little rainfall, perfect for exploring the remote country along the historic Nakasendo Trail or the plethora of UNESCO World Heritage Sites of Kyoto. Since the summer brings the monsoon rains, the landscape will be rather lush.
Vietnam in November
Vietnam has two dry seasons, and November is the cooler of the two, arriving just after the rainy season, so you'll have the benefit of being there for the newly greened trees and rice paddies. Perhaps one of the best reasons to visit at this time is because the air quality is much better than at almost any other time of year. The cooler temperatures and dampened landscape helps lessen pollution and dust particles in the air.
Iceland in November
Thanks to warming Gulf Stream winds, Iceland enjoys a much warmer climate than it should, or that people generally expect, given its northerly location (and its name). November is a great month to visit for two reasons. First, if you want to have a chance of seeing the Northern Lights, you need dark nights, which November has. However, Mother Nature never makes guarantees, so it's best to head to Iceland with some other activities in mind. November also offers enough daylight hours for full days of exploration, so you'll still have a rewarding holiday even if the lights don't show.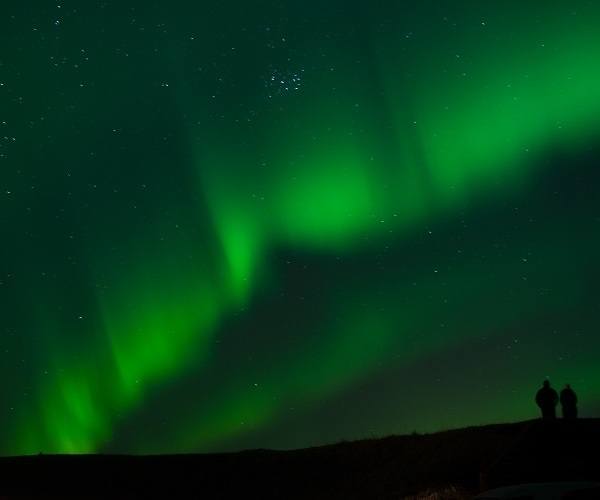 Matt Holmes is the Founder & President of Boundless Journeys. Boundless Journeys is an award-winning tour operator that goes off the beaten path for immersive and authentic travel experiences.
If you would like to be a guest blogger on A Luxury Travel Blog in order to raise your profile, please contact us.