The Côte d'Azur; the French Riviera; the Blue Coast, however you term it, this spectacular region immediately evokes images of sublime rural beauty, charming towns and fine gastronomy. And it's got the heritage to back it up. First marked as Europe's premiere getaway by the British upper class in the late 1700s, the arrival of the railway in the mid-19th century brought in aristocrats from as far afield as Russia. However, that's not to say that its Provençal character is lost while Greek and Roman ruins memorialise a history more ancient.
Knitting it all together is a series of worldfamous ports. While the true extent of the French Riviera is much debated, it's often said that Toulon to the west and Monaco to the east bookend its stunning geography. You might want to use dynamic Marseille's historic neighbourhoods, upscale boutiques and atmospheric 'Old Port' as your gateway before drifting along the coast to sunny Saint-Tropez. Once a humble fishing village framed by welcoming beaches, its quaint beauty has long seduced Europe's well-heeled, bringing with them a penchant for all things luxury.
It's a similar story in Cannes, whose film star good looks are best found in its pretty harbour, coastal islands and historic port. Travelling westwards, your next stop is Nice where old-world grandeur lives on in historic promenades, superb museums and 19th century squares. Take it all in from Parc du Château; once a medieval castle, it offers views across the city's red-tiled roofs out to its green hill frame beyond. Perhaps end in beachside luxury with Monaco and its storied hedonism, realised in glitzy casinos and high-end restaurants.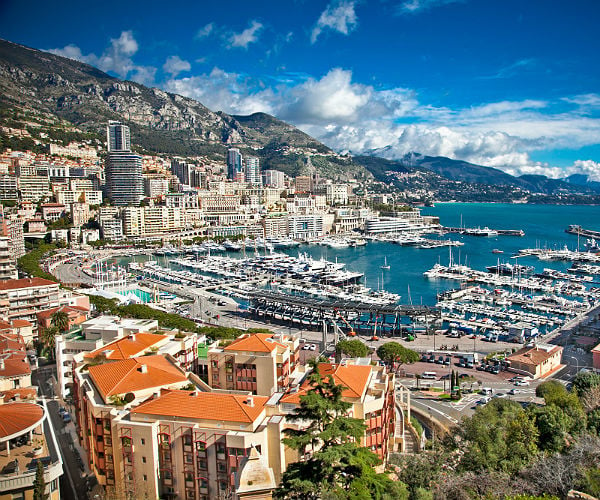 However, you'll find the true essence of the French Riviera in the breaths between cities. Clifftop roads bring you through rolling hills coated with lavender fields and olive groves all to the backdrop of that brilliant blue. Along the way, stop for lunch at delightful hamlets where internationally renowned cuisine is still informed by Provençal markets. Whether it's an indulgent bouillabaisse or a hearty ratatouille, Mediterranean delights abound, predicated on sensuous wines, fresh off- the-vine tomatoes and drizzled in that all-important olive oil. It's the ideal suffix to a day spent between the beach and exploring the region's rich heritage. While stone dolmens mark the French Riviera's prehistory, its Roman colonisation endures in a collection of remarkable sites. Amphitheatres stand strong in Nîmes, Orange and Arles while UNESCO-listed aqueducts traverse picturesque rivers and whole settlements can be found in Glanum's ruins.
But the Romans left much more than crumbling stones. They were the first to introduce viticulture to the region – a tradition that lives on in a collection of world-class vineyards. And you don't have to travel as far back as two millennia for a taste of the region's history. Cruises often stop at Villefranche-sur- Mer's medieval old town before continuing to Antibes and its 16th century ramparts, narrow cobblestones and flower-lined old quarter.
When to go
The French Riviera's signature summer season brings both the crowds and the sun, complemented by a cool sea breeze. To avoid the rush, look to the shoulder seasons either side where you'll enjoy comparable weather. Spring is a particular delight for its bloom while winter has its quiet charms. There's also a range of world-class events, not least the Cannes Film Festival and the Monaco Grand Prix, both held in May.
Who to cruise with
Many of the world's leading cruise lines sail to the French Riviera, including Azamara Cruises, Celebrity Cruises, Silversea, Seabourn, Regent Seven Seas Cruises and Crystal.
Scott Anderson is General Manager at The Luxury Cruise Company. The Luxury Cruise Company is your port of call for incredible cruise holidays.
If you would like to be a guest blogger on A Luxury Travel Blog in order to raise your profile, please contact us.