Even in a country as devoted to eating as France, there is something special about feasting in Provence. Provence provides endless sunshine, the French Riviera, home to Cézanne and a colourful countryside. It is this landscape that defines the classical Provençal cuisine with mineral-rich sea and soil responsible for extraordinary flavours. Rocky hillsides are infused with olive and bay laurel trees, where wild juniper bushes flourish alongside thyme, sage, rosemary and fennel. This area's influence is easy to distinguish with many sauces seasoned with zesty 'herbes de Provence'.
To be fully immersed in an authentic Provencal atmosphere, one needs to embrace the core of their culture. Food. Here we look at the popular and some of the less discussed Provencal delicacies…
Salt
The Aigues-Mortes salt marsh spans an area roughly the size of central Paris. With 7000 hectares dedicated to the production of sea salt, this natural phenomenon dates back to Roman times. Salt was highly desired being the only way to preserve food.
Some of the salt flats produce pink salt, which turns the watery marshes a shocking intense fuchsia colour. Well worthy of a photographic opportunity.
Lavender
It has been said that lavender is the soul of Provence, so lavender lovers will be in taste-bud heaven. This aromatic plant is used to flavour everything from ice cream to crème brulee, to infused teas and honey and even macarons.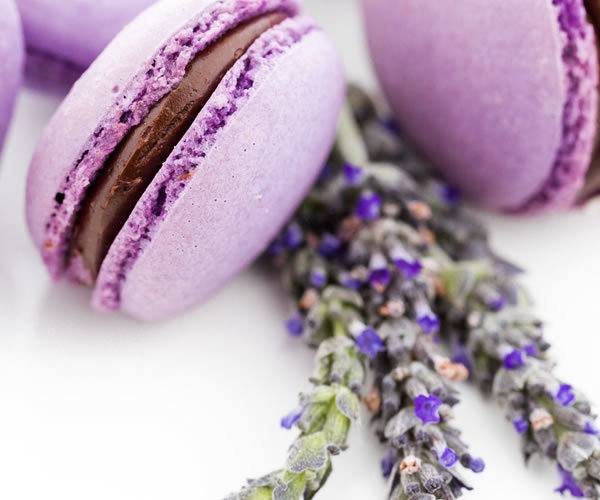 Although Valensole Plateau is lavender central, you will find stunning fields of the purple plant blooming in the summertime from Luberon to Aix to Roussillon.
Lavender has been used for centuries as a holistic healer. Distilleries transform harvested plants into aromatherapy oils, lotions and soaps. Les Agnels distillery offers a guided tour of the processing plant and fields. Alternatively visit the summertime lavender festivals in Sault and Valreas.
Daube
Traditionally a poor man's dish, this Provençal beef stew remains a firm favourite, particularly in winter. Beef is slowly braised in red wine, vegetables, garlic and herbs and then served with polenta or gnocchi. A popular imitation in Nice is raviolis à la daube, where ravioli are stuffed with the cooked beef and served in the daube sauce.
Aïoli
In its basic form, aïoli is nothing more than a kind of garlic mayonnaise, although the original recipe doesn't include eggs.
But it becomes different when it features as the centrepiece of a dish. Aïoli provençal complet (or aïoli garni) is a mound of vegetables, potatoes and shellfish, to be eaten dunked in aïoli. The dish is traditionally eaten on Fridays, which many restaurants in the region abide by.
Nougat
Generations of Provençaux have revelled in the wonderful chewiness of white nougat. This confectionary is made with sugar or honey, roasted almonds and egg whites.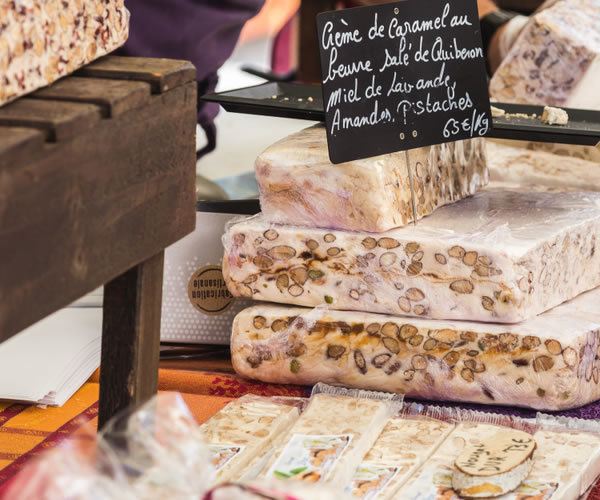 There is also crunchy nougatine, otherwise known as nougat noir, which doesn't contain eggs. Traditionally a Christmas treat, nowadays it is available all year-round.
Goat's cheese
The Mediterranean climate of Provence and dry scrubland doesn't produce lush grazing pastures. Thus, hardy goats are the livestock choice for Provençal farmers. Banon is famed for its thick, creamy goat's cheese wrapped in chestnut leaves, whilst we thank Le Rove for a lighter, fresher and fluffier fromage.
Chèvre comes either frais (fresh, with a mild creamy taste) or matured into a tangier demi-sec (semi-dry) or sec (dry). Farms such as La Pastorale du Regagnas and Les Roves de la Jacourelle welcome cheese enthusiasts to learn how the cheese is made and can even make their own.
Sausage
Provence produces the Saucisson de Taureau Camargue. An earthy sausage made from the meat of Camargue bulls. The culture of Camargue revolves around these bulls, raised on the marshlands since the Roman times. During summer, villages and towns erupt with events dedicated to the bulls and the celebrity status cowboys.
The beautiful market in Arles, wrapped around the old Roman city is where to find the region's delectable bull saucisson. Indeed, it is one of a few meats with an AOC designation of origin certificate award.
Seafood
Due to Provence's coast suffering from overfishing, three-star Michelin chef (and Provence native) Gérald Passédat encouraged local fishermen to hunt for lesser-known fish instead. The region's menus were consequently revived with unusual offerings such as tub gurnard and wrasse. Some of these can be found every morning at the Marché aux Poissons on Quai des Belges on the Old Port in Marseilles.
Alternatively, head for the pretty little fishing village of Cassis to the family run Poissonnerie. A former fish shop now gastronomic restaurant serving some exquisite fruits de mer. Enjoy picturesque views over the harbour whilst you savour your poisson, likely to be that morning's catch from that very ocean.
Olives
Dishes served 'a la Provençale' mean they are prepared in the style of Provence – typically featuring garlic, olive oil and olives. Olive groves were planted in Provence over two and a half thousand years ago and remain solid due to their thriving in dry, stony terrain. Most dishes here are either cooked or drizzled in olive oil with the fruits heavily relied upon during Provençal cooking.
Plump and glistening olives and olive oils are in abundance at St-Rémy's labyrinthine market. Many farms and mills in Provence provide free olive oil tours and tastings such as The Domain Castelas and Moulin Jean Marie Cornille.
Truffles
Although used less in today's Provençal dishes, these lucrative fungi are a regional treat known locally as 'black diamonds'. Truffles are typically enjoyed thinly sliced and fried in oil on bread or as bouillades aux truffles, a particularly expensive omelette. Aups and Carpentras are truffle hot spots and offer hunting tours during the truffle season (November to March).
The truffle market at Carpentras is where stallholders, residents and restaurateurs battle for the best priced black diamonds.
Wine
Provence is one of the oldest wine producing regions in the country due to the mineral-rich soil, balmy Mediterranean sun and the cleansing Mistral winds. The Ancient Greeks planted vines here around 600BC.
Rosé is most produced in Provence. Some red wine varieties are also produced such as full-flavoured Mourvedres and Grenaches, but you'll need to head inland to the Alpilles and Baux regions where the mountainous terrain is better suited for this type of wine. We recommend a tour of the Château Romanin with its enormous underground limestone cellar carved out of rock. The wine here emulates the landscape – solid, warm and rich with mineral components.
Yet whites and rosés reign supreme around the coastal regions. A great spot to sample these is the Clos St. Magdeleine vineyard in Cassis. This 19th century prestigious local winery occupies 20 hectares of the Cap Canaille sea cliff and is the only vineyard in the region facing the Mediterranean – a trait reflected in the intensity of the wine.
Lastly, don't forget the Marseille bars, notorious for their aniseed-flavoured spirit, pastis.
Whatever you do, you simply mustn't leave Provence without sampling the abundance of tantalising treats that explode from the local shops and outdoor markets!
Helpful hints for gourmet gastro:
Products with an AOC (protection of origin) certification guarantees goods have been produced locally and are the crème de la crème.
Restaurants with a Table 13 accreditation are committed to using only locally sourced products.
Visit Provence in late September for The Fête de la Gastronomie food festival.
Wash down these Provençal delicacies with a glass or two of the region's tantalising wine.
Su Stephens is Owner of Olives & Vines. Olives & Vines is a luxury holiday company based in the South of France offering stays at their beautifully designed holiday house and boutique hotel in Le Castellet.
If you would like to be a guest blogger on A Luxury Travel Blog in order to raise your profile, please contact us.