A land where discrimination doesn't exist, but accepts all humans with no judgement and criticism. Yes, that's a place we would all love to visit, to be free to express ourselves and enjoy the company of our loved ones. That's what vacationing is all about and yes, that destination is Greece.
The 4 islands and 1 city that we have selected that not only are stunning, but are welcoming and humane. These Greek locations greet all travelers with open arms and their sole wish is for them to enjoy a gracious holiday! We hope that the kindness and compassion these areas show towards all humans will rub off on even more Greek Islands and cities so that the entire country can have a progressive energy and an accepting vibe.
Mykonos is the most famous gay-friendly place in Greece, if not in Europe. At any time during the day or night, you will find people from all over the world coming together and enjoying their stress-free vacation at the most carefree Greek island. This assembly of numerous cultures brings so much life and joy to this posh island and the unique feeling of equality is in the air.
Skiathos
Full of young and open-minded people, Skiathos is for sure has established itself to be a free-spirited island and the hospitable locals will definitely make you feel at home. Along with the natural beauty of this striking island, you will also feel comfortable to be yourself.
Lesvos
Lesvos is the number one preference of lesbian couples in Greece as it has a long tradition due to the fact that it was the birthplace of the ancient poetess Sappho. This island hosts the Annual International Eressos Women's Festival that also includes many performances, workshops and fashion shows, informing the people about the rights of the homosexual community. In Lesvos, you feel welcomed and you will be a part of a great community!
Greece's capital, Athens, is a vivid city, where many festivals and parades, like the Athens Pride Parade, take place to spread the rights and the importance of the LGBTQ+ community. Furthermore, Athens is famous for its alternative character and its ability to bring people closer together.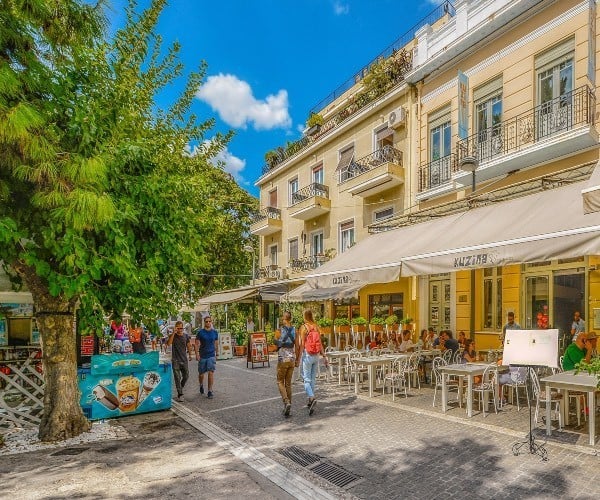 Crete
In 2015, Crete had organized with great success the LGBT Pride Festival to support the big amount of homosexual tourists that it receives every summer and fight against sexual racism. In Crete, you can enjoy relaxed vacations, without having to worry about discrimination or intolerance. We hope that it continues to host such meaningful events each year!
George Koletsos is Co-Founder of Kudos Life Experiences. Kudos Life Experiences is a custom-designed private travel specialist to Greece, for the discerning and sophisticated traveler who is seeking to return to the authentic form of personal discovery and explore really life-enriching travel experiences.
If you would like to be a guest blogger on A Luxury Travel Blog in order to raise your profile, please contact us.