Every room looks as if it's been tastefully curated for a magazine shoot – which is no surprise as Country Living Magazine is bringing country chic to urban stays in what was orginally a grand Edwardian mansion.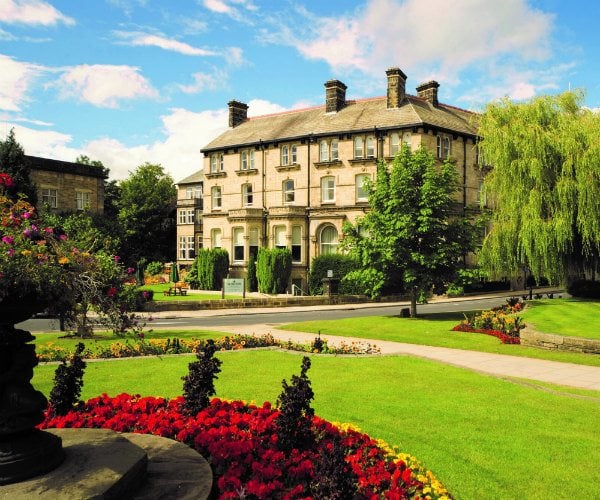 A rambling Grade 2 listed building was the perfect candidate for a classy makeover that name-checks Regency taste with wide-stripped high-backed chairs and the occasional classically styled alabaster bust.
It is as if the country squire has taken a cool interior designer for a wife who has chucked out the chintz. Big bold statement canvasses of Yorkshire landscapes bring the countryside into this peaceful urban oasis.
The welcome
Reception is part of the open plan cafe / lounge with two comfy chairs to slump into after your travels. It's a warm welcome, help with luggage is followed by tea or coffee.
And there's a small box of Country Living chocolates in your room too.
The rooms
In the premier double rooms, with five-foot beds, a plush sofa dressed with duck-print cushions immediately strikes a leisurely note of comfort. Light-giving cream walls contrast with dark grey woodwork. It's all further brightened by a burst of colour from fresh pink orchids. Retro black telephones and traditional style alarm clocks nostalgically step-back to an era before digitalisation.
There are two fans for balmy summer days. Bronte woolly throw, by Moon, for chilly winter nights.
The bathroom
In a eclectic style statement designer Oliver Redfern takes a variety of single tiles, in black-and-white geometric designs, from Ted Baker's wide range, to decorate the bathroom.
There's a spacious rainfall shower and a separate fair-sized bath with Victorian style silver finish fittings. A generous supply of toiletries are sourced from Harrogate's very own H2K.
The facilities
No spa but why would you need one when Harrogate's famed Turkish Baths, with their huge array of treatments, are just a 90 second walk away?
Country Living is big on relaxing airy lounges with more chairs and sofas than a Sofology showroom.
Harrogate with its vibrantly planted and immaculate tended public formal gardens does civic pride better than most. Look out onto those gardens and cascading hanging baskets from the comfort of the Drawing Room. Meanwhile a quintessential country house library, leather-bound books, features a pool table too. Tempting to grab a drink from the Dog and Duck bar and lose yourself in a book.
Taking the green of the original stained glass window,  the Swaledale Restaurant runs with a theme of a distinguished light olive green. Edgy brass exposed-filament light-fittings, hanging from white stucco ceilings, introduce a contemporary note to a dining room featuring the symmetry of tall Palladian pillars.
There's a menu that plays on the Country House theme: locally sourced and seasonal wherever possible. A starter of crab, contrasted with delicate crisp flavours of thinly sliced local apple, comes from Whitby. There's a zingy chutney, like granny used to make, accompanying pressed duck. Similarly the chef's recommendation of Dales bred lamb is another local winner.
Unsurprisingly the Swaledale Restaurant is popular with locals for pre-theatre dinners, so bookings from 7.30 pm tend to be more relaxed.
The location
Forget your car and park-up for a few days. Country Living St George is in the heart of Harrogate, opposite the theatre and close to the original Pump Room, for the famous spa waters, that is now a museum.
If you go on a shopping spree in the Montpelier Quarter of over fifty independent shops, bars and cafes it is just a few minutes back to the hotel.
Harrogate is renowned for its Festivals including focuses on Children, Comedy, Crime Writing, Gilbert and Sullivan, International Youth and Literature. So the hotel makes for an ideal Festival base.
Other nice touches
You can ring reception for fresh milk or almond milk with your tea or coffee.
The turn-down service leaves a soothing array of H2K fragrances to ease you into sleep.
Cost
Off-peak a Cosy Double Room begins from £70.
The best bit
The whole hotel exudes the homely spirit of elegant Country Living, from the green wellies and walking staff by the door to a tasty apple and sultana crumble.
Guests depart inspired, perhaps clutching the latest edition of the Country Living Magazine, ready to upgrade their bathrooms, bedrooms and lounge at home.
The final verdict
The perfect location for exploring Harrogate by foot and Yorkshire by bus or car.
And remember that this is the year to visit Harrogate. Betty's Tea Room, an English institution that draws in visitors from all over world, celebrates its 100th birthday.
Disclosure: Our stay was courtesy of Country Living Hotels.