6 top beach clubs in Ibiza
Of course you could rock up to any old beach on the island of Ibiza with a couple of beach towels and a cool box and be perfectly happy with your lot. There's a lot to be said for a picnic with a sea view. On the other hand, it's also great to spoil yourself and indulge in a modicum of luxury. A day at a beach club can offer you comfort and great food, in a stunning location. Why not be pampered and looked after? you've earned it. Here are six venues on the White Island that could just be the perfect day and in some cases, the night at the beach.
Blue Marlin
Ideally located in the beautiful bay of Cala Jondal. Blue Marlin claims to be the most entertaining and avant-garde beach restaurant in Ibiza. Blue Marlin is big on music and events. They actually broadcast from their own radio station on a daily basis, all year round and produce an on-line magazine. Packed with intriguing stories and creative design, BMI:MAG features contemporary culture and lifestyle ranging across the arts, fashion, sport, travel, cinema, music, society, food and drink, capturing the tastes and desires of Blue Marlin Ibiza's devotees. Pete Tong is a regular performer here and the club present some of the world's top Dj's.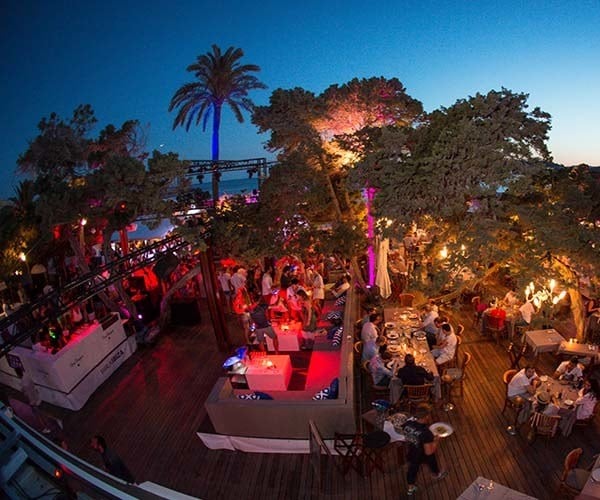 Make an early start here around 10ish and spend the whole day. When the sun goes down, the coloured lights come on, the music rises in intensity and an audience full of beautiful people dance and enjoy the vibe until the early hours of the morning . The club offers a selection of dining options, the restaurant, the terrace the bar or the beach. The Menu is varied and the budget ranges from eye watering to affordable. Spend a Magic night under the stars in one of the most famous outdoor clubs in Ibiza.
Nikki Beach
Tucked away on a beautiful beach in Ibiza's Santa Eulalia area, Nikki Beach Ibiza offers guests a stylish place to dine and play. Diners can enjoy international cuisine with Spanish flair and glorious beachfront views. Experience a restaurant like no other, with resident and guest DJs providing a vibe soundtrack for your meal. Niki Beach boats an extensive menu offering healthy salads, innovative sushi rolls, freshly caught seafood entrees and slow-roasted free-range rotisserie chicken. The World Famous Nikki Beach Mojito is one of their best-selling cocktails, with a refreshing mix of rum, lime, mint and sugarcane.
This stylish beachside restaurant is smartly decked-out with chic yet comfortable furnishings. Trademark white sun loungers that are set against the sparkling turquoise waters of the Mediterranean. The surroundings are stunning and the ambiance is captivating. The service is impeccable with attention to detail and care for guests to ensure a great experience. At over 500 Euros for a day bed I think is a tad expensive. One negative would be the lack of taxi's at the end of the day (8pm) Nikki beach is quite away from a main area and we had to wait for nearly an hour. However, a great day overall, go for the people watching, sushi and champagne but perhaps book a taxi home in advance.
Cotton Beach Club
The Cotton Beach Club is perched on the rocks above Cala Tarida Beach, on Ibiza's south coast, 21km west of the Ibiza town. Located in a sheltered bay with fine white sands and a southerly aspect, the waters at Cala Tarida are clean, turquoise and crystal clear over a sandy bottom, which remain shallow for quite a distance. To the right hand side of the beach the water is deeper, and there are two satellite beaches, both with fine sand.
After opening its doors in 2014, Cotton Beach Club has made Ibiza's southwest coast the destination du jour for islanders and holidaymakers alike. Boasting a first class restaurant, Cotton Beach Club features jaw-dropping views across the Mediterranean and the sandy beach below, clear of seaweed and rocks. Decked out in chic white furnishings, Cotton Beach Club is the epitome of white island style. The Grand Terrace offers Mediterranean fusion a la carte lunch and dinner after beach hours. The Cotton Beach Club has mixed reviews on Trip Advisor. I can only speak for myself and my friend. We had a lovely day here, on the expensive side but nevertheless the staff were attentive the food was more than acceptable. The location is something no one can argue with, it's beautiful. I'll warn you though, as with Niki Beach, if you don't go in your own car make sure you book a taxi home. You could be waiting quite a while to leave otherwise.
Amante
Amante Beach Club is Ibiza's most beautiful rural restaurant. Set in a stunning cove, Amante is perfect for anyone looking to relax in a luxurious beach setting. Perched on a cliff overlooking the Sol Den Serra bay, the restaurant is surrounded by dramatic rocks and lush greenery. These provide an idyllic backdrop for long daytime lunches and fine dining in the evening breeze. The mediterranean styled menu is modern, healthy and based on the freshest local produce.
Luxurious day beds and the attentive service make Amante a wonderful all day destination. Evenings start with cocktails and sundown beats, then exciting fine dining beside the moonlit sea and illuminated cliffs. Amante is a truly beautiful location to spend the day and night. Amante has won a host of awards, winning the White Ibiza Best Fine Dining Restaurants accolade in 2017 and 2016, plus the Best Beach Restaurant award in 2013, 2014 and 2015. Not many beach clubs offer an outdoor cinema. Amante hosts regular movie nights every Tuesday throughout the summer from 11th June to the 10th September. On movie nights Amante Ibiza is transformed into the most beautiful and atmospheric open-air setting for watching great films. The floodlit rocks, star filled sky and gentle lapping waves provide a unique backdrop to classic and modern movies. Guests can enjoy a comfy full length bean bag and blankets if there is a cold breeze. The restaurant staff provide attentive service that includes a glass of cava and unlimited popcorn. The evening costs €30 and advanced booking is essential. The Venue will provide blankets but do bring something warm to wear as the sea can create a cold breeze in the evenings. Amante was ranked in the top 5 most beautiful cinemas in the world by The Independent and Daily Mail. Amante Ibiza and her sister restaurant Aiyanna Ibizaboth have morning beach yoga and breakfast. Sol Den Serra and Cala Nova are beautiful in the early morning sun and are stunning backdrops for beach yoga. The perfect natural surroundings make ideal locations for an early morning yoga practice.
El Chiringuito
With views to Dalt Villa, the beautiful fortress containing Ibiza Old Town, to the left and Formentera to the right, Es Cavallet is one of Ibiza's most beautiful beaches. Es Cavallet was Europe's second ever nudist beach and has a long tradition of tolerance and fun. El Chiringuito is proudly unpretentious and rustic. Simple beach style decor, simple tasty food but nevertheless exuding an air of sophistication. El Chiringuito has a lovely vibe, helped nicely by the world beats supplied by the resident DJ's.
El Chirinquito is very child friendly too. For your little ones, Little Chiringuito is a space within the beach club where they can draw, paint, make bracelets, play in the sand and enjoy their time with other little people. This gives you some time to enjoy your lunch and relax in stunning surroundings.
Sunset Ashram
Cala Conta is one of the most beautiful beaches in Ibiza. The horizon is dotted with little rocky islands and the location provides stunning sunsets. Sunset Ashram sits on a rock that divides the beach on two. The vibe here is great, the resident DJ's play an eclectic mix of music. The food is reasonable and the service is generally good. It's a very busy restaurant so best to book first. I guess the main thing that Sunset Ashram has going for it is the stunning location and the beautiful views.
Another beach club with mixed reviews on Trip Advisor. As with the Cotton Club I speak as I find. We spent a very nice time here. We ate good food, enjoyed the vibe and watched the sun go down to deep house beats. A magical experience which I'd happily repeat.
Danny Frith is Director at SkiBoutique. SkiBoutique is a luxury ski chalet agency based in Switzerland.
If you would like to be a guest blogger on A Luxury Travel Blog in order to raise your profile, please contact us.
Did you enjoy this article?
Receive similar content direct to your inbox.