By
Paul Eyers
on Aug 17, 2019 in
Accommodation
,
Asia
,
China
,
Food and Drink
,
Going Out
,
Hong Kong
,
Hotels
,
Resorts
,
Restaurants
,
Singapore
,
Thailand
,
Travel Miscellany
,
Vietnam
Our eternal vegan travel travel adventure has taken us to many glorious destinations and long may this continue. As much as we love checking into a luxury hotel and resort, our true raison d'être is to find, eat and write about the best vegan food in the world. One brand that seems to deliver delicious plant based cuisine time after time is Marriott, we have enjoyed vegan food at the below Marriott Hotels and Resorts in Southeast Asia during the last year. From city centre hotels to ocean front resorts, each of these locations went above and beyond to create vegan food that makes us want to go back for more!
The unique and mind blowing JW Marriott Phu Quoc Emerald Bay Resort & Spa is located on Phu Quoc island off the southern coast of Vietnam. Although just a short flight from Saigon, it is a million miles away from the fast paced life of the city. It is also unlike any resort you have ever experienced previously, kind of like an imaginery wonderland with surprises around every corner. Designed by the legendary Bill Bensley, this resort is the stuff dreams are made of and has to be seen to be believed.
An omnipresent offering for breakfast all over Southast Asia, noodle soup, is as simple as it is delicious. Sadly, a vegan option is seldom found as the stock is commonly not suitable for vegans. So when we find a hotel with homemade vegetable stock as an option we certainly don't want to miss out! The flavoursome stock, with rice noodles, vegetables and tofu presents a perfect plant based breakfast option.
Part of our lunch at 'French & Co' was this creative salad that was colouful, eye catching and quite simply, beautiful. It looked almost too good to eat, but trust us when we say we ate every last morcel of fresh, crunchy and nutritious goodness on our plate.
Pink Pearl is the fine dining restaurant at JW Marriott Phu Quoc Emerald Bay Resort & Spa and this is where the culinary creations are taken to the next level. Upon request, they prepared a vegan tasting menu with paired wines that was sublime. Truffles were in season and they played a pivitol role in our meal including this dish with spelt, mushrooms and parsely foam which was one of the best plates of food we've ever been served.
With more rooms and suites than any other hotel in the city, Bangkok Marriott Marquis Queens Park presents both business and leisure travellers alike a great option within easy reach of everything that Bangkok has to offer. We love the location with many rooms overlooking Benjasiri Park and BTS Phrom Phong just a few minutes walk from the hotel.
We ate these dumplings every day. We love dumplings. In fact, we can't get enough of these glutinous parcels of deliciousness. Again, we often miss out as vegans, due to either lard in the wrapper or a non vegan filling so when we discovered that the dumplings at Bangkok Marriott Marquis Queens Park were 100% plant based we happily worked our way through a healthy amount…
You can find fresh vegetable spring rolls, or summer rolls as they are often called, all over Southeast Asia, but rarely do they look as good as these ones from Siam Tea Room at Bangkok Marriott Marquis Queens Park. They were part of the vegetarian menu which was on offer, more and more hotels now have a vegetarian or vegan menu which of course makes us very happy indeed.
For dinner we were super excited to be dining at Akira Back having had such a great experience previously at Akira Back Singapore which you can read about below. It's safe to say that we were not disappointed and our meal lived up to all expectations and more. Again, there is a vegetarian menu with clearly marked vegan options including this Tofu Tobanyaki of lightly fried tofu fillets servd on a medley of vegetables.
JW Marriott Hotel Singapore South Beach is modern, stylish and oh so vegan friendly. This luxury, city centre hotel boasts two swimming pools, a gym and multiple F&B outlets creating the perfect city centre oasis for guests who are staying in one of the 624 well appointed rooms and suites.
The buffet breakfast at Beach Road Kitchen was extensive to say the least, it offers one of the largest selections we've seen for some time meaning those that are searching for plant based options will certainly not be disappointed. You can expect everything from soya milk lattes, vegan friendly congee and a wonderful array of fruit, salad, roasted vegetables and hummus. But that's not all, we enjoyed a delicious Sayur Lodeh vegetable curry and freshly baked 'Breakfast Pizzas' laden with apricot jam, seeds and nuts that were naughty but nice.
Akira Back was our destination for dinner and we were excited, very excited. Chef Akira Back is known for his innovative creations and we were to enjoy a vegan tasting menu which we had pre ordered. There are vegan options on the standard menu such as the below 'Bell Pepper Carpaccio with Nanbanzu' but for the full plant based experience be sure to request the vegan menu at time of booking.
Every dish was outstanding with creative presentation, perfectly paired ingredients and flavours that left you wanting the meal to never end. The 'Crispy Tofu with Kochujang Soy and Finger Lime' was one of our favourites making it straight onto our list of 'Top 10 tofu dishes of all time'.
Hua Hin Marriott Resort & Spa is located overlooking the impressive beach in Hua Hin with many of the rooms and suites enjoying far reaching ocean vistas. Five pools are set with beautifully manicured grounds, creating that luxury resort vibe that was exactly what we were looking for after the 4 hour taxi from Bangkok.
We enjoyed breakfast and lunch at Amber Kitchen which is open all day offering a buffet breakfast and an a la carte menu for lunch and dinner. We loved our healthy salad (complete with quinoa and flax for that protein hit) and also found Indian curries and congee on the buffet which were vegan friendly. In addition to these options, the staff team happily arranged a bowl of noodle soup with vegetable stock and stir fried vegetables with rice.
Not wanting to miss out on the flavours that Thailand is well known for we were happy to eat 'Tao Hu Phad Med Mamuang' otherwise known as fried tofu with cashew nut which certainly hit the spot. The smoked chillies complimeted the slightly sweet tofu, with the fried cashew nuts adding depth and crunchiness. A simple dish, executed perfectly and very good indeed.
Our vegan dessert dreams came true when we were served a trio of sweet delights. First was a creamy pineapple and coconut sorbet which was followed by cubes of mango coconut and decadent cherry and almond chocolate cake topped with fresh rasberries and edible gold. Bravo to the chef who made us very happy with the plant based desserts that he created.
Last but by no means least, is the wonderful JW Marriott Hotel Hong Kong where we experienced the highest level of service, some memorable vegan food and wonderful views of Victoria Harbour from our spacious and sophisticated room.
JW Café is the all day dining restaurant where we enjoyed breakfast each day. From crumpets with peanut butter to freshly prepared vegetable dumplings and rice noodle soup there were plenty of options on the buffet. The staff were also happy to prepare additional items upon request including this fried tofu, topped with shitake mushrooms and asparagus, served with a super spicy dipping sauce.
The chef in The Lounge served a couple of outstanding salads as part of a specially requested vegan menu. They were vibrant, healthy and packed with plant based nutrition making for the perfect meal prior to our impending 13 hour overnight flight.
Presentation and creativity were at the forefront of these dishes that were full of flavour and delciousness. The second offering included sweet roasted pumpkin, earthy beetroot and sour, lemon citrus gel combined to create a dish that was as pleasing on the eye as it was on the palate.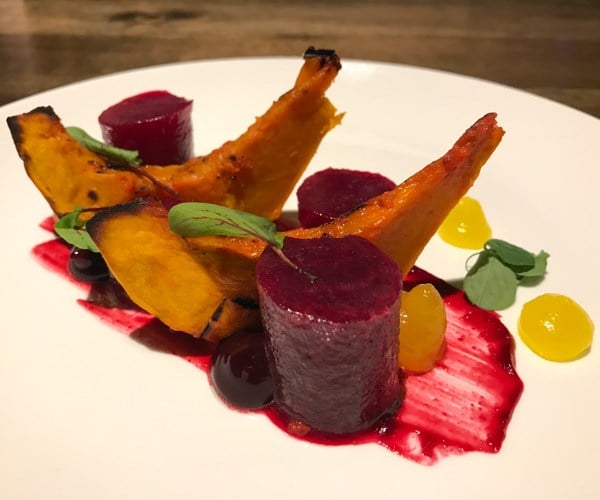 We love that our vegan travel adventure which began in 2014 has coincided with the explosion of veganism worldwide. Luxury hotels and resorts have continued to increase their plant based offerings in line with the demand for vegan food. This includes Marriott who have impressed us time after time in Southeast Asia with their ability and willingness to cater for their vegan guests. Long may the vegan revolution continue!
Paul Eyers is Founder of Vegan Food Quest. Vegan Food Quest have become luxury vegan travel specialists as they continue to find, eat and write about the best vegan food in the world.
If you would like to be a guest blogger on A Luxury Travel Blog in order to raise your profile, please contact us.