Island discovery in Phuket
A taste of the exotic awaits in Thailand with pristine bays and wide stretches of sun-kissed beach. Experience vibrant tradition, diverse shopping and buzzing nightlife in Phuket, while the myriad of nearby islets burst with natural beauty and underwater discoveries. Island-hopping by yacht in these stunning locations amidst authentic Thai culture delivers a fully immersive experience and a unique opportunity to enjoy an incredible sailing adventure.
Day 1
Sail to to Phang Nga Bay, famous for its immense limestone krast islets, where you can take an authentic tour by traditional longtail boat. Canoe up close to the rocks, stop at the floating village of Koh Panyi for lunch and visit the sacred Buddha cave temple at Wat Tham Suwanakhuha. Enjoy the ribbons of velvet beaches and perhaps take the opportunity to go paddle-boarding or kayaking at leisure. Head to the small island of Koh Hong (or Hong Island), Krabi, part of the beautiful Than Bok Khorani National Park. This is a great spot to take time swimming in the incredible blue lagoon waters and enjoy complete relaxation on the white sands.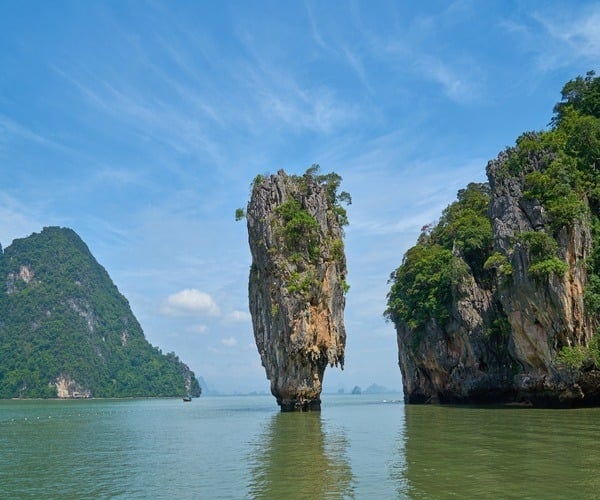 Day 2
Make way to Ko Po Da Nok. Translated as "Chicken Island", this is named after the unusual rock protruding upwards from the extremity of the island, giving a chicken's head silhouette. The ideal spot for playing with water toys, snorkelling and kayaking. Ko Mor and Ko Tup nearby are linked by a hidden beach; a long stretch of white sand that only appears during low tide. Surrounded by 10 smaller islands, the flora and fauna on rocks emerging from the emerald waters is fascinating. Cruise to beautiful Monkey Bay, also known as Ao Ling in Thai. This small cove with golden sand has a superb coral reef 50m offshore, offering incredible snorkelling opportunities. Only inhabited by a colony of crab-eating Macaques, this is how the bay was named.
Day 3
Railay Krabi is one of Thailand's most sought-after beach areas, just south of Ao Nang beach, found around a rocky headland and accessible only by boat. This calm and extraordinary world is a small peninsula with beaches set against spectacular limestone cliffs. Without a doubt, the two principal beaches on Railay are the most beautiful strips of sand found along the entire Krabi coastline. Gently curved with powder-white sand that slopes down to meet emerald green water, coconut palms frame the backdrop of craggy rocks. Phra Nag Cave Beach on the southernmost tip is possibly the most stunning. Aside from swimming and watersports, the main activity on Railay is rock-climbing; no wonder with the inordinate amount of limestone rocks found around the island. There is a selection of sport climbing schools offering tuition to adventurous beginners, as well as attracting talented enthusiasts from around the globe.
Day 4
Sail to the south of laid-back Koh Lanta, famed for coral-fringed beaches, mangroves, rainforests and limestone outcrops. This archipelago is made up of 52 islands, some of which are tiny and uninhabited. Explore idyllic beaches, Kong Nin and Kantiang Bay are the two main stretches. Best accessed by yacht, a few beaches beyond Kantiang offer the most remote swathes of sand – anchor opposite and enjoy fun with water sports toys. Make way to Koh Muk, situated between Krabi and Trang. At low tide, swim inside the magical Emerald cave, where rumour has it pirates stored their treasure. Anchor up overnight here.
Day 5
Spend the day at Koh Rok Nok and Koh Rok Nai, part of the Mu Koh Lanta Marine Park and a great place for relaxed snorkelling,
scuba diving
and kayaking. Just 250m apart and separated by a crescent-shaped bay surrounded by coral reefs, they are only frequented by the National Park Rangers. These gorgeous isles are uninhabited hence the beaches are pristine with powder white sands and the water crystal-clear. Watch the fabulous sunset from Thong Cape viewpoint on Koh Rok Nok.
Day 6
Visit the tropical paradise of Koh Ha, where snorkelling and diving are the order of the day. "Ha" means "five" in Thai and Koh Ha is made up of five limestone islands to the west of Koh Lanta. Years ago, the main Ha island was a shelter for sea gypsies and local fishermen thanks to its natural harbour providing a safe haven to shelter from storms. Set within the Mu Koh Lanta National Marine Park, divers can explore a number of amazing caves with natural light shining through. Manta rays, sea snakes, lion fish and whale sharks are frequent visitors. Overnight in Koh Phi Phi Don, Tonsai Bay.
Day 7
Cruise amidst the group of Phi Phi Islands, made up of six beautiful islets. Snorkelling and diving sites abound and the atmosphere of Tonsai village adds to the relaxed vibe. The largest and only inhabited  isle, Koh Phi Phi Don, is world-famous, offering incredible snorkelling at Maya Bay, where "The Beach" was filmed. Swim, snorkel and kayak at your leisure. The island centre is a great spot for some retail therapy for those wanting to head ashore. Cruise to Koh Kai Nui to spend time wandering along the tranquil shores or take a last snorkel before leaving. Return to Phuket to disembark and head home.
This outline is just a taste of the myriad of opportunities available in Thailand. Those looking to experience dramatic scenery, marine reserves, tropical beaches and extraordinary diving sites will find a world of adventure simply waiting to be discovered when sailing around the islands of the Andaman Sea.
Nicholas Dean is Managing Partner of Ocean Independence. Ocean Independence is a global leader in luxury yachting, providing a bespoke experience across yacht charter, sales and management.
If you would like to be a guest blogger on A Luxury Travel Blog in order to raise your profile, please contact us.
Did you enjoy this article?
Receive similar content direct to your inbox.