From the moment you arrive in this historic, maritime city one can't help but be captivated. Autumn in Portugal's capital is special; the vibrancy of the city remains, yet the crowds of high season have passed. It's when one can all too easily fall in love with Lisbon.
You've probably read that Lisbon is the 'new Barcelona'. Well the city is so much more; it has a unique identity, built upon its stunning geography, romantic architecture, sensational cuisine, vibrant culture, and fascinating history – these are the 5 reasons you should visit Lisbon this autumn.
1. The urban capital that embraces the ocean
Portugal was one of the world's great maritime powers, and its capital, built at the mouth of the River Tagus, has a rich history reflecting influences from each corner of the globe. The city's orientation to the Atlantic set the city to be an outward looking metropolis, and today's visitors can combine a city break to Lisbon with a day on the beach too. Praia de Carcavelos is one of the city's most popular beaches, as visitors can easily reach it by train within about half an hour. Yet if you have a rental car and a little more time, then the Troia Peninsula is the place to discover. Stunning, board sandy beaches, an exclusive enclave that's become popular with the A list including Madonna.
2. Distinctive neighbourhoods that delight
Lisbon is one of those cities where it is a joy just to stroll, get lost a little, and explore. Lisbon is a city where a climb up a steep alley way is often rewarded by a spectacular panoramic view, and a trip on a city tram makes a mundane journey a memorable experience. After a while one becomes orientated – discovering the old school elegance of the Príncipe Real quarter; the popular central district of Chiado; the labyrinthine charm of Alfama; the funky Alcantara port district (pay a visit to the Lx factory); and of course, the pulsing nightlife of Barrio Alta. Here, amongst the historic buildings, many of which escaped the devastation of Lisbon's 18th century earthquake, one finds hundreds of bars and clubs, as well as some of the best Fado houses and venues. Adega Machado fado house is a favourite for great food and a soulful musical experience.
Santos-O-Velho is a historic waterside area that's been revitalised. It has a contemporary urban and design vibe. Expect to find cool concept stores, interesting bars, and also a great view of Lisbon's conic Ponte 25 de Abril suspension bridge.
3. Gastronomy that encompasses street food to fine dining
The Portuguese kitchen has to be one of the most appetising in Europe. It's no surprise that fish and seafood is a big thing in Lisbon, with impressive quality and variety. From the ubiquitous salted cod (bacalhau); inexpensive and tasty fried little Atlantic mackerel, known as carapauzinhos; to sophisticated, market-fresh dishes of soft-shell crabs, oysters and lobsters. For a quick and satisfying snack, try some of the Portuguese 'conservas' – canned fish, including tuna or sardines, that are of exceptional quality. What's more the tins are so colourful and original, making great gifts and souvenirs. Visit the Conserveira de Lisboa for an inspiring collection.
If you have a sweet tooth then you'll love the pastel de nata custard tarts, also known as pastel de Belem. But be aware, not all pastels de nata are created equal in this city – for some of the best head to the Manteigaria coffee shop where you can try them fresh from the oven.
Lisbon's dining scene is increasingly chic, with influences from across the world, reflecting Lisbon's global perspective. There are currently 8 restaurants in the city that boast 1 or 2 Michelin stars, temples to Lisbon's avant-garde gastronomy. There are also hip new places opening like ' JNĉQUOI Avenida', a city hot spot for 'social hedonism'; a place that brings together an upscale restaurant a bar, a gourmet deli, a wine cellar and even a men's fashion store.
4. Art and culture that's accessible
Lisbon is refreshingly open and non-elitist. This extends to the city's cultural scene, where art is part of daily life, from beautiful architecture; exquisite tiles fund everywhere; striking street art and graffiti; to urban museums that open their doors for free on Sunday mornings. The Museu Nacional do Azulejo is a wonderful place to gain a remarkable insight into the heritage of Portugal colourful tile work, so often seen on the exteriors and interiors of the city's buildings.
5. One the longest history's in Europe
With a city history that goes back nearly 3,000 years to the Phoenicians, Lisbon has a real sense of place – an authenticity that's captivating. The capital boomed during the 15th and 16th centuries, as Lisbon was at the epicentre of Europe's imperial world trade, leaving a legacy of grandeur, art and culture. Modern day Lisbon is once again flourishing – taking its places proudly as one of the coolest capital sin Europe.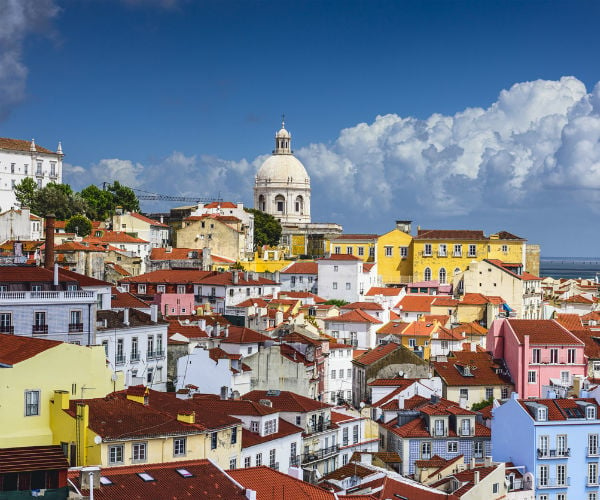 Paola Fiocchi Van den Brande is Director of Passepartout Homes Ltd. Passepartout Homes Ltd. offers an exclusive portfolio of luxury villa rentals in Italy, France, Greece, Croatia, Thailand and worldwide.
If you would like to be a guest blogger on A Luxury Travel Blog in order to raise your profile, please contact us.