When Starbucks introduces their seasonal Pumpkin Spice Latte, it usually means cooler weather is inevitably on its way.  Summer is almost behind us, but that doesn't mean your travels should halt until warmer weather prevails. Visiting Rome in the winter is an experience you shouldn't miss. Regarded as one of Europe's most beautiful cities, Rome knows how to dress up for winter. While you're exploring the city, try these six activities to melt your winter woes.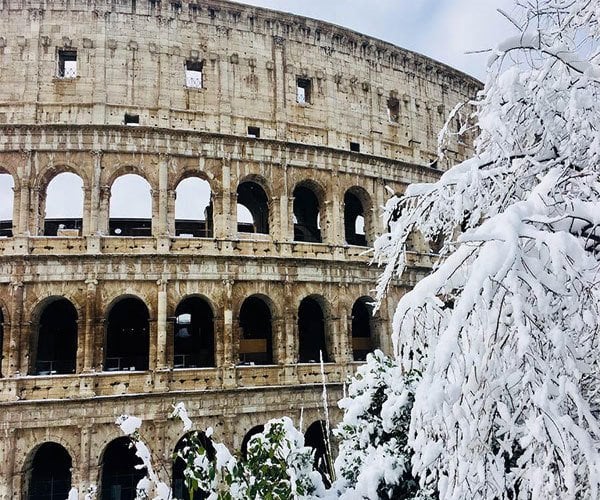 Visit the Vatican
When you visit Rome, visiting the Vatican is a must. If you choose to visit this historic landmark in the winter, you're in luck. Visiting the Vatican during the off-season means the crowds of tourists are drastically reduced, however, keep in mind that between Christmas and January 6th there is a significant increase in tourists. You will still want to purchase tickets in advance to take advantage of skipping the line and receiving better access.
Drink red wine in Enoteca
The word Enoteca when translated to English means "wine repository" or sometimes can mean "wine library". Regional quality is what lies at the heart of most Enoteche. Some even offer light bites as you taste your way through Italian wine country. This is also a great opportunity to purchase a few bottles of wine to continue your experience in the comfort of home. Who would like an Italian bottle of wine in their Christmas stocking?
Visit the indoor market in Testaccio
The Testaccio market located in Rome's Testaccio district is populated with nearly 100 vendors mostly catering local seasonal cuisine including bakeries, local produce, fishmongers, butchers, and delis. If there is one thing to try while visiting, hit up Mordi e Vai and delight in a hot sandwich filled with slow cooked deliciousness like brisket, tripe, or kidneys. If you're a vegetarian, you're in luck. The braised artichoke is out of this world.
Go to the opera
If you are looking for an authentic entertainment experience, then the opera is the place to go. Italy produces some of the most famous operas and opera singers in the world. Whether you're a lifelong connoisseur or a first-timer, an evening at the opera is truly an Italian experience. There are plenty of venus from galleries to crypts, salones to palaces, adding a special atmosphere to your musical experience. One of the most unique venues is the Capuchin Crypt lined with the bones of over 4,000 Capuchin friars.
Visit the Christmas market
What better way to get into the holiday spirit than visiting a Christmas market in one of the most beautiful cities in the world. Not only can you pick up a few unusual and unique gifts, it's the perfect way to experience traditional Italian culture. One of the best Christmas markets is located in Piazza Novana. Opening in the beginning of December, this idyllic market sells handmade toys, decorations, stocking-stuffers and plenty of delicious bites.
Admire the Vatican Christmas tree
The Vatican Christmas Tree, also known as Saint Peter's Square Christmas Tree, is an annual spectacle located directly in front of Saint Peter's Basilica. In 1982, Pope John Paul II, a polish-born pope, introduced this northern European symbol of Christmas to Vatican City. Today, it is considered an honor to offer the Pope a Christmas Tree with the Vatican accepting a tree from a different European country or region each year. For example, the 2016 Vatican Christmas tree came from Trento, Italy and was illuminated on December 6th with 18,000 LED lights.
Sean Finelli is CEO at The Tour Guy. The Tour Guy and its suite of brands, The Roman Guy and Finelli & Shaw, offer globetrotters uniquely curated experiences across Europe.
If you would like to be a guest blogger on A Luxury Travel Blog in order to raise your profile, please contact us.