By
James Jayasundera
on Sep 21, 2019 in
Accommodation
,
Asia
,
Attractions
,
Food and Drink
,
Going Out
,
Hotels
,
Regions
,
Restaurants
,
Sri Lanka
,
Travel Miscellany
Over the last decade, Sri Lanka has seen a deserving rise in tourism, becoming the place to go for holidaymakers and travel bloggers alike. The revered Tear Drop island of the Indian Ocean is a beautifully spirited nation; its flag is the only one of its kind in the world to recognise three religious' beliefs: Hinduism, Buddhism and Islam. With an abundance of natural wonders, overflowing UNESCO World Heritage sites, enchanting wildlife, exquisite cuisine, world-class hotels and a rich cultural legacy, there is no wonder why it remains at the top of our destination bucket list, and that's why we have rounded up our 17 favourite things to do in the bountiful island of Sri Lanka.
Explore the Cultural Triangle (Anuradhapura, Ritigala and Mihintale)
As you leave the ripe green rolling hills of the tea country, you'll find yourself tumbling down into the plains of Sri Lanka's dry zone; an ancient region home to what is known as the Cultural Triangle. This fascinating UNESCO World Heritage Site is a vast region comprising of multiple ancient cities, and the first stop at heart of the triangle, lies the ruined city of Anuradhapura which ruled the island for 1,300 years from 377BC. One of Buddhism's holiest places, this city is full of bell-shaped stupas, vast monasteries, incredible palaces and the Indian tree under which Buddha is believed to have found Enlightenment. Ritigala is a quieter spot in the ancient Cultural Triangle, however, it is no less of an interesting natural attraction. A haunting forest monastery swirls around the mountain of Ritigala, which was once a hermitage for Pansakulika monks but today is a quiet and cool alternative to other major ancient cities. Granite boulders, tranquil streams and old stone monastic paths lead the way to the ruins of mediation platforms and shrines that lie beneath the mystical, shady forest. Another leading attraction and probably the most important, is the religious centre of Mihintale, where Buddhism was introduced to Sri Lanka in 247BC. Every year on its mountain peak, the great Poson Poya festival is held on the Poson full moon to commemorate the conversion of King Devanampiya Tissa of Anuradhapura and son of Indian Buddhist Emperor, Mahinda.
Climb to the top of Sigiriya
Another UNESCO World Heritage site is the impressive and iconic site of Sigiriya Rock. If you choose to journey up this fairly challenging yet rewarding climb, be sure to admire the dense jungle surroundings, the giant stone claws at Lion's Gate and the beautiful ancient frescoes that sink into the sandstone bedrock of this clifftop fortress. As you reach the summit, soak in the phenomenal views of the surrounding verdant terrains this golden-red splendour dominates. A local and knowledgeable guide wouldn't go a miss here as you take in the exhilarating panoramic views, which stretch as far as the eye can see, as you learn about the rock's historic architectural construction, the innumerable stories of the Kingdom and the ancient thrones, shrines and cities beneath your feet.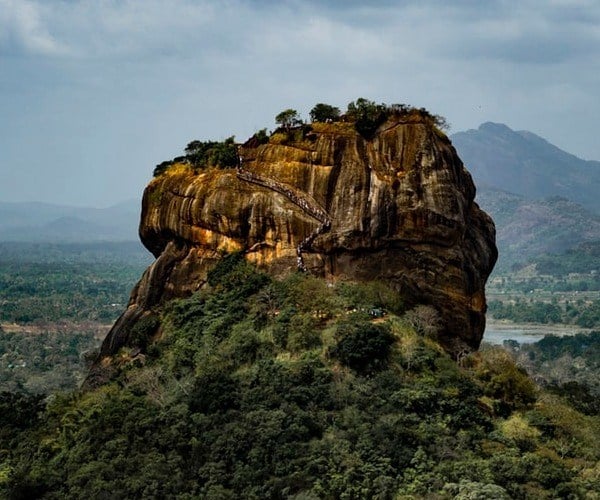 Stay at Amangalla
Standing in prime position within the UNESCO Galle Fort walls, Amangalla is the forefront hotel which boasts a period charm from a bygone era. The Grande Dame is a sophisticated property that has been gently renovated by the Aman group to maintain its colonial fantasy: glinting chandeliers, arched windows, wooden floors and latticed shutters whisk this hotel back in time. With 26 bedrooms, chambers and suites, the two-bedroom Amangalla Suite or the secluded Garden House, the accommodation is spoiling and perfect for solo travellers, couples and families. The emerald tiled 12-metre swimming pool is hidden away beneath the fringed palm trees, and amongst the lush gardens, you can also find one of Sri Lanka's best spas which focuses on Ayurvedic healing traditions. Amangalla is an idyllic base from which to explore Galle by foot, or simply soak up the lively hubbub as you people watch from the veranda; watch as school children race around the cobbled streets, couples pose for photos and locals busily walk to work. It really gives a sense of what it is like to live within the fort.
Explore Galle Fort by foot
And speaking of Galle Fort, its small but perfectly condensed size makes it easy to explore on foot and a stroll through the cobbled streets is the ideal introduction to Sri Lanka's colonial history. With a map in hand, take to the narrow streets and tick off attractions that make up this cosy little town. The Dutch Reformed Church, All Saints Church and Old Dutch Hospital are just some of the many refreshing monuments that build up Galle Forts impressive interior. Several museums displaying Galle's colonial history are worth visiting and a colourful array of boutique shops, art galleries, cafés and restaurants are bound to fill up your time. Poonie's Kitchen, the coolest restaurant in town, and Stick No Bills, a quirky shop selling retro Ceylon prints, are just some of our many Galle Fort recommendations, but one of the best things is to get wonderfully lost within this colonial hub. End your picture-perfect day following the ancient ramparts round until you reach the iconic lighthouse, and watch the day draw in as the sun sets on Sri Lanka's beautiful southern coast.
Summit Adam's Peak
For the adventurous beings out there, climbing Adam's Peak, Sri Lanka's highest peak also known as Sri Pada, is a bucket list challenge for many. Located in the southern plains of the deep green Hill Country and proudly standing at 2,243 metres tall, the climb takes approximately 4 hours depending on your ability, and ascent traditionally starts at 2am before dawn breaks. During the early hours of the morning, follow the glistening lights that lead you up the 5,200 steps, interact with the locals running the small tea shops on route who cheer you on, and take regular breathers to admire the show-stopping scenery around you. The best time of year to climb Adam's Peak is between December and May, the region's dry season, and you'll find this time of year draws in Buddhist pilgrims from far and wide who believe that the rock formation near the summit is the sacred 'footprint of Buddha'. Reach the summit in time for sunrise and watch the vast landscape beneath you awaken before you begin your descent down.
Stay in a tea bungalow and visit a tea plantation
Sri Lanka's tea country is one of the country's most stunning locations, particularly if you're looking to combine ultimate luxury and relaxation with scenic adventures. Set on a private estate within a working tea plantation, Thotalagala is our favourite historical bungalow. Originally a tea planter's bungalow builtin 1870, it is now a beautifully restored luxury hotel, providing the supreme spot to watch the sprinkled tea-pickers move across the rolling green landscape. The seven well-appointed rooms are themed around significant personalities such as Major Rogers, Sir Thomas Lipton and James Taylor who helped shape this tea-growing region. Make a trip to the nearby Dambatenne Tea Factory and then journey up to Lipton's Seat, Sir Thomas Lipton's favourite look-out spot; you'll be rewarded with breathtaking panoramic views of the surrounding hills and tea estates, and they say on a clear day, you can see all the way down to the southern coast.
Go on a leopard safari in Kumana National Park
Although a less visited park than other populated wildlife destinations across Sri Lanka, the little-known Kumana National Park is a somewhat hidden gem for wildlife enthusiasts. A boulder-strewn landscape filled with ancient archaeological sites and teeming with wildlife, the park is spread over 356 square kilometres and borders the Kumanukkan Oya River and the Indian Ocean in the remote south-east of the island. The 200-hectare mangrove swamp naturally attracts a vast array of birdlife, and one can also spot elephants, bears and the elusive leopard, without another tourist in sight. Kumana Mobile Tented Camp is run by a small group of expert conservationists who know every inch of the park, including the reserve's former park warden, an elephant whisperer who has worked in Kumana for over 40 years and is one of Sri Lanka's leading ornithologists. A truly memorable experience!
Go Whale watching in Mirissa
Trust us when we say the coastal town of Mirissa is the ideal spot to go whale watching! Although an early rise is needed to get out and track down the ocean's magnificent creatures, the stroll through the harbour's early fishing markets and the gentle sail out to sea just after sunrise will just about prep you for what you're about to witness. As you set off, you are likely to be distracted by the pods of friendly dolphins darting in and out of the water beside you as they lead you towards the ocean's largest cetaceans. Sri Lanka prides itself on preserving its wildlife's natural habitat and it's no different when taking a tour out to sea. Naturalist guides will gently approach the whales and respectfully keep their distance, all the while ensuring you don't miss a sighting. The best time to go whale watching in Mirissa is from November to April when the waters are warm and calm.
Go on a Bawa tour and visit Lunuganga & Brief Gardens
The Bawa brothers majorly influenced and shaped Sri Lanka's architectural significance over the 20th century. Bevis Bawa was a Ceylonese artist and landscape designer who, in 1929, began working on his five-acre plot of love – a beautiful landscape to get lost in, with artful vistas and Japanese and English influences which he named Brief Gardens, after his brief career stint as a barrister. Geoffrey Bawa is the islands most famous and influential architect who introduced "tropical modernism" into his properties, including his own country house – The Lunuganga Estate. For those interested in Sri Lankan history and eager to learn more about how Bevis and Geoffrey Bawa put Sri Lanka (and Asia) on the architectural map, a privately guided Bawa tour through the area of Bentota, visiting the Lunuganga property and beautiful Brief Gardens is highly recommended.
Have dinner at Gallery Café, Colombo
Once the office belonging to world-renowned Sri Lankan architect, Geoffrey Bawa Gallery Café is now Colombo's hottest place to eat, drink, socialise, see and be seen by the city's coolest crowd. The property was respectfully converted with Bawa's confident approval by Paradise Road chairman and designer, Udayshanth Fernando. Since opening its doors in 1998 its world-wide reputation has drawn visitors in from far and wide to taste the local and international dishes, including fresh seafood grills and the best black pork curry in Sri Lanka, as well as a dessert menu with over 30 irresistible choices. The restaurant also has a gallery which features monthly rotating exhibitions by established and emerging Sri Lankan artists.
Go to Galle Face Hotel, Colombo for the flag ceremony and sunset drinks
The iconic flag ceremony at Galle Face Hotel is a magical way to end a day of sightseeing around the busy streets of Colombo. Drop your shopping bags and rest your feet with a sunset cocktail on the Galle Face's alfresco chequerboard terrace and enjoy the memorable and traditional welcome to Sri Lanka. Set against the beautiful view of the Arabian Sea and Indian Ocean lapping together, as the sun sets, the lowering of the flag ceremony is surprisingly accompanied by the noticeable sounds of Scottish bagpipes – said to be played as a respectful nod to Sri Lanka's British colonial history.
Go on a train journey through the Tea Country
A train journey from Ella to Kandy or vice versa is often considered to be the 'most beautiful train ride in the world' and should be high on your list when visiting Sri Lanka's tea country. As you cross the famous Nine Arch Bridge in Ella, built by the British to transport tea in and out of the capital, the highly recognisable deep blue 19th-century steam trains, glide their way through the lush green rolling landscapes of Haputale, Nuwara Eliya, Hatton and onto Kandy towards Colombo. Not only is this journey one of the most affordable and scenic ways to see the country, but it is also a very fulfilling way to see everyday life in Sri Lanka. Relax and enjoy the view out of the window as you pass through the steep mountains, countless tea plantations, small villages and natural waterfalls.
Stay in some of the best boutique hotels in Sri Lanka
Sri Lanka is without a doubt home to some of the best boutique hotels within the Indian Subcontinent. Geoffrey Bawa's final creation, The Last House, is a quaint and colourful beachside hotel located in the private southern shores of Tangalle. Just a 20-minute journey outside the colonial town of Galle, hide yourself away on the northern banks of Koggala Lake, amidst 12 acres of low-lying tea plantations at the luxury boutique hotel Kahanda Handa. For those wildlife breaks in the almost forgotten Gal Oya National Park, end your safari at the beautiful and remote Gal Oya Lodge. The eco-luxe retreat with 10 spacious villas sprinkled around the emerald grounds will allow you to completely switch off and unwind from what has probably already been an adventurous day. As you settle in Colombo, Maniumpathy is a wonderful boutique alternative to the popular seafront Galle Face Hotel. Thanks to its intimate size and prime location within the leafy and white-washed buildings of District 7, this original manor house provides a quiet and understated welcome to Colombo. The beauty of Sri Lanka's small tear-drop size is that everything is in easy reach, meaning that one can stay at multiple boutique hotels making your journey even more enjoyable and culturally diverse.
Swim in the sea
For the best views of Sri Lanka's palm tree-lined beaches, take a dip in the glorious Indian Ocean and look back at the beautiful island ahead of you. From December to April, the seas are an inviting way to cool down, and during a tropical burst of rainfall, a swim in the sea can be a memorable experience. Sri Lanka's east coast is home to some of the best beaches on the island, particularly along from the town of Trincomalee. The northern stretch is home to such colourful marine life and soft white sand, it's perfect for scuba diving and snorkelling. Heading down the coast towards Arugam bay, the laid-back beach scene and the moon-shaped curve of the soft sand is considered the best spot to surf along the eastern coast. Across the southern coastline, beautiful stretches of golden sands take charge and palm trees stand tall on the fringes of the fishing village, Tangalle. Whilst dipping into the warm Tangalle waters, take a visit to the nearby Rekawa beach to watch turtles emerge from the sea and carefully lay their eggs. On the south eastern coast, take a break at quieter coves, such as Hiriketiya beach, an area that sees less tourism and the perfect spot to paddle your feet during sunset.
Learn to surf the beach breaks at Weligama
It almost seems whichever coastline you are at, you can pick up a surfboard and surf anywhere along Sri Lanka's deep blue waters. However, the bustling coastal town of Weligama is considered the perfect place to learn to surf across the most southern tip of Sri Lanka. As the name translates to 'sandy village', Weligama's sweeping wide beach, gentle beach breaks, incredibly healthy food spots and array of enthusiastic instructors from around the world, is any beginner's heaven. But for the ultimate luxury surf experience, complete your days lesson with a stay at Cape Weligama, its unrivalled prime location on the coastline and panoramic views across the Indian Ocean make for the perfect rejuvenating escape after a day of surfing.
Visit some off the beaten track waterfalls and jungles
Sri Lanka is bursting with many hidden and remote gems, so one can easily drift off the beaten track and find something completely special. Gal Oya National Park is one of our favourites, buried deep in Sri Lanka's middle eastern wilderness, its secluded location puts itself under the tourist radar and so remains beautifully untouched. The park proudly serves as the main catchment area for Sri Lanka's largest reservoir, Senanayake Lake, and so flora and fauna is booming. Another favourite spot of ours is The Living Heritage Koslanda. Take the iconic train ride from Hatton to Haputale and stay in this completed secluded location, surrounded by jungles and tea plantations, with hidden waterfalls perfect for swimming and private picnic lunches.
Eat as much Sri Lankan food as you possibly can
Last but no means least, and probably one to bear in mind for every day that you are in Sri Lanka, is to try out and enjoy as much traditional Sri Lankan cuisine as you can! If there's one thing that the Sri Lankans do well, it's cooking up a diverse and scrumptious feast. Don't leave Sri Lanka without trying some traditional delicious dishes such as: Hoppers, a concoction of rice flour and coconut milk in the shape of a pancake; Kottu Roti, a Sri Lankan street food market delicacy and everyone's fast food go to, a fried crispy bread chopped and fried with a selection of ingredients chosen by you; Pol Sambol, the coconut side dish of dreams, finely grated with red onions, chili powder, lime juice, salt and Maldivian fish; Parippu or Dhal curry, the most common curry in Sri Lankan cuisine and a staple in any restaurant or household. The menu is endless and awfully satisfying! If you get a chance to, take part in a cookery demonstration to learn the skills and flavors that go into making such aromatic dishes – one of our favourite cooking experiences is at Ulagalla in Anuradhapura.
James Jayasundera is Founder and Managing Director of Ampersand Travel. Ampersand Travel create bespoke and luxurious travel experiences to Asia, the British Isles and Southern Africa.
If you would like to be a guest blogger on A Luxury Travel Blog in order to raise your profile, please contact us.