People often ask me if there is more to it than just a fancy meal and a bed when flying first class. Well, there surely is. Aside from all the extras you get on the plane, there are tons of perks before and after your flight too. One of them is having access to the most luxurious lounges of these airlines. And while most of them are really nice, some of them are next level and if you ever have the chance to experience one (or several) of these, you'll be in for the best time ever.
Lufthansa First Class Terminal
Among frequent flyers and aviation geeks, visiting the Lufthansa First Class Terminal is like coming home and knowing your family will take very good care of you. And no, it's not a typo, it is indeed a complete terminal that was built in Frankfurt with the sole purpose of making sure its guests would have everything they need before boarding the plane. There is a massive selection of both food and drinks, they even have over 130 different kinds of whisky which you can taste.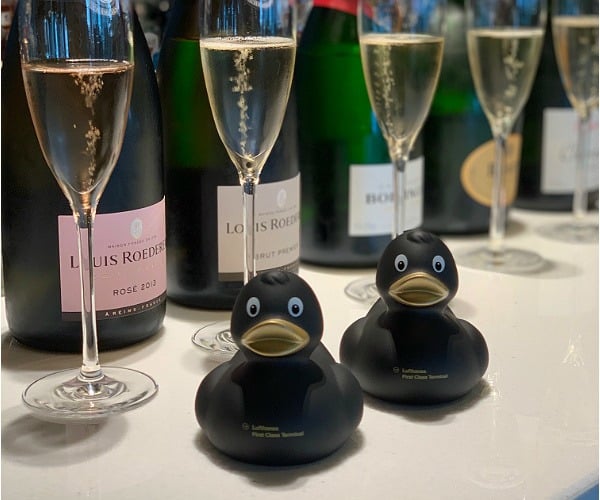 Of course, there are also offices, nap rooms, relax areas and so on but what about the cigar lounge, where those who like to indulge on the nicely rolled tobacco can enjoy their little treat without disturbing anyone else. There are several bathrooms, and upon entering it there will be the mascot rubber duck waiting for you. The duck has become one of the most desirable "must haves" for aviation geeks and to be honest, who doesn't like to have a duck joining them for a bath? Your PA (yes, every guest receives one upon arrival) will be checking in with you on a regular basis to see if there is anything they can do for you, but also to come and collect you when the time has come to board the airplane. So no need for clock watching here. And being driven to the plane in a luxury German car like a Porsche or Mercedes S class will make sure you want to visit the first class terminal again.
Qatar Al Safwa lounge
We all know the Middle East is the place to go when bling is your thing. But what Qatar Airways did with their Al Safwa lounge in Doha is the total opposite. Clean lines, open spaces with natural light, … The lounge is massive, so even when there are lots of guests, it will still feel very exclusive and empty. When designing this space, they surely kept all types of travelers in mind, as there is the formal dining area, a more informal dining area and a family dining facility.
I mean, it is all about choice, isn't it? On top of that, there's a spa, an extensive space for toys and activities for kids,  a business center and even a nanny room. Truth be told, clients who have the means to fly first class often have staff travelling along, so the nanny room does make sense. One of the things that stands out to a lot of travelers is the champagne which is offered. Even though it does change from time to time, you can expect to drink Krug, Comtes de Champagne and Cuvéé Louise. Sounds almost like the holy grail has been found.
Air France La Premiere lounge
The French are known for many things, and good hospitality services on top of amazing food and wines are just a few of the stand outs. Of course you can expect all of these, and so much more when visiting the La Premiere lounge of the French flagship carrier Air France in Paris. The design of the lounge is (as you can expect) very stylish with red, grey and white as the main colors throughout the space. They like to showcase their strength, hence why the food menu is designed by Alain Ducasse.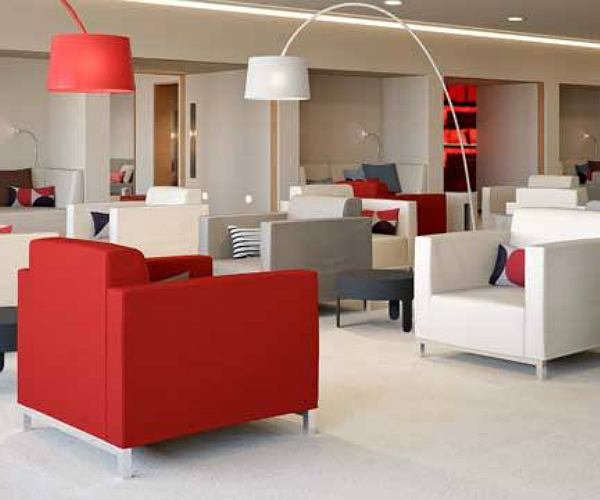 And not only does that sound amazing, the dining experience itself feels more like you are having a meal in a Michelin star restaurant. Of course this couldn't be a French lounge without a Clarins Spa, where you can get pampered before the flight in order to be totally relaxed when boarding your plane. And boarding the plane was never that easy, as Air France also drives their guests to the planes in luxury vehicles, just like they do at Lufthansa.
Cathay Pacific The Pier
Of course there wouldn't be a top 5 possible without one (or more) of the Asian carriers who once again turn luxurious travel into reality. Cathay Pacific does it perfectly in The Pier, their first class lounge in Hong Kong, not to be mistaken with The Pier for business class. When you enter the lounge it looks like you walk into the hallway of a fancy complex in Manhattan. The lounge has several amazing features, but the one that you really want to enjoy is the private rooms, called the Retreat.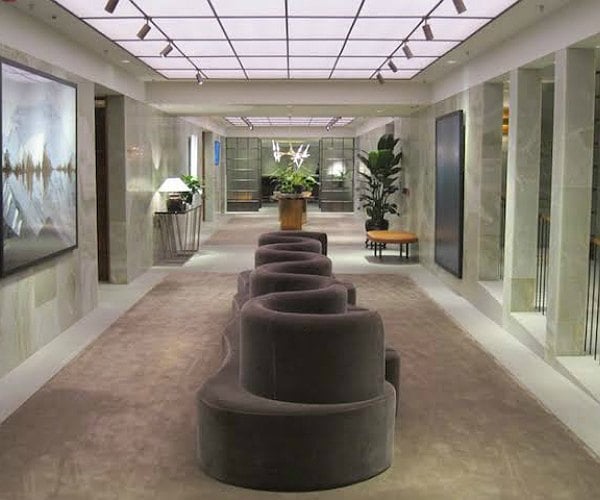 There are several and they all have great views outside where the hustle and bustle of the airport is happening right in front of you, yet you are sitting relaxed while having one of your favorite drinks. Or if you rather just take a shower and start working, you'll be glad to know there are some beautiful shower rooms and a business center which more looks like it was stolen from a fancy gentlemen's club in the UK. The food is top notch as one can imagine and there are both Asian and more western options to choose from. As a guest you also receive a 10 minute foot massage, which will surely put a smile on many faces. The lounge work closely together with the famous The Peninsula hotel in Hong Kong, in order to make sure its visitors will leave refreshed, relaxed, fueled up and ready for the flight.
Singapore The Private Room
Last up, but surely not less impressive is The Private Room from Singapore Airlines in Singapore. While might not have all the fancy gimmicks like chauffeur driven transfers to the plane, or free massages in the spa, it does have something else that is probably the most important to all travelers, being impeccable service and the sense of exclusivity. It all starts by getting into the lounge, as you will have to walk through the business class lounge, and straight after also through the first class lounge, cause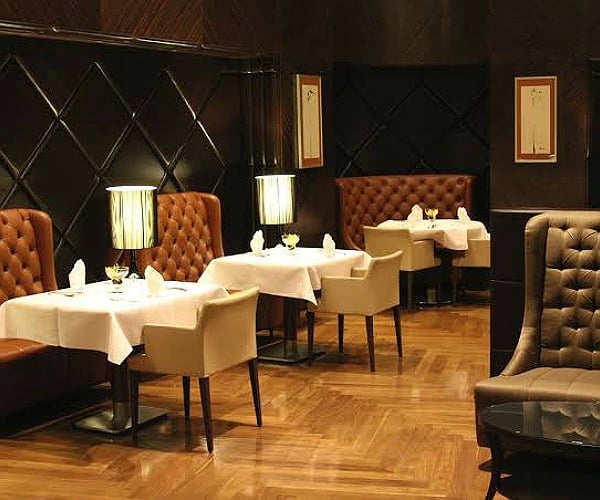 The Private Room is only for guests travelling the same day on Singapore Airlines First and Suites class. This lounge is known for its endless supply of Dom Perignon and amazing food options like lobster. Lucky enough there is plenty of cozy seating areas where you can try to recover from your food coma. Maybe the perfect time to try one of their amazing teas cause you can't be surprised when I say there is a complete tea menu with over a dozen of different tastes. Travelling with the family? Not a problem, the lounge has a dedicated family room where you can have fun while not disturbing the rest of the guests.
As you can see, waiting for your flight doesn't always have to be a mission, nor does it have to be boring. Like I said in the beginning, I often get the question if flying First Class is worth it and if there is more to it than just a fancy plane ride. I hope the info above does give you an idea of what to expect and hopefully it makes you see that it's a complete experience from the moment you reach the airport all the way till you exit the airport at your destination.