By
Paul Johnson
on Sep 27, 2019 in
Accommodation
,
Europe
,
Featured
,
Food and Drink
,
Going Out
,
Hotels
,
Regions
,
Restaurants
,
Spas & Pampering
,
Speciality Travel
,
Travel Miscellany
,
United Kingdom
,
Western Europe
On completion of its construction in 2012, The Alpina Gstaad was the first five star hotel to be opened in Gstaad for over a century. Set in five acres in the Bernese Oberland, the hotel blends traditional Swiss architecture with contemporary flair – both inside and out.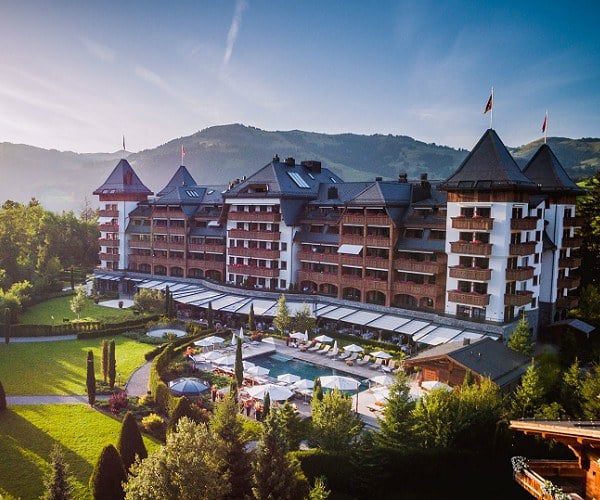 This 56-room luxury hotel is co-owned by Jean Claude Mimran and Marcel Bach – look carefully and, within the hotel's regularly rotating art gallery, you'll find artwork to signify the owners' respective Senegalese and Swiss roots. The interiors combine Ringgenberg limestone, antique fir wood and tanned leather to give a modern, minimalist, yet cosy feel in a chic Alpine setting.
The welcome
We arrived by train from Lausanne, changing at Montreux, and had communicated our arrival time in advance with the hotel. A driver was there to meet us the moment we arrived and drove us up the hill to The Alpina. The hotel is reached along a dramatic tunnelled approach that leads to a two-tiered vehicular access point at the hotel's main entrance. We were welcomed in and our bags were taken care of.
Once inside, a staircase leading to the lounge, bar and restaurants lies ahead, flanked by large, beautiful fresh flower arrangements, with reception to the left and the concierge desk to the right. Here we were warmly welcomed by a number of staff, including a personal welcome from Tim Weiland, The Alpina's General Manager with a wealth of experience, having worked for more than 20 years at luxury hotels all over the world.
The room
We stayed in rooms 208 and 209 – interconnecting De Luxe rooms (one double and one twin) with views out towards the sun-drenched slopes of Schönried. At 33 square metres in size, they offer ample room and have a private terrace on which you can sit out and admire the view.
The rolling green hills – with chalets dotted about here and there – are a beautiful sight in the Summer months. In the Winter, they are of course snow-covered and this area in particular is a popular skiing area for Swiss former alpine skier Michael von Grünigen who was born in Schönried.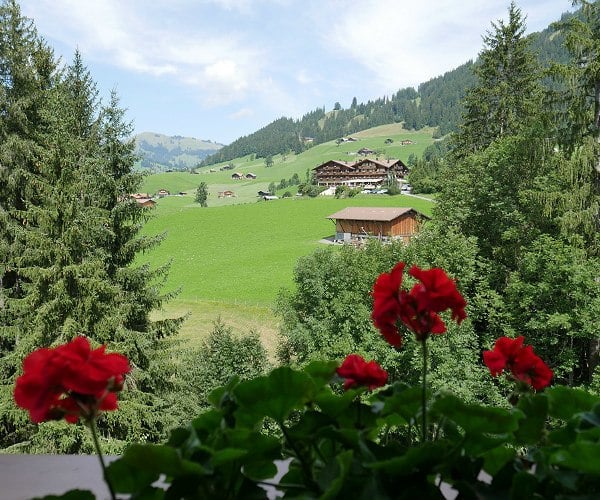 The bathroom
The bathroom is spacious and feels bigger still thanks to the neutral, light beige tones. A bath lies at one end of the bathroom, and at the other a separate large walk-in shower with dual shower heads.
Fluffy robes and slippers are provided, along with a supply of Acqua di Parma toiletries.
The facilities
With four restaurants, the hotel is extremely well-catered for when it comes to dining. There's the Alpina Lounge & Bar, the Michelin-starred Sommet restaurant, the Japanese MEGU restaurant which also has a Michelin star, and Swiss Stübli which specialises in Swiss cuisine.
Sommet is also where breakfast is served each morning. As well as the usual buffet options you might expect, there's a juice bar manned by a member of staff from the spa and a variety of cooked options that you can order. Among them are some Asian specialties including Martin Göschel's breakfast recommendation to set you up for the day ahead: an Asian-inspired soup with vegetables and noodles, inspired by Martin Göschel's breakfast stops when cycling across the continent.
The Alpina Lounge & Bar is a relaxed dining atmosphere where the signature dish is The Alpina beef burger but also excellent is the crustacean bouillabase with different types of fish and seafood, a rouille sauce and homemade mini baguette.
Dinner at Sommet Restaurant is a real treat. We began proceedings with a poached quail egg accompanied by a wonderfully light and subtle celery mousse.
This was followed by a melt-in-the-mouth langoustine carpaccio with caviar, sour cream and edible flowers.
Next up was a delicious warm vegetable salad…
…and then our main was veal cutlet, cooked to perfection and served on a bed of asparagus.
The visual highlight of the meal was described simply as 'yellow lemon' on the menu – an impressive creation coated in white chocolate with yellow food colouring, and sugar to give the outside the apparent texture of a lemon.
Inside was a chantilly cream with a yuzu sorbet in the centre; it was a feast for the taste buds as well as the eyes!
To finish, we were presented with some white and dark chocolate 'champignons' with earth-like granola on the side. This was a truly memorable dinner as I hope the pictures convey.
Led by Head Chef of MEGU Takumi Murase and Head Sushi Chef Tsutomu Kugota, The Alpina's Japanese restaurant MEGU is also not to be missed.
There we enjoyed the crispy asparagus crumbed with Japanese rice crackets, chilli and lemon, accmopanied by crispy Kanzuri shrimps.
A selection of sushi and sashimi was then prepared close to our table: hotoro (medium fat tuna), salmon, yellow fin tuna and squid.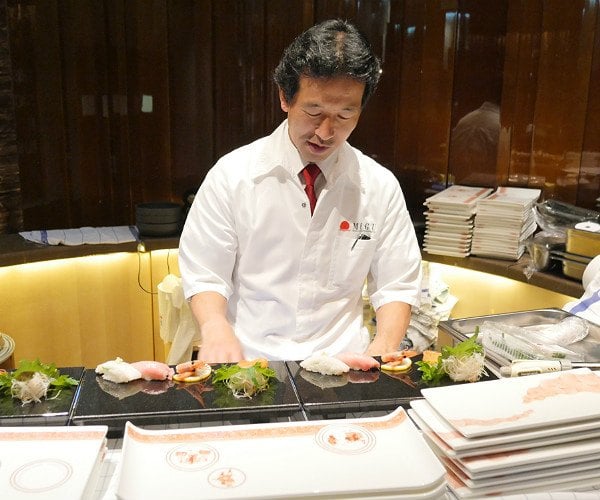 This was followed by a deep and full-bodied akadashi miso – a classic Japanese miso made with nameko (a small, slightly gelatinous mushroom) and tofu.
The stand-out dish was the very special "Kagero Yaki" Wagyu beef flambéed with cognac on a stone grill.
The Omakase dessert was a yuzu ice cream with a cherry jelly and matcha crumble…
…which the petit fours to round off our meal consisted of praline of coconut and yuzu, macaroon of matcha, and sesame.
Finally on the food and beverage front, The Alpina also has its own vinothek housing 1,700 wines in an air-conditioned wine bar panelled entirely in stone and traditional wood, with tastings held around a large stone table.
The Alpina also has a Six Senses spa; and no, this is not just another hotel spa – it is much more than that – and offers an Asian-inspired high-tech approach to treatments that is carefully crafted around the individual.
As well as treatment rooms, there are two pools (indoor and outdoor), separate men's and women's hot and cold plunge pools, saunas, steam rooms, etc. and even a Himalayan salt room.
There's also a well-equipped gym, regular exercise classes and a juice bar.
The hotel even has its own private cinema with 20 free-standing extra-large armchairs and sofas, capable of showing both 2D and 3D films, and complete with popcorn machine.
And it has a fumidor; co-owner Jean-Claude is a cigar aficionado and sent five architects to Cuba just to tour Havana's cigar lounges so they had a clear understanding for the style he was looking to replicate.
For younger guests the hotel has the Tree House Club which is full supervised, giving parents that much-needed respite to take advantage of the spa or have a special dinner in one of the restaurants.
And finally, a new addition this Summer has seen the erection of three Nyetimber beach huts in the hotel grounds. These Summer lodges provide guests with the opportunity to relax with a glass of one of Nyetimber's award-winning sparkling wines whilst enjoying a majestic view of the Bernese Alps.
Location
From the hotel, it is an easy downhill walk into the centre of Gstaad and a slightly more challenging one back up. The hotel offers a free shuttle service to and from this picturesque town.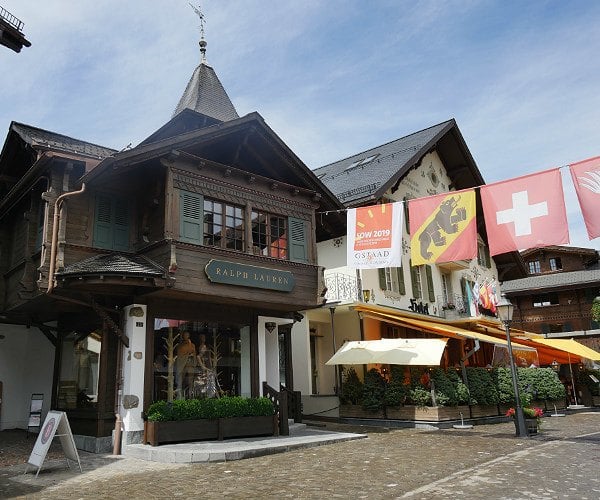 This picture postcard resort is a unique, unspcale part of Switzerland and packed with designer stores, each adorned with a colourful array of flowers.
Other nice touches
There are so many extra touches to mention, from the fresh flowers in the room and complementary choba choba chocolate-covered almonds, cake and fruit bowl on arrival to the shuttle service from the train station to the blankets that were provided (without any prompting on our part) when we were dining al fresco and a slight chill in the air was developing.
There's also the minibar with complementary snacks and soft drinks provided as standard, oils provided on turndown to ensure a restful slumber, not to mention a polite, enthusiastic and helpful staff from the top to the bottom.
Cost
Deluxe rooms start from 723 CHF per night, including taxes and services, when making a Preferred Advance Purchase.
Suites start from 1,658 CHF per night.
The best bit
What The Aplina does exceptionally well is combine luxury with comfort. Nothing is overly-stuffy – it's a homely luxury that is all too often missing in hotels of this size.
The final verdict
Our stay at The Alpina Gstaad was nothing short of perfection and it's little wonder that this special hotel ranks #1 in Gstaad on Tripadvisor or, as one recent Tripadvisor reviwer puts it "probably the best hotel in the European Alps".
Disclosure: Our stay was courtesy of The Alpina Gstaad. Our thanks also goes to Gstaad Tourism and Switzerland Tourism for their support with the trip.