By
Carmen Caballero
on Oct 01, 2019 in
Accommodation
,
Attractions
,
Europe
,
Food and Drink
,
France
,
Going Out
,
Hotels
,
Regions
,
Restaurants
,
Travel Miscellany
,
Western Europe
There are never enough trips to Paris, the city of love, light, fashion, croissants and Champagne toasts. New luxury hotels, events, trends and, of course, classics, like an Oh la la 'petit déjeuner' overlooking the Eiffel Tower.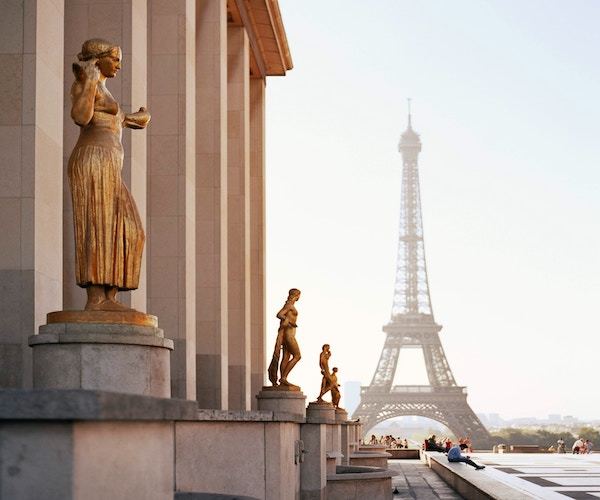 Few cities can symbolize many cities, in just one, a luxury trip to the capital of France is always a new experience for a simple reason: every time you visit this city, there will be new trends, new places to discover and your attitude and reason to go will be different.
A weekend in Paris goes a long way, in three intense days you can stay at one of the most mythical hotels, enjoy a good espresso in a café in the Marais district, go shopping in streets as elegant as Saint Honoré or visit one of the most recent temples of art, culture and design, the Louis Vuitton Foundation Museum.
Whether it is a first contact with the city or not, no one should stop visiting such important places as the Arc de Triomphe that, built by Napoleon, holds the title of being the greatest triumphal arch in the world. The Sacré-Coeur, probably the most mystical corner from which to see the city at your feet. And from one side of the city to the other, we continue our journey to the Georges Pompidou Center, a daring art center that is also a fictional gateway to the Le Marais neighborhood, and also my favorite.
A visit to the Pompidou is a must, as is a dinner or a cocktail at its Georges restaurant, located on the roof of the imposing building that seems to be built upside down. From Georges you get some of the best views of the city to the imposing Eiffel Tower, the most recognized monument in all of France. But before this, you may stop along the way to walk and get lost in the neighborhood of Le Marais.
Where to sleep in Paris?
Hotel Lutetia
One of the most special hotels in Paris today, has been the Hotel Lutetia, an authentic lodging accommodation located in the heart of the Parisian neighborhood of Saint-Germanin-des-Prés. When the Boucicaut family opened the first modern department store, they changed how Parisians, and then the world, do their shopping. Once they had transformed retail commerce, their decision to innovate hoteliery was almost an afterthought. Their store was such a runaway success, that their many suppliers, bringing luxuries from afar, needed a comfortable place to spend the night. Visiting customers from across Europe also needed an enticement to stay longer. The board of 'Le Bon Marché' decide to open a modern, palace-inspired, luxury hotel in Paris, directly across from their famous store.
Attentive service, complete breakfast and 184 guestrooms, spread over seven floors, including 47 suites.
Where to eat?
By creating the elegant interiors of Monsieur Bleu, the talented and famous architect Joseph Dirand is inspired by Art Deco glamor, the work of Yves Klein and the minimalist style of Adolf Loos. The result is spectacular, green marble, velvet banquettes and geometric chandeliers, rectilinear Michel Boyer dress space.
Honoring the art deco style and perfectly combining elegance and chic, Monsieur Bleu is undoubtedly a major asset, a "must visit" for people wishing to fully appreciate the Parisian way of life.
Mandatory stop at Fauchon, one of the best-known chocolate and pastry shops in Paris.
Have dinner at Le Relais in Venice, famous throughout the world for its mythical entrecôte with potatoes and a "secret" sauce with which to lose consciousness. Unique dish in the menu.
I hope this was useful short guide for a weekend in Paris, and, even though you have already visited the city of love, I encourage you to visit again, because you will always have Paris.
Carmen Caballero is Founder of Exotik Traveler. Exotik Traveler is a luxury travel design and consultancy firm which creates unique experiences for luxury travelers, tailored to their needs.
If you would like to be a guest blogger on A Luxury Travel Blog in order to raise your profile, please contact us.