Bo-Kaap (an Afrikaans term meaning "above the Cape") may be a riot of vibrant colour and one of South Africa's (and the world's) 'Most Instagrammable Places', but there is much more to this friendly inner-city Cape Town community than just gorgeous good looks.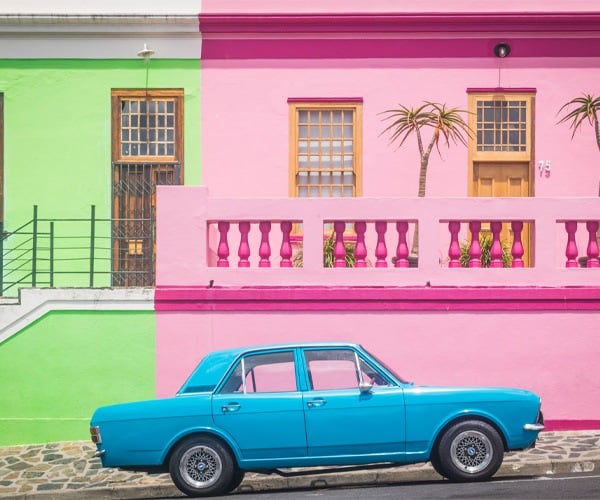 These coloured houses, painted in hues best described as pastels on steroids, are home to a fascinating history and a community with deep cultural roots.
Established in the 1760s by Dutch colonialist Jan de Waal, Bo-Kaap began life as a series of nondescript rental houses – all painted a pristine white. Built to accommodate Cape Malay slaves who had been exiled by the Dutch to the Cape from the Dutch East Indies (Malaysia, Singapore and Indonesia) in the late 1600s, legend has it that de Waal insisted all the walls be kept white, or the slaves would find themselves summarily evicted. As you can imagine, when slavery was abolished in 1834, and the Cape Malay slaves were able to purchase their homes, the sense of freedom must have been immense. The result? Homes, and occupants, disposed towards joy. And bright colours.
As for why so many different colours? In keeping with their reputation for being a community with strong ties and friendships forged through decades of slavery and hardship, we're told that residents and neighbours get together to discuss who is painting which house what colour, thus avoiding colour clashes or neighbouring houses painted the same colour.
Aside from its distinctive colours of freedom, and free use of colour, Bo-Kaap is synonymous with Muslim Cape Malay culture – evidence of which can be found in the area's numerous mosques, and the haunting sound of the muezzin's call to prayer. Head to Dorp Street to visit Auwal Mosque, South Africa's oldest mosque, dating back to 1794. This is also home to a hand-written copy of the Quran created by the mosque's first imam, Tuan Guru. Which, by the way, he wrote from memory during his time as a political prisoner on Robben Island.
This isn't the oldest building in Bo-Kaap, though. That honour goes to the building that now houses Bo-Kaap Museum, built by Jan de Waal in 1768. Furnished like the house of a wealthy 19th-century Cape Malay family, the museum is an excellent place to find some insight into the history of the community; the life of the early Cape Malay settlers; and the influence their Islamic traditions have had on Cape Town's art and culture.
After ambling the picturesque cobbled streets, and visiting the fascinating historic sights, make sure to stop for a taste of the famous Cape Malay cuisine. A unique blend of Middle Eastern, South East Asian and Dutch cooking, Cape Malay food packs a flavourful punch of fruit and spices, couched in fragrant curries, rootis and samoosas. You can find wonderful options at several Bo-Kaap street stalls and restaurants, one of the most authentic being Bo-Kaap Kombuis. Be sure to try the bobotie – touted by many as the unofficial national dish of South Africa.
You can find Bo-Kaap above Long Street and Cape Town city centre, nestled in the foothills of Signal Hill. A five-minute walk from the city centre, and a 10-minute drive from the V&A Waterfront, the easiest way to access the beating heart of Bo-Kaap is to walk along Wale Street to the Bo-Kaap Museum. There are also many guided walking tours, some of which include a Cape Malay cooking course hosted by local women in their own homes. Keep in mind that visitors should dress conservatively and respectfully, in keeping with Muslim custom.
If you have a really special photograph you would like to share with A Luxury Travel Blog's readers, please contact us.