By
Matt Gannan
on Oct 08, 2019 in
Adventure Travel
,
Bolivia
,
Brazil
,
Colombia
,
Ecuador
,
Leisure Travel
,
Peru
,
Regions
,
South America
,
Speciality Travel
,
Venezuela
The mighty Amazon. The largest river in the world by volume of water and the second largest in length. The dense and impenetrable tropical rainforest it runs through is one of the most biodiverse places on the planet. It's the lungs of our planet, the land of the lost city of El Dorado, a place where myth and reality intertwine. The Amazon means many things to us but above all is home to about 30 million people, 40,000 plant and 2000 animal species, with new species still being discovered. It's no surprise the Amazon has been named one of the new seven natural wonders of the world, although in reality its mysterious depths have been attracting curious and intrepid explorers for centuries. With Amazon experiences on offer in Brazil, Bolivia, Peru, Ecuador, Colombia, Venezuela, Guyana, Suriname and French Guiana – where on earth should you head to for a visit? The good news is, you can't go wrong and even with the gear change you have to make to embrace Amazonian living, you will soon realise one trip is not enough.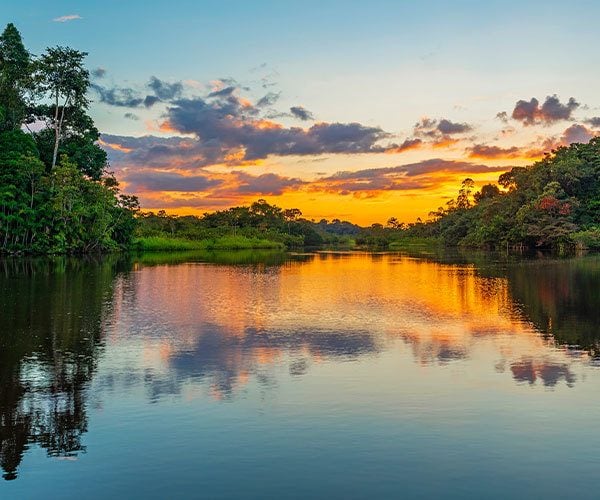 The sheer size of the Amazon might be daunting, so we have put together a list of some of our favourite places and activities so that you can start planning your visit.
1. Teatro Amazonas, Manaus, Brazil
This elaborate Opera house was built in 1884 when Manaus was in the middle of its rubber boom, it was flush with cash and home to several wealthy rubber barons. Times have since changed and therein lies much of the charm of this iconic building – as a relic from Manaus'  illustrious past. An ambitious Renaissance Revival building and no expenses spared project that set to bring European culture to the heart of the Brazilian rainforest. Life in the jungle can be unpredictable though, Teatro Amazonas' fate was sealed when synthetic rubber emerged, the barons deserted Manaus and the theatre spent 90 years empty without hosting a single performance. The glory days of the rubber trade, a thing of the past. Today, Teatro Amazonas is among the most famous and celebrated of Brazil's buildings with its iconic domed roof decorated with 36,000 tiles in the colours of the national flag once again playing host to concerts, its own annual film festival and of course welcoming travellers exploring the capital of the Brazilian jungle.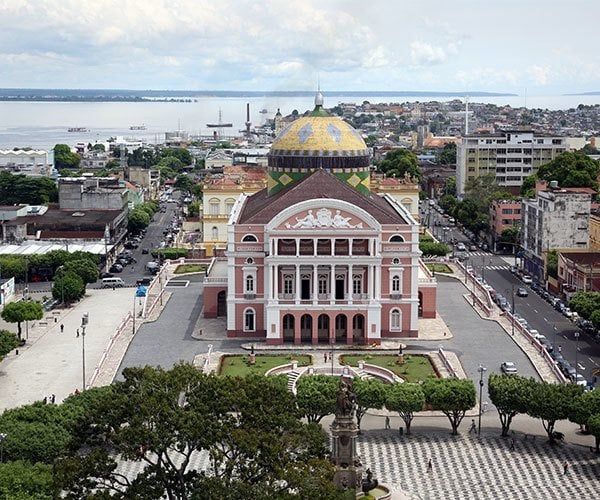 Get to Manaus on a cruise through the Brazilian jungle or join a tour, think about combining with a trip around northern Brazil for both jungle and coastal experiences.
2. Leticia, Santa Rosa and Tabatinga, the three frontiers
To get here (unless you cheated and caught the plane) you'll have spent a fair few days aboard a boat. After languishing onboard your luxury cruise, as the forest canopy drifts past, broken only occasionally by an individual passing jetty or waterfront shack, or equally impossibly remote village, you're probably going to be excited to stretch your legs and roam on dry land. You'll be greeted by a bustling hum-drum, mopeds and tuk-tuks. The best thing is, there are three different countries to explore and you can get around all of them within the space of one day, but don't stop for a day, stay for a few nights and make the most of this stretch of the Amazon River and its tributaries. These frontier towns are a great place to do a local tour and see some of wildlife whilst you get a sense of the different personalities of each country in this microcosm. From rustic Santa Rosa, Peru to Leticia's visible relative affluence and Brazil's slightly raucous Tabatinga. Definitely find time to look around Leticia's shops and markets where you can get your hands on colourful, hand woven hammocks (when in the jungle, right?) and painted wood-carved souvenirs of jungle favourites. And yes, that meter-high free-standing jaguar carving needs a home in your living room!
Visit the frontier towns in style by cruising, starting in either Peru or Brazil.
3. Wildlife
You can't talk about the Amazon without mentioning the wildlife. The rain forest stretches over 40% of the Latin American continent and is home to over 2,000 species of animal. Make a trip to the Amazon and you're probably hoping to see pink river dolphins, capybaras, giant anteaters, macaws, monkeys and sloths, to name a few. Wildlife experiences in the Amazon are more a slow soak, gaze out over the water from the deck and you never know what you will spot. Embrace the whole experience, the rivers, trees, insects, birds and mammals – whatever you drift by rather than approach it like a big five spotting session out in the African savannas. For my time in the Amazon, getting to see giant water lilies, meeting a very mischievous young monkey and watching macaws fly over the horizon's treeline at dusk was the most memorable.
There are wildlife experiences in all corners of the Amazon, but guided tours will give you the best chance of spotting a wide range of animals and birds, along with an introduction to local flora.
4. Kayak / SUP paddle boarding
A trip to the Amazon means trading roads for rivers, so what better way to explore and see wildlife on a kayak or SUP paddleboard? In Suriname and the Guyanas the salinity of the tidal rivers draining into the Caribbean Sea make perfect conditions for miles of robust and healthy mangrove forest. Explore rivers, tributaries and inlets fringed by aerial roots cascading into the water. It's an exhilarating way to see stretches of river and you never know if you'll catch sight of a troupe of monkeys or toucans and other exotic birds.
Deeper in the jungle and further from the coast, you'll trade the Guiana-Amazon Mangroves for flooded forests, waterfalls and slow-moving rivers.
Be safe, check maps and tidal times where applicable, if you're in a tidal zone. Most rental shops provide guided excursions, but if you want to venture along the river without one, don't go solo, kayak with a friend, for obvious safety reasons. Take a laminated map with you (rental outlets should be able to provide these) and seal your phone into a dry tube or bag. The larger rivers run fast and are like motorways for local trade and travel so stay on the quieter tributaries.
5. Try your hand at piranha fishing
Piranhas tend to loiter under or near river banks, in the shadows cast by branches stretching out over water. They're waiting for birds, reptiles and small mammals they prey on to accidentally fall into the water. They move like lightning and use their famously sharp teeth to attack and strip the flesh of their prey. Scary, but in spite of their horror film reputation, they rarely attack anything as large as a human. You don't have to be a seasoned angler to enjoy a spot of piranha fishing, the technique is easy and involves disturbing the surface water with your rod and acting quickly to pull your line from the water as soon as one bites. All mine got put back, but you may choose an excursion company where you cook what you catch.
6. Canopy bridge walk
Get to see the trees of the Amazon from a different vantage point and take a canopy walk. Ceibas, Peru is an extensive network of walkways through the treetops, that will get you closer to the monkeys as they swing through branches. It's definitely worth going with a guide so that you can really appreciate the flora your passing along with any wildlife that happens to be out to play that day.
7. Iquitos
Iquitos is the largest city in the world with no road access. Think about that. This jungle city is where nearly half a million residents live cut off from the rest of their own compatriots. It's a place that remains unique and lives by its own rules. It's strange, frenetic and unlike anywhere else you've encountered. Cruise from Leiticia or all the way from Manaus or from the other direction, embark at Yurimaguas. The great thing about Iquitos' inaccessibility is that you won't see many other visitors, other than a washed up hippy or two that came a few decades ago and stayed for the ayahuasca and shamanic offerings that come with the territory.

Much like Manaus, Iquitos lived through the glory days of the rubber boom and the centre still tells the story of this era, albeit with nothing as impressive as Teatro Amazonas. There are a few charming and crumbling colonial buildings. The detailed woodwork and tiling a stark contrast with the make-shift sun-bleached nature of what has succeeded them. The most famous building from the rubber era – The Iron House, which sits on the main square and was bought by rubber baron Anselmo del Aguila at the International Exposition of Paris in 1889. Together with a handful of others, it tells the story of a long forgotten more affluent past which adds to the Iquitos intrigue you'll feel as you take in the city.
Iquitos' market is one of the best ways to get a true feel for jungle life. It's an eye-opening, elemental, dirty experience, with fresh-caught fish for sale on the muddy ground, animal entrails hung up, stray bald dogs looking for shady spots among the wooden food stalls. Something you have to see to believe, not pretty, slightly alarming, but utterly fascinating if you are the kind of traveller that puts authenticity first, even when it's not shiny and pretty.
8. Nocturnal wildlife excursions
Chanel your inner explorer and get out on the water under the cover of darkness to go looking for caimans and other nocturnal wildlife. Armed with a torch you stand a much greater chance of seeing these animals. If you are lucky your torch light will catch a reflection of some glinting eyes in the dark. Treat yourself to a starlit experience. Just remember that mosquitoes are active at all hours in the jungle but they are, without any doubt, worse at night. Wear long clothes and use eco friendly insect repellent beforehand.
Matt Gannan is the CEO and Owner of Tucan Travel. Tucan Travel operate cultural tours in Latin America, Africa and the Middle East, Asia and Europe, as well as tailor-made holidays in Latin America, Africa and Asia.
If you would like to be a guest blogger on A Luxury Travel Blog in order to raise your profile, please contact us.