Floating over the fairy chimneys, honeycombed hills, and underground villages of Cappadocia, Turkey, it's easy to believe you're about to spot a hobbit, pixie or other fanciful creature scurrying between rock and cave. This landscape straight out of Grimms' Fairy Tales really lends itself to flights of fancy (and hot air balloon flights), but, as is so often the case, the truth of this region is far more fascinating than fiction.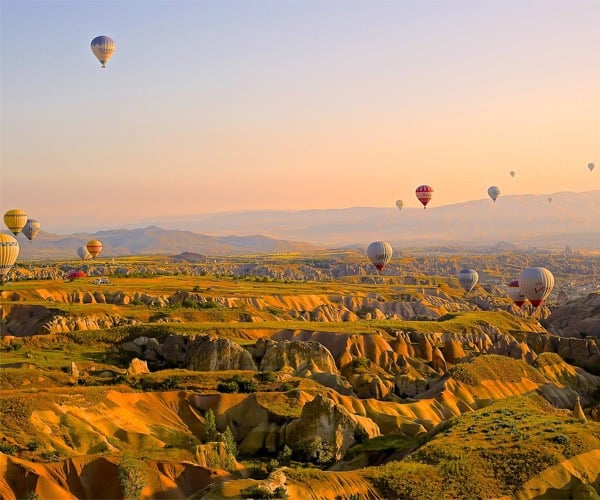 Three to four million years ago a series of volcanic eruptions shook the stark Anatolian plains in central Turkey. Thick volcanic ash solidified into a soft porous rock called tuff which, over time, was eroded by wind and water. The end result? The geological oddity and chimerical topography that is known as Cappadocia.
Thanks to the soft stone left behind so many millions of years ago, people have long used the region as an escape, carving hiding places out of the soft rock and seeking shelter underground. The region was once the heartland of the Hittite Empire and later a safe haven for some of Christianity's earliest philosophers, all of whom sought to hide from their persecutors here. Indeed, the village of Göreme, which today serves as the region's main tourist centre and is one of the few Cappadocian settlements still inhabited, was named by Christians as they hid in the area during the Arab invasion. Its meaning? 'You cannot see here'.
What you can see as you float above it all on one of the hot air balloon rides so popular in the region, is a fascinating cavern-like architecture, complete with fairy turrets and hidey-hole windows, concealing entire subterranean villages, including fortresses and more than 600 underground churches. Once you come back down to earth, head below ground to view these rock-cut churches at the Göreme Open Air Museum, a UNESCO World Heritage Site. Dating back to Medieval times, the churches boast beautiful painted frescoes which still retain a remarkable amount of colour and detail. Finally, do as the locals do, and bed down for the night in one of Cappadocia's cave hotels.
Not a fan of floating high above ground with little more than a wicker basket and a whoosh of hot air between you and the hard, cold earth? Cappadocia is also a large grape producer with a number of wine-tasting shops boasting international award-winning wines.
Whatever you choose to do in Cappadocia, your visit will not disappoint. It is every bit as fantastical as the photos promise. It's also fairly easy to get to: there are plenty of overnight buses from İstanbul to Cappadocia, while Turkish Airlines operates several direct flights from Istanbul Atatürk Airport (IST) to Kayseri Erkilet Airport, located in Kayseri just one hour's drive from Göreme.
If you have a really special photograph you would like to share with A Luxury Travel Blog's readers, please contact us.