Andalucía has so much to offer. There is delicious food, splendid sunshine for much of the year and many cultural delights to enjoy. The scenery is also dynamic. This part of Spain is home to beautiful mountain ranges, as well as long stretches of coastline. Some of the beaches are untouched while others are occupied by lively clubs.
The towns and cities are diverse in this part of Spain. Seville and Cadiz are traditional cities that are steeped in history. The likes of Malaga and Marbella both have old town areas, but they are also known for having a vibrant international tourist scene. Marbella has become very popular in recent years and a place to be seen. Meanwhile, the upmarket area of Sotogrande is known to house many rich and famous families from Europe and Puerto Banus attracts the big spenders with its designer boutiques overlooking the marina.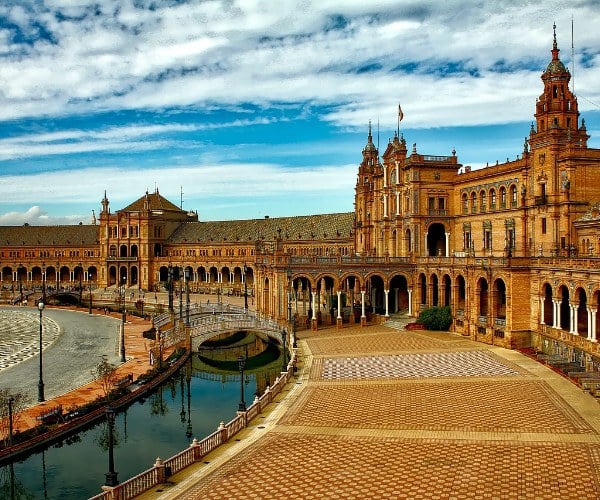 When visiting this area of Spain, you can fly into a number of different airports. Seville, Malaga and Gibraltar are the popular choices. If you want to tour this region and get the most out of your trip, it may be a good idea to land in one airport, hire a car and then depart from another. This means you can make the most of the diversity offered by visiting some of the famous places but also exploring some hidden gems along the way.
If you want to do a tour of this part of the world, here are five places you should think about
including in your visit as a starting point.
Seville
Seville is a very beautiful and traditional Spanish city. The pretty narrow streets are home to plenty of bustling cafes and bars, so there is a vibrant social scene. Seville is famous for its traditions, in particular the impressive Easter processions that take place. If you want to witness these, then a visit during Holy Week is important because this is when Semana Santa takes place. The locals spend all year preparing for the displays and it is an amazing spectacle. That said, Seville has much to offer throughout the year. Seeing flamenco in Seville is a must and there are many shows in the city. You should also visit some of the main landmarks and admire the impressive architecture. The cathedral is one of the largest in the world. A tour of the city in a horse and carriage will help you absorb all the culture.
Cadiz
Although smaller than Seville, Cadiz is similar in style the old town here is charming. The city is typical of this region and known as an old-fashioned Andalusian city. Surrounded by sea, it boasts far-reaching aquatic views. A marine theme is evident in the food and Cadiz houses Spain's oldest covered fish market. Cadiz has a lovely beach in the form of Playa de la Caleta and it is a popular place for locals and visitors to enjoy the Spanish sunshine. It can get very busy and if you want to travel further afield, there are many other beaches in the province of Cádiz to discover. If you don't mind a 40 minute drive, the beach at Novo Sancti Petri is beautiful.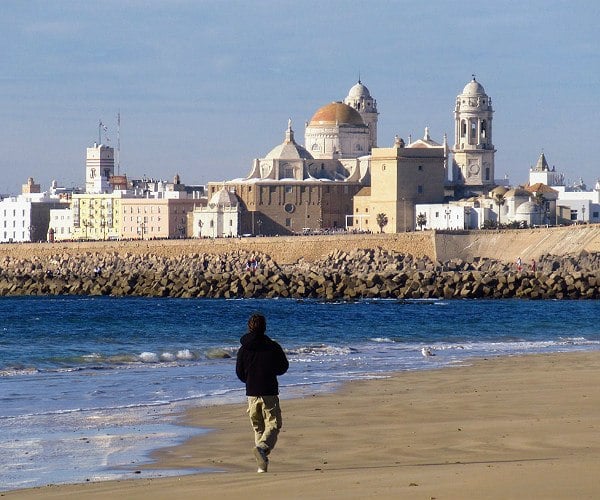 Sotogrande
Sotogrande is considered an upmarket destination, which has long been popular with members of various Royal families. In fact, many of the wealthiest people in Europe have homes here and it is the biggest privately-owned residential development in Andalusia. Some people who visit Marbella will fly into Gibraltar and Sotogrande may be on the way to your final destination. If you are just passing through this area, rather than planning a stay here, Puerto de Sotogrande is a good spot to enjoy lunch. It has a mix of shops, bars and restaurants, with many of the restaurants looking out to sea.
Estepona
Estepona is a discreet coastal town that has maintained much of its character. It is a less obvious choice than some of its larger counterparts on this coastline and is somewhat of a hidden gem. Those who know about Estepona visit time and time again. There are plenty of tourist facilities here, including hotels and restaurants, but these are complemented by traditional Spanish tapas bars. The harbour is quaint and lively. It is also well-known for long stretches of beaches, which run for many kilometres. During spring and autumn, the sea can be particularly animated, and boardwalks mean you can enjoy views of the waves crashing down on the dark sand.
Gibraltar
Of course, Gibraltar, is a British overseas territory. However, its airport serves this part of Spain and it is a popular place to land if you want to venture into Andalucía. Gibraltar is most famous for "the Rock". You can see "the Rock" from far and wide, but probably the best view you will get is from a plane. Flying into this airport is worth it just for the chance to take a photo of this world famous landmark. Gibraltar has a lot of history attached to it and it is home to a large British air and naval base that protects the Strait of Gibraltar, which is the only entrance to the Mediterranean Sea from the Atlantic Ocean.