East Africa – specifically Kenya and Tanzania – offers a wealth of immersive and memorable adventures that allow you to get even closer to a more natural Africa, going beyond the usual safaris. From walking amongst the Great Migration herds to camping out under the stars, here are our top five experiences in this exceptional part of the world.
Head out on foot on a walking safari
Everyone is familiar with 4×4 game drives in Africa – but swopping four wheels for two feet offers an even more thrilling adventure in the heart of the wilderness. Accompanied by expert guides, track and encounter wildlife and get to know the expansive and diverse natural environment around you. Expect terrain from woodlands to plains, and from valleys to volcanoes, all experienced in a very different way than when you're sitting in a vehicle.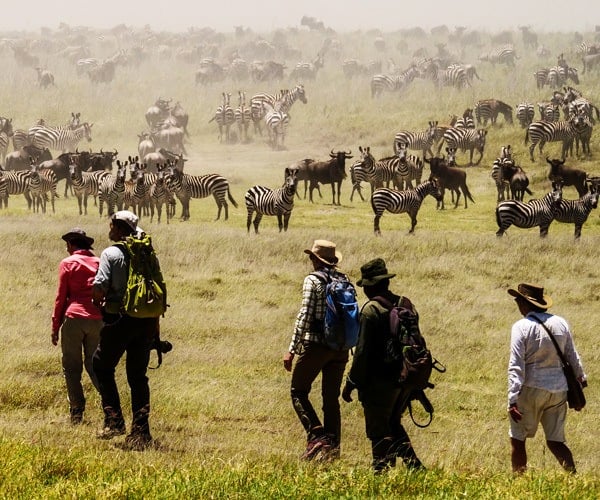 Some exciting walking activities that we recommend include tracking black rhinos on foot in the Sera conservancy in Kenya, and in Tanzania, going on a multi-day walking safari through the Masai lands of Simanjiro. You can even walk amongst the Great Migration in the heart of the Serengeti, with experienced guides bringing you up close to all the action.
Another fantastic walking safari option is trekking through the Rift Valley and around the Ngorongoro Crater to Lake Natron, where you can see hundreds of flamingos. To cool off, swim in a waterfall, or if you haven't had enough of an adrenaline rush, there is the opportunity to climb a volcano.
Keen birdwatchers can indulge in a specialist birding safari in the national parks of Arusha and Tarangire, seeing some of Tanzania's 800 bird species.
Take to the plains on horseback
Horse riding is another excellent way to experience the vast African plains. In Lolkisale in northern Tanzania, go horse riding peacefully alongside giraffes, zebras and wildebeest, and amongst rural Maasai communities, against a backdrop of mountains and villages.
This is an authentic experience as you will sometimes be in areas where there is no road access, meaning few tourists – offering a real off-the-beaten-track adventure. A horseback safari is simply perfect for horse lovers with riding experience, while those who are less experienced or simply want to spend less time on horseback can combine horse riding with guided walks and tours in vintage Land Rovers. You will camp in the evening, with the chance to rest your legs and enjoy sundowners and stargazing around the fire.
Camp beneath the stars
Africa has a wealth of luxury lodges that elevate an African safari to a five-star experience. However, for a truly memorable night's sleep, on a walking safari you have the opportunity to bed down in a fly camp set which is set up in a different place each night. The more daring can have a wild sleepout on rocks in the middle of the wilds, waking up to a rather special sunrise over the hills, and seeing flocks of thousands of birds gathering in the skies. In addition to a comfortable bed to sleep in, exceptionally experienced staff and a cook will accompany you on your trek each day, so you will always have good food to refuel with after a full and exhilarating day of adventures.
Exclusive African escapes aren't limited to camping for an authentic experience. In between scenic forest hikes, birdwatching and boat trips, you can stay in a cosy log cabin near a lake on the slopes of Mt Kenya for a fantastically remote, secluded setting with panoramic views.
Meet the locals
It's not just about wildlife in Africa, and on a holiday in this unique part of the world, you can meet and join the locals as they go about their daily rituals, such as the Hadzabe tribe in Tanzania. Set out with these hunter-gatherers as they track wildlife with bows and arrows (not for the squeamish), and forage with local women for berries and roots, discovering how they use the land for all their food needs. You will also have the opportunity to meet Maasai people in local villages, and learn about their centuries-old traditions and way of life.
Get involved with conservation
Conservation is a worldwide focus at the moment, as protecting the environment, and especially reducing plastic use, is taking centre stage – and during your holiday, you can help, and get personally involved, by finding out more about community initiatives in the areas you are visiting, and taking part in wildlife conservation and monitoring projects.
One such initiative is the Mara Elephant Project in Kenya, which protects and monitors elephant populations in the area and raises awareness about issues such as poaching and deforestation which are causing elephant populations to dwindle. The project supports the education of local communities too, which in turn is inspiring future generations. Your holiday really can make a difference.
…and relax
Finally, after all those safari adventures and enriching local experiences, relax and unwind in style at a luxury retreat on a pristine beach in Zanzibar. Treat yourself to a blissful few days of yoga, meditation, spa treatments and delicious African cuisine, or for a further adrenaline rush, water sports such as snorkelling and kayaking – all in a postcard-perfect setting overlooking the Indian Ocean.
Thomas Ryves is Marketing Director at Exsus Travel. Exsus Travel specialises in creating the very best luxury tailor-made holidays, honeymoons and family adventures in over 80 destinations worldwide.
If you would like to be a guest blogger on A Luxury Travel Blog in order to raise your profile, please contact us.