The family-friendly Maddalenas
For anyone yachting around Corsica and Sardinia with children, the Maddalena Islands are something of a concealed treasure. Although the prime summer months of July and August can still be busy, outside these times the islands tend to be quieter than mainland Sardinia. For parents this is a bonus, giving a certain degree of freedom and flexibility where children are concerned, with less worry about bustle, crowds and noise. An easy-going vibe and welcoming locals add to the family-friendly atmosphere of this small cluster of islands.
With a landscape often likened to a more rugged Caribbean, The Maddalena Islands feature clear, turquoise waters and softly undulating rock formations. Renowned for long, white sandy beaches that fringe small bays and coves, there is an abundance of protected anchorages to enjoy the ultimate in privacy and relaxation. Blessed with UNESCO National Park status, the sea and land are highly respected and well looked after – great for small children. The majority of the beaches are a haven for families, with gently shelving sands and relatively shallow, clear water. This can be a great place for toddlers to splash around; not to mention the sandcastle potential to be found beachside! Older children and teens will enjoy more active pursuits such as windsurfing and kiteboarding thanks to the prevailing winds further offshore and snorkelling fans will find plenty of entertainment below the translucent waters
There are virtually no "beach clubs" of St Tropez-esque proportions – the beaches are all small, remote and remain undeveloped by tourism. While there are some beachside restaurants and cafes on La Maddalena main island,  things are far more "natural" on the other smaller islands – a perfect reason to take full advantage of the comforts and cuisine on board your yacht There are few marinas – the area is mainly served by natural harbours, untold anchorage choices and the ability to tender ashore. The main ports are around La Maddalena and a small marina at Porto di Stagnali, Caprera.  At Spargi and Razzoli you will find a simple jetty where the tender can offload.
Budelli Island is home to the famous pink sand beach of Spiaggia Rosa – it has been coloured by microorganisms living in the sea grass on the beach. The beach is for viewing only as it is a protected zone, but the walkway around the beach is a lovely stroll and a great place to take photos. Head nearby to popular Spiaggia di Cavalieri for a gently sloping sandy beach and snorkel-clear water. Adventurous visitors will enjoy heading ashore to hike along the many trails through fragrant shrubbery amidst goats and rabbits – there is a real "back to nature" vibe. Look out for real-life Robinson Crusoe – friendly Mauro who is the guardian of the island – the kids will be fascinated!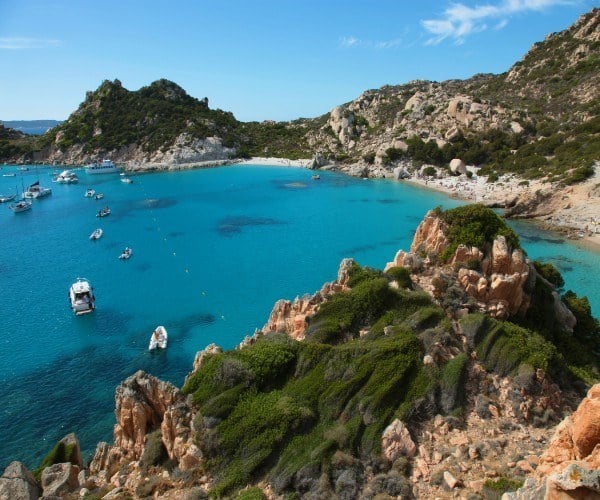 Cala Corsara, located on the south side of uninhabited Spargi, is a beautiful, sandy beach with calm, clear waters – only accessible by yacht. The large bay is protected by cliffs and there are two mysterious rock formations called "witch rock" and "the bulldog" – these offer a chance for older children and to learn about the legends surrounding them. The large beach has four sections within the cove to enjoy. Ideal for enjoying family time, small children will love the shallow seas and sand to play on. Cala Soraya is another quiet, secluded beach with shallow waters and a small white stretch of sand.
Maddalena Town, on the main island of La Maddalena, is a lovely little fishing village to wander around with the whole family – a mix of restaurants, cafes and shops provide plenty of lively activity and the locals are very friendly. Kids of all ageswill love a visit to the family-run Gelatissimo to sample authentically mouth-watering Italian ice cream with a range of amazing flavours to choose from. All products are manufactured daily on site by Signor Marco, his wife Lorella and daughter Greta using original artisanal techniques. Most fruits used in their recipes are sourced from their own Sardinian farm. Located near the harbour at Piazza Santa Maria Maddalena, the Parrocchia Santa Maria Maddalena church has a simple, modern façade yet a beautifully historic interior – it's quite a little gem andwell worth a visit for those interested in history There is a small museum behind the church with artefacts from Admiral Nelson who was based there for six months, which makes it even more enthralling.
The wild island of Caprera, inhabited for only a few months of the year by shepherds, is connected to La Maddalena by bridge and was once home to famed military commander Giuseppe Garibaldi. Visit the Museo Garibaldino for some fantastic artefacts and historical information – bigger kids will love it. The beautiful cove of Cala Cotticcio, located north east, is known as the Italian Tahiti and rightly so – a wonderful place to while away the hours in the water and on the beach for some top family time. There are also hiking paths nearby for further exploration.
Santa Maria boasts a halfmoon bay and large powdery beach with rocks and cliffs at either end. This is a more isolated location, only accessible by yacht and, although visits are weather dependant due to winds, on a calm day this is a private paradise… Virtually uninhabited, there are just a few exclusive, privately owned villas on the island. Found nearby is a sheltered lagoon – Porto della Madonna. A natural swimming pool, it is blessed with sparkling azure-hued water and wind-sculpted rock formations. Here the sea is calm, the bottom is sandy and marine life ubiquitous – a great place to enjoy some family hours swimming, snorkelling or just relaxing. This is one of the island's more popular places to visit, but a vast prevents any overcrowding.
On wildest island, Razzoli, the sole remote anchorage is Cala Lunga – a deep well-sheltered bay with a small jetty. Ashore, explorers can follow the mule track to the abandoned lighthouse and enjoy breath-taking views over the Strait of Bonifacio – this is a great place for the ultimate Instagram selfie. The granite rocks and Mediterranean forest are a beautiful backdrop, while the configuration of the bay makes this a top snorkelling spot with plenty of interesting aquatic life. The main take away for family sailing is that all the islands here are closely located to each other, enabling short, easy journeys. A yacht charter really is the perfect way to view the sunken mountain ranges and hidden bays framed against stunning blue water. With only a handful of inhabited areas – Maddalena Town on La Maddalena, the small fishing village of Stagnali, on Caprera and a handful of summer houses on Santa Maria, this whole region is extremely peaceful whilst offering a great deal of scenic charm and beauty.
Nicholas Dean is Managing Partner of Ocean Independence. Ocean Independence is a global leader in luxury yachting, providing a bespoke experience across yacht charter, sales and management.
If you would like to be a guest blogger on A Luxury Travel Blog in order to raise your profile, please contact us.
Did you enjoy this article?
Receive similar content direct to your inbox.