Vegan delights in Paris and London
Being based in Southeast Asia we get limited opportunities to visit Europe, but instead spend our time lusting after the vegan food and vegan friendly luxury hotels that we read about online. So when given the chance of a whistle stop tour of Paris and London during which time we would get to live out some of our vegan dreams we just had to say yes. With a little over 24 hours in each city we knew exactly where we were going to stay and exactly which plant based creations we would enjoy. Vegan delights in Paris and London features the vegan dreams that we made a reality during our trip. Not only is
Shangri-La Hotel Paris
one of the finest hotels in the world, it is also incredibly vegan friendly with a monthly 'Green Dinner' and a legendary 'Vegan Afternoon Tea' which are both served at La Bauhinia. The hotel is located in the previous home of the great nephew of Napoleon Bonaparte and exhudes history throughout; you can expect impeccable service from the staff team and everywhere you look there are antiques, chandeliers and paintings that only begin to tell you the story of this wonderful hotel.
Our schedule did not align with the monthly 100% Green Dinner which is on the first Thursday of each month at La Bauhinia. If you are lucky enough to attend this plant based culinary experience you can expect to enjoy a 5 course meal (with optional paired wines) crafted by Executive Chef Christophe Moret, that "places vegetables at the forefront without sacrificing taste and pleasure". Next time…
We had made a reservation for the 100% Vegan Afternoon Tea which is well advised as since the launch it has proved to be very popular. The setting of La Bauhinia is perfect for this fabled vegan masterpiece and from the moment we arrived until our departure we were amazed by the setting, the service and the food. Chef Michael Bartocetti and his team have created a vegan afternoon tea that is simply fantastic and should be on your plant based bucket list. Wow.
We started with the scones because they were fresh from the oven and the aromas were irresistable! Scones are integral to afternoon tea and we were lucky enough to have two types, grape with apple and Earl Grey tea; served with cherry jam and chantilly cream infused with lime zest, they were just perfect.
Another highlight was the trio of delicate and refined cakes which were divine. A strawberry creation with the lightest of cream, strawberry soaked sponge and slices of fresh strawberries. A chocolate puffed rice truffle with a hint of salt and smokiness that was like eating chocolate silk. A cherry pie with cinnamon cream and a single, juicy cherry that had been poached in tea that was as soft as the softest of pillows. Next level plant based baking.
Breakfast options were extensive with an a la carte menu and an exquisite buffet including a seperate vegan section; there was chia pudding, tapioca coconut pudding, items from the bakery, granola, a choice of plant milks, seeds, nuts and a vegan soft cheese with fruit compote which paired perfectly with the summer berries. From the menu we enjoyed detox juices, rice congee, the finest of vegan dim sum and sliced avocado on a rice cracker served with Shangri-La organic olive oil from Italy.
After a short flight we were in London and heading to
La Suite West
to enjoy vegan afternoon tea at
Cafe Forty One
which is the fully vegan restaurant at this uber vegan friendly hotel in Hyde Park; the hotel is located within a row of converted period houses and within easy access of Notting Hill, Portobello Market and Marble Arch offering the perfect option for business and leisure travellers alike.
Afternoon Tea at Cafe Forty One delivered a happy collection of summer flavours and aromas which we enjoyed on the terrace with a glass of non alcoholic fizz. The finger sandwiches included Pesto & Tomato, Tofu & Cress, Cashew Cheese & Pickle and Pea & Mint Hummus; each one as good as the previous with us unable to decide a favourite. Plain and raisin scones, with coconut cream and a seasonal fruit compote, that paired perfectly and made us smile.
The Raspberry Financier with gooseberry jam and shredded coconut was a masterpiece of plant based baking and the Raw Lemon Cheesecake was creamy with an intense lemon sourness. A White Chocolate and Pistachio cookie with sweet white chocolate, a hint of salt and a sprinkle of freeze dried raspberries was moist, chewy and crunchy in perfect unison. And finally, a Strawberry Tartlet that was a light and sweet creation kind of like a strawberry filled cloud in a short pastry casing. Chef Yumiko, we salute you!
For dinner we headed to
TÎNG
at
Shangri-La Hotel at The Shard, London
. If you could dine out on views alone then this is a restaurant that would make you very satisfied indeed as quite simply, the views are epic. But then this is to be expected when you are 35 floors up in the centre of London, one of the of the most iconic cities in the world. Our plant based meal in the clouds began with 'Balsamic Glazed Peach Heritage Tomato' which was sweet, sour with just a little crunch; the juicy glazed peach was packed with summery peachiness and aligned very well with the fresh micro herbs, heirloom tomatoes and caramelised dukka. It was a light, fresh and flavoursome start to our meal.
Our main course was 'Organic Sand Carrot' that was served with carrot puree, pickled carrots and coriander salsa on a bed of cous-cous. We've never had a carrot like this, it was soft and delicate but bold at the same time, the caramelised carrot flavors working so well with the fiery salsa, the pickled carrots and the sweet puree. This dish was a total inspiration and a demonstration of creativity from a obviously talented chef. Superb.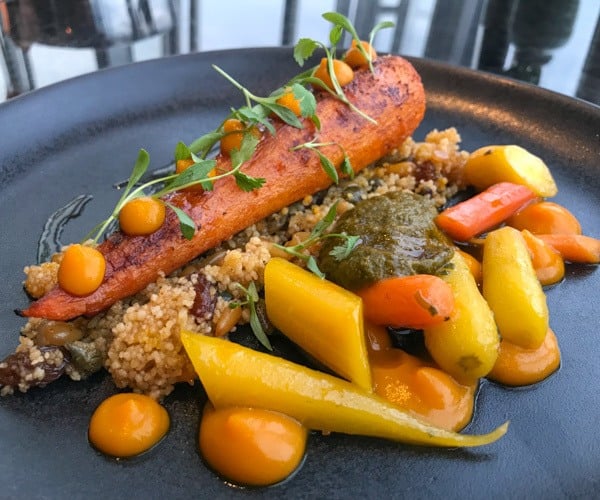 After so many delightful plant based desserts during the previous 24 hours it was going to take something pretty special to impress us and that is exactly what our 'Chocolate & Avocado Cream' did, it was a sublime chocolate lovers dream. The light chocolate avocado cream, within a thin chocolate shell, the tartness of passion fruit all perched upon a chocolate crisped rice cake. So rich, so decadent, so perfect, so happy.
We slept well after so much travel and so much food, in fact we slept too well and missed the vegan breakfast at Cafe Forty One. Luckily, their lunch menu is available from midday and so we were able to enjoy more plant based delights before checking out including 'English Heritage Tomato'. This dish featured juicy and sweet tomatoes, a cashew cheese which was strong, punchy and full of herbs, served on a crispy crostini and dressed with micro basil, basil oil and rasberry vinegar.
Next up, our 'Porcini Risotto' was satisfyingly creamy and packed with the rich, earthy flavours of mushroom. The roasted broccolini on top gave an excellent hit of brassica, whilst a generous sprinkle of cashew parmesan and a drizzle of wild garlic oil finished the dish perfectly.
Last and by no means least was an eye catching and head turning 'Millefeuille' with pistachio custard, vanilla custard and a fresh rasberry. This delivered everything you want from this classic dessert, it was delightful. The light, flaky sweet pastry layers and duo of sweet and creamy custards were a winning combination meaning we would love to eat it again one day!
Our trip to Europe delivered plenty of vegan delights in Paris and London, we were blown away by the creativity of the chefs that lovingly prepared plant based food for us, they were obviously cooking with passion, and their skill and commitment was there for us to see.
Paul Eyers is Founder of Vegan Food Quest. Vegan Food Quest have become luxury vegan travel specialists as they continue to find, eat and write about the best vegan food in the world.
If you would like to be a guest blogger on A Luxury Travel Blog in order to raise your profile, please contact us.
Did you enjoy this article?
Receive similar content direct to your inbox.