Bathing destinations appeared in mid-18th Century Europe. First, because of the therapeutic properties of sea bathing, prescribed by doctors for those suffering from some illness or living in the unhealthy urban environment. The sea, the salinity of the water, the sun, the breeze, and the marine landscape, though shyly at first, appeared in that period as a refuge for physical and mental restoration, but it was not until the 19th century that beaches became a leisure destination, especially in the 60s. Today, beach is synonymous with vacation worldwide.
To escape the paparazzi, in 1964 French actress Brigitte Bardot crossed the Atlantic to vacation in Búzios. Unintentionally, the diva placed Brazil on the world map of sun and sea tourism. Today, there is no shortage of famous beaches and many more to discover.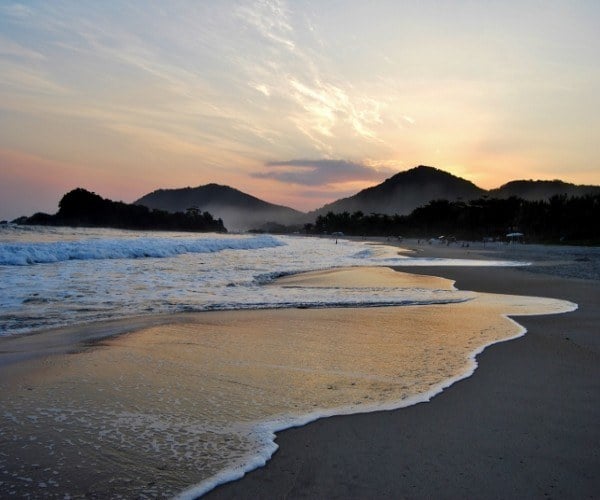 Brazil has a very strong beach culture and its extensive coastline is ideal for you to enjoy a wide range of activities. There are over 7,000 linear kilometers of coastline and, if every little hidden inlet and curve of the shoreline is added, it reaches over 9,200 km. Those hidden 'corners' of the Brazilian coast hold real tropical treasures, and here are my suggestions of summer activities for mind, body and soul!
Surfing and diving
There are a lot of waves in Brazil. Less than three hours from the city of São Paulo, São Sebastião lies on a coast full of beaches framed by hills covered with Atlantic Forest. Some beaches are famous, like Maresias, home to world surfing champion Gabriel Medina, and some, like Juquehy and Camburi, in addition to surfing, boast a lush scenery, perfect for jogging, biking, hiking, and playing matkot on the sand. The important thing is to move your body. The tip on where to stay is Hotel Nau Royal, which overlooks the Alcatrazes Archipelago, a conservation area that has been recently opened for nautical and diving tourism.
More to the south, in Balneário Camboriú, a famous sun and sea destination since the 60s, one of the most pristine beaches is Praia Brava, great for surfing, biking, and long walks on its white sand. You can stay at Felissimo Hotel and discover its innovative green home project.
The tip for those who prefer diving is the town of Governador Celso Ramos, in southern Brazil, where the inlets on the coast are perfect for snorkeling.  At Ponta dos Ganchos, the hotel provides guests with all the necessary equipment for the activity, such as mask, flippers, and snorkel. The name of the place says it all: Emerald Coast.
Horseback riding on the beach
In addition to water sports, Préa Beach offers a scenic horse ride. The round trip from Preá to Barrinha, Pedra Furada, the National Park, and many other unique places in the area takes about an hour, during which you can take advantage of the low tide to ride by the sea while admiring a unique landscape. For those who prefer a faster pace, the ride can be done by buggy, exploring the dunes around the famous village of Jericoacoara. An option to stay in this area is Pousada Rancho do Peixe, famous for operating its own kitesurf school.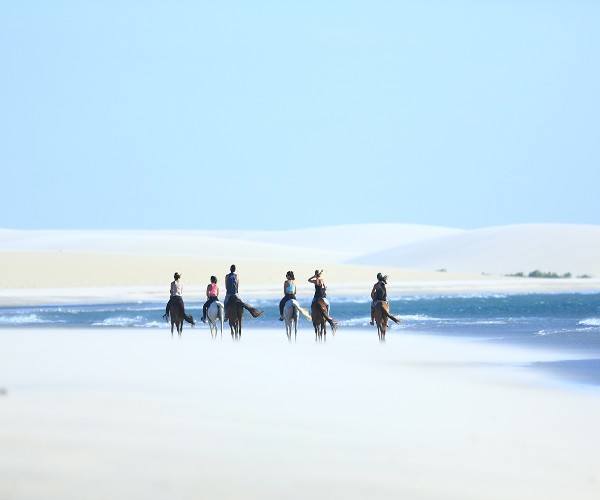 Waterfall bathing
In Itacaré, Bahia, how about staying in an environmental protection area (92 hectares) while enjoying idyllic beaches with emerald green waters? Freshwater fans can enjoy a refreshing and relaxing bath in the waterfalls of Tijuípe. For those seeking adventure, a beach-side trail between Itacaré and Serra Grande leads to another waterfall, 4 meters high and 15 meters wide, forming a natural pool where you can bathe for as long as you want to recharge your energy.
Canoe ride and fresh oysters
Also in the Northeast, the town of Barra de São Miguel, just 30 km from Maceió, Alagoas, invites you to immerse yourself in an authentic tropical paradise. The rule here is to take off your shoes and feel the soft sand as you walk with your feet caressed by the sea foam. The canoe ride through the local mangroves guarantees an unforgettable experience, as does Lagoa do Roteiro, an oyster farming lagoon. The delicacy can be tasted on site and in the water. This fresh food experience is offered by Kenoa – a haven where sophistication and natural beauty coexist in harmony, while tourism helps the community of Palateia, which thrives on oyster farming in the lagoon.
Just relax
With such an extensive coastline, it is impossible not to relax, whether under the shade of a coconut tree in the Northeast or under the shade of a tropical almond tree in the Southeast. All this with plenty of coconut water or, for those who want to spice it up a little, with a traditional lime caipirinha. Just say if you want movement or relaxation. Movement comes from sports like kitesurfing, surfing, matkot, volleyball, and even traditional soccer, and why not, a good samba circle to liven up the summer vibes. If you are into relaxing, there is no shortage of good opportunities for massage or yoga by the sea or just enjoying the nature that surrounds Brazilian beaches. With the diversity of landscapes and activities available, you just have to choose how you want to enjoy the Brazilian beaches, after all summer is coming up in Brazil!
Simone Scorsato is Executive Director of Brazilian Luxury Travel Association. BLTA's main objective is to promote and strengthen Brazil as a travel destination to the global luxury market.
If you would like to be a guest blogger on A Luxury Travel Blog in order to raise your profile, please contact us.