Every month in Hakuba has its merits, and the best time to travel very much depends on your interests, goals and what you would most like to experience while in Hakuba. Specifically focusing on the winter months and ski tourism, here are 5 reasons why February is a great time to ski in Hakuba.
1. The best of off piste and side country
Certainly no secret and undoubtedly becoming repetitive and unoriginal for some, the powder snow in Japan is – when well timed – nothing short of phenomenal. Indeed there is no smoke without fire, because when I say that waking up to 1 meter of fresh powder snow accessible from the chair lift, really does happen in Hakuba – I use no hint of poetic license. Does it happen every day? No. Therefore, if experiencing the deepest powder snow with the most terrain available is your primary focus for your visit, then it is all in the timing.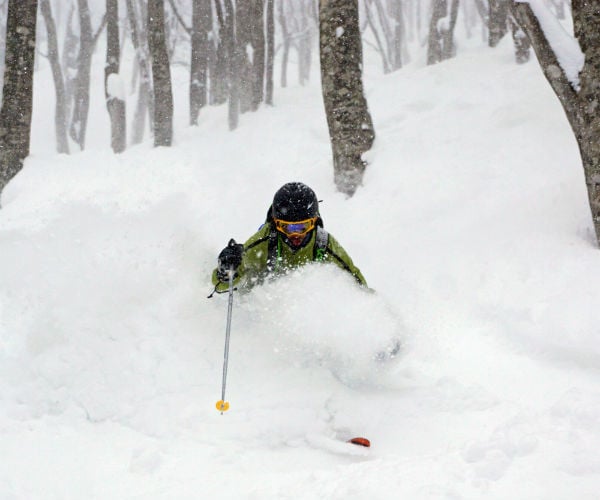 As with ski resorts world wide, the early season can hold out on us in delivering its powdery goods, as can the spring time, so your ideal timeframe would be the second half of January and the bulk of February. While early January does have epic snowfalls, there is always the possibility that a later start to the season will not have allowed sufficient time for the snow to `fill in` all of the foliage in some of the off piste and side country areas (which incidentally are some of Hakuba`s best runs). While weaving through sassa grass (bamboo) much like on a salmon course can be fun, most of us would better enjoy these areas after a good base has accumulated.
2. Most accessible backcountry
Staying on the thought of powder and off piste skiing, the backcountry conditions in February are fantastic. With the beginning of the month likely to offer more powder days at all elevations, the later part of February generally sees more stable weather, and – dare I say – snowpack, allowing more adventurous lines and routes to be navigated (always with a guide if ever in doubt).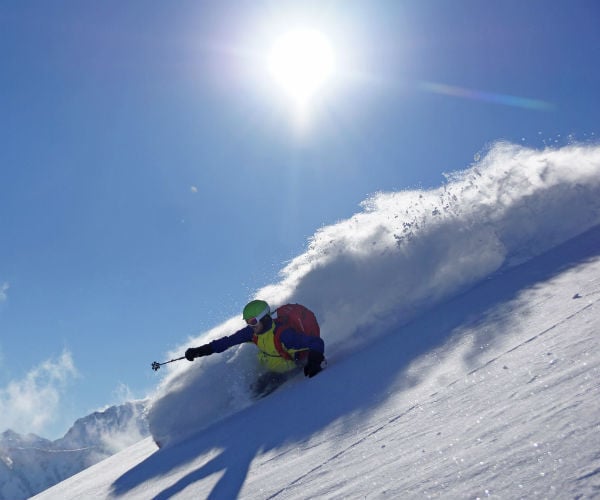 The increased likelihood of clearer skies in this part of the month, in contrast to January for example, adds to the all round backcountry experience in no small way through the incredible scenery that can be enjoyed. Fortunately, even with the re-appearance of the sun, the snow holds cooler temperatures in the alpine throughout the month – giving us the best shot at the holy grail of backcountry; a blue sky powder day.
3. Most suitable for everyone
The ultimate all rounder – February is a great choice for travellers with split interests. In particular, groups or families in which some individuals are seeking powder and off piste, and others are after milder weather and an increased likelihood of sunny skies on the resorts – February would be the happy medium. For children especially, January can be cold and wet, making skiing a tough sell for them. February would have an equal amount of available terrain, but without the tough weather factor; truly the best of both.
4. A more authentic experience
Overall, February is quieter in town and on the slopes than much of December and January. The result is that you will have a less touristic, and arguably more authentic experience of this part of Japan. True enough, weekends can still be busy with swathes of city folk enjoying their days off, and if Chinese New Year falls in February it will also bring with it lots of visitors.
Generally speaking though it is a quieter month than the two previous – especially during the second half. Restaurants, roads, lift lines, slopes and even onsens will be less busy, and in the absence of being surrounded by your countrymen also on holiday in Hakuba, you can better immerse yourself in the feeling of being in a truly foreign country. Without the masses to follow, it is somehow easier to seek out the less travelled paths.
5. Good guest service
With the hype and bustle of the high season behind, there is a good chance that many businesses are better able to focus on the individual customer experience and attention the detail that comes with that. Though Hakuba is mostly equipped to comfortably accommodate the masses, it is almost impossible to maintain the same level of service for 100 people than you can for 10. Another factor that enormously impacts the level of guest service is the competence and attitude of the staff.
Hakuba, like many ski resorts around the world, heavily relies on seasonal workers that turn over from one winter to the next. Inconvenient yet necessary, this means that many roles are learnt a new each December. By the time February comes around, many businesses run as a well oiled machine and the staff are comfortable and competent in their roles, thus delivering a better service to you. There is also a good chance that with the high season pressures behind them and after many great days on the snow, that they are happy in what they are doing and therefore have a greater desire to deliver excellent service; a positive attitude is infectious after-all.
Nadine Robb is Owner and Instructor at Hakuba Ski Concierge. Hakuba Ski Concierge is a boutique ski school in Hakuba, Japan.
If you would like to be a guest blogger on A Luxury Travel Blog in order to raise your profile, please contact us.