Christmas can be an incredibly exciting time of year to enjoy a holiday. Although the temptation is just to do the 'same old thing' and chill out at home, making the effort to get away for a few days over Christmas can be well worth it. So, this year, why not book a flight and spend a few days sampling the many Christmas delights of Provence!
Provence is typically viewed as a summer destination. In fact, Christmas is a wonderful time to explore the region with lots to see and do. The Christmas spirit is really entered into in Provence ensuring you leave your holiday feeling full of the joys of Christmas!
To help get you started, I've listed a few highlights and things to do during your visit. So, get that hotel and flight booked and join us for Christmas in Provence!
Christmas markets
Christmas in Provence traditionally 'begins' on the 4th December and the Christmas period is referred to as 'La Calendale'. Around this time you'll start to see all the local markets get much more Christmassy! In addition, special Christmas markets will also spring up across the region. They are great fun to visit and you can spend hours browsing from stall to stall, normally enjoying a great range of free food and drink samples en-route!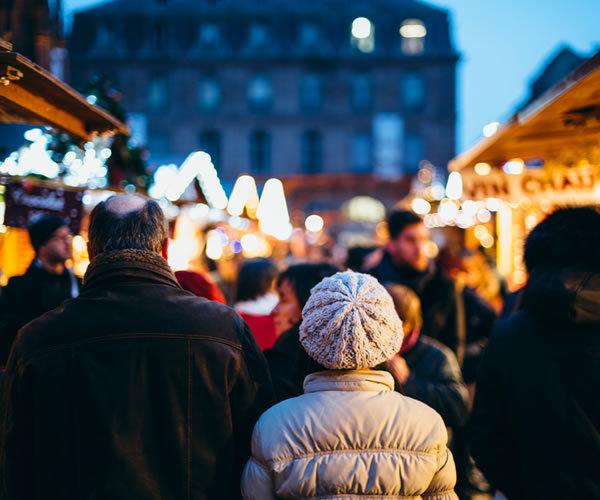 You will find everything from Christmas decorations and culinary treats, to soaps and essential oils, unique handcrafted gifts, sweets and wines and are guaranteed to find something special to take home with you. Check with your local tourist office for ones near you or head to the markets listed below.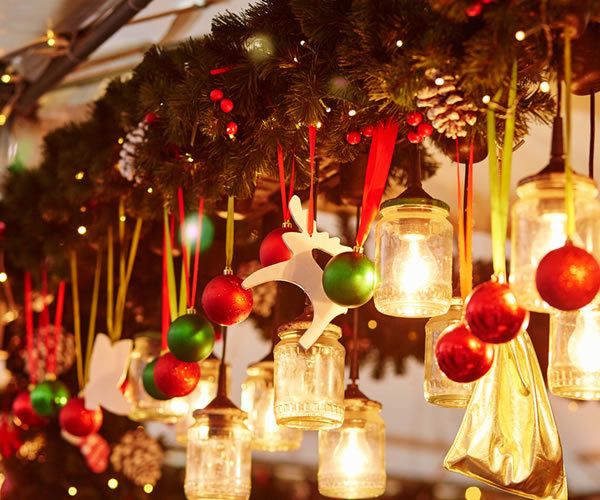 Cotignac Christmas Market
This is a great market with food stands, a concert at the church in the afternoon, fireworks at night and a choral performance. There is also heaps of entertainment for the children at this annual Marché de Noël.
Where: Cours Gambetta, Cotignac Village, Cotignac
When: 15th December 2019
Time: All day
Aix-En-Provence Christmas Market
Fifty chalets run by local craftspeople and traders await your arrival in Aix-en-Provence this Christmas. Enjoy mulled wine, amazing food and drink and lots of lights!
When: 20th November to 29th December
Where: Cours Mirabeau, Aix-en-Provence
Le Castellet Christmas Market
Le Castellet is a charming medieval village and wonderful to visit at any time of year. It really comes alive during Christmas though and their annual Christmas market organised by the City Hall of Le Castellet is well worth attending!
When: 14th to 15th December
Where: Le Castellet
Nativity scenes & Santons in Provence
Santons and Nativity scenes are an integral part of Christmas celebrations in Provence. Santons are little figurines which are normally hand made from clay (sculpted by Santonniers) and depict characters from everyday life in 19th century Provence. These traditional handcrafted clay figurines are also used to represent the Nativity scene in Provencal villages.
The crafting of terracotta is passed down through generations and families often build extensive collections of them by adding pieces every year. They're extremely hard to resist and the temptation to build your own village of Santons can be significant when you see some of the amazing scenes that are created by dedicated Santon collectors!
Foire Aux Santons 2019
This Santon Fair was originally called the Saint Barbara's Day market. It was the biggest annual gathering in the city. Jean Baptiste Fouque and son set up their Santon stall here in December 1934 and were joined by other Santon makers over the years.
When: 22 November – 31 December 2019
Time: 9.45am, mass celebrated in Provençal at Saint-Jean Baptiste du Faubourg Church
11.30am, inauguration, blessing and entertainment on Esplanade Cezanne.
Where: Esplanade Cézanne, Marseille
Santonniers' Nativity Scene
Cours Mirabeau hosts a large nativity scene during the same time. Aix artisan Santon makers work together to make the traditional nativity.
Where: Cours Mirabeau
When: 22 November – 31 December 2019
Santons Fouque
The Fouque House offers a unique journey exploring the Santon's craftsmanship. Their Christmas exhibition and workshop is different each year and recreates the celebration of Christmas in actual size. It is free to visit the large Christmas crib, the 13 desserts table and life-size figures in period costumes worn by the family and figurines' collections.
When: Until April 2020
Where: Santons Fouque, Maison Fouque 65 Cours Gambetta
A true Christmas show
The streets of Carpentras are transformed into Christmas with no less than 150 free shows performed by artists from all over Europe. There are also huge Christmas trees, impressive illuminations, carriage rides through the town, a food market, a Foire aux Santons, a giant Provençal nativity scene and magic shows.
When: 16 December 2019 – 7 January 2020
Where: Carpentras
Food and drink Christmas style!
As you might expect for a region that loves its food and drink, Christmas offers the perfect excuse to indulge in some seasonal delicacies. Keep an eye out for the following!
When: December – February (normally!)
Where: Across Provence!
13 Desserts
Typically enjoyed on the 24th December after Midnight Mass, 13 Desserts offers exactly what is describes! Enjoy a feast of desserts including nuts, fruits and sweetmeats. Other treats often included in the 13 Desserts are Truffles, Shortbread, Dates stuffed with marzipan and a selection of stunning Candied Fruits.
Vin Cuit
A very special dessert wine that is typically enjoyed at this time of year.
Vin Cuit is made by gently boiling grape juice in an oak caldron for around 10 days to reduce its volume by half. It is then left to ferment for about 2 years. Sweet, alcoholic and delicious!
Brioche des Rois
A rich brioche that is filled with candied peel and topped with preserved fruit will start finding its way onto patisserie shelves from mid-December.
Also known as the 'Kings Cake' each Brioche contains a fève (or favour). This is normally a small porcelain figure and whoever gets it in his or her slice declared king or queen for the day (and has to buy next year's Brioche!).
Christmas is a special time of year and somehow it feels particularly magical in Provence. Treat yourself to a few days away in a hotel giving you time to relax and explore everything on offer at this festive time of year. Joyeux Noël!
Su Stephens is Owner of Olives & Vines. Olives & Vines is a luxury holiday company based in the South of France offering stays at their beautifully designed holiday house and boutique hotel in Le Castellet.
If you would like to be a guest blogger on A Luxury Travel Blog in order to raise your profile, please contact us.