By
Paul Johnson
on Nov 11, 2019 in
Accommodation
,
Bars
,
Europe
,
Featured
,
Food and Drink
,
Going Out
,
Hotels
,
Regions
,
Restaurants
,
Travel Miscellany
,
United Kingdom
,
Western Europe
The traditional British pub is making a comeback as an alternative luxury getaway. Pubs have had a tough time in recent decades with as many as one quarter of those in England and Wales having closed since 2001. Those pubs that have not just survived this downturn but have, in fact, flourished are a select group that have focussed on being the best of the best. The consistent formula that appears to have won through is a great pub offering excellent food and drink, combined with high quality accommodation. Of course, people also often seek unique experiences when they travel nowadays so, include that into the mix also, and you have a pub fit for The Epicurean Club.
The Epicurean Club offers access to a collection that recognises all the qualities necessary to be among Britain's finest boutique inns and pubs. Full of charm and character, this carefully handpicked group represents many of the best British pub getaways, covering everywhere from Mayfair to the moors of North Yorkshire, and a whole host of other destinations inbetween. We went to see what all the fuss was about, staying at two of The Epicurean Club's pubs in the North of England: The Durham Ox just to the north of York and The Battlesteads Hotel, close to Hexham.
It's simple to find pubs that cater for your requirements using The Epicurean Club's website. You can very easily search by location, date, theme and/or type of experience. In our case, we were planning on a few days away with our English Springer Spaniel, George, so homed in on the 'dog friendly' offerings, but you could equally search for properties that are close to the water, quiet romantic getaways, pubs suited to special events and celebrations, or a variety of other options.
The Durham Ox
The Durham Ox is 300 years old and has been owned by the Ibbotson family for the past 20 years, during which time it has enjoyed numerous national and regional awards. Named after a celebrity-like beast of the same name that was exhibited throughout the country at the turn of the 18th Century (you can learn more about its fascinating history in the folder in your accommodation), the pub offers a rural bolthole in the charming hill-top village of Crayke, just two miles north-east of Easingwold, North Yorkshire.
The accommodation
We stayed in 'Rose Cottage', a lovely little property at the rear of the pub that is perfect for families, with a lounge, galley kitchen and bathroom downstairs, and two bedrooms – one super king double and one twin – upstairs. The bedrooms are cosy with beamed ceilings and a traditional, country feel.
Downstairs, the bathroom is modern and spacious and comes with L'Occitaine toiletries, whilst the kitchenette comes complete with tea and coffee making facilities and complementary Yorkie chocolate bars (in case you wondered, they're made in nearby York).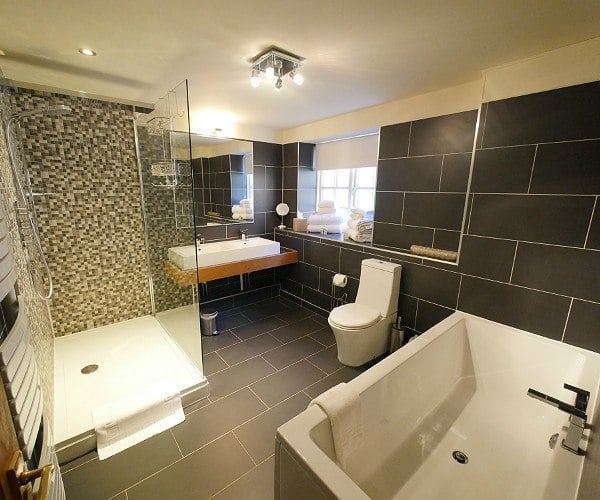 The food
The pub is very cosy and full of character with numerous blackboards adorning the walls, oak panels in the main bar that are late Victorian reproductions and medieval pew ends from a church in Somerset. Upstairs is The Private Dining Room that can sit 10-22 guests and an outside terrace at the rear for those warmer days.
Try the baked Queenie scallops which are topped with garlic and prsley butter, and finished with a cheddar and gruyère crust. The food and service is good, with a wide choice of main meal options ranging from pea and mint ravioli to Yorkshire beef and Black Sheep pie.
The experience
The local area offers a rich source of heritage, beautiful countryside and picturesque villages and towns, all within easy reach of The Durham Ox. We opted for a family walk of the Crayke Estate – a circular route of approximately 3.5 miles along a permissive path through open fields and occasional wooded areas.
Those with more time to explore the local area can enjoy visits to numerous stately homes, abbeys and gardens, including Beningborough Hall & Gardens, Byland Abbey, Rievaulx Terrace & Temple, Rievaulx Abbey, Helmsley Castle, Helmsley Walled Garden, Nunnington Hall and Castle Howard. Or venture to York, renowned for its tangled network of quaint cobbled streets, to visit York Minster, the Jorvik Viking Centre or the National Railway Museum.
Dog friendliness
The Durham Ox is dog friendly and, if you let them know you'd like to eat with your dog, they'll even book you a table in their Tap Room where your pampered pooch can enjoy the comfort of the fireside as you dine. As far as accommodation is concerned, with the exception of the Studio Suite, every room at The Durham Ox is dog friendly too.
The Battlesteads Hotel
Converted from an 18th Century farmstead, The Battlesteads Hotel is a pub, hotel and restaurant in the village of Wark, Northumberland, 12 miles north of Hexham, perfectly situated for anyone interested in exploring Hadrian's Wall or Kielder Forest and Water. Over the last decade, it has developed a sustainable focus with all manner of initatives including the installation of a biomass boiler, the development of a flower garden to attract birds and butterflies, and inclusion of organic wines on the wine list to name just a few.
The accommodation
Behind the hotel are some very comfortable, modern lodges offering overnight accommodation. We stayed in two that were next door to each other, giving our teenage children some independence and privacy but with us close to hand if we should be needed. (There are also hotel rooms within the main building.)
The interiors are very spacious, with a seating area that offer ample room to relax, plus a desk area should you need to work on your travels. The bathroom is also generous in size with separate bath and shower.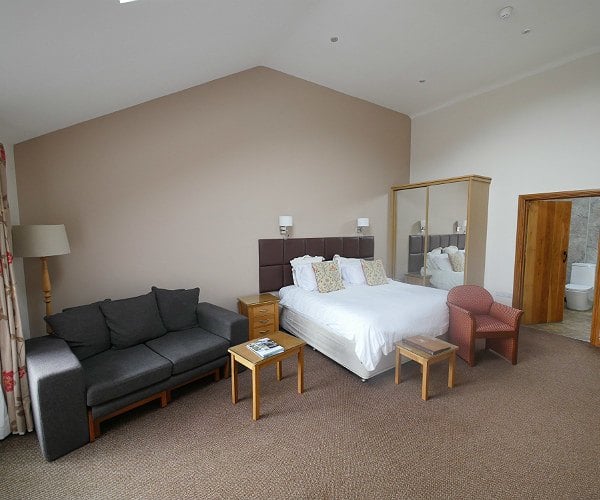 The food
We had the 8-course taster menu, the highlight of which was the duck breast with a savoury 'granola', black pudding 'prune', charred cauliflower floret and cassis jelly (pictured). Where possible, the restaurant prides itself on fresh, local and seasonal produce, with a number of ingredients grown on site in the hotel's kitchen garden and smoked salmon and charcuterie meats prepared in-house.
The experience
A highlight of any stay at Battlesteads is the on-site dark sky observatory with its own retractable roof, situated in the Northumberland Internatioanl Dark Sky Park. This accessible, public observatory offers talks, activities, drop-in sessions, stargazing and astronomy courses to cater for a range of expertise levels from beginner through to professional astronomers. An evening at the observatory is a must if you ever need reminding of just how vast the universe is.
We attended a dark sky discovery night where an enthusiastic but very knowledgeable amateur talked us through many aspects of the night sky, from the Milky Way to the universe beyond, first with some slides as the skies cleared a little and then with the aid of telescope and a more hands-on approach. It was very interesting, enjoyable and enteraining and, with our lodge just a stone's throw away, only a short walk to bed afterwards!
Dog friendliness
At Battlesteads they recognise that your dog is part of the family and dogs are welcome (by prior arrangement) to share ground floor rooms with their owners. Facilities at the rear of the hotel allowed us to hose George down when he got a little muddy from his walks – what's more, there was both hot and cold water so he could have a nice warm wash down!
Whether you are looking for a dog friendly getaway, or something a little different – but always in good quality yet homely pubs and inns – then take a look at the carefully curated list from The Epicurean Club.
By becoming a Friend of The Epicurean Club, which is free of charge, you can enjoy a number of additional benefits every time you book a stay or experience, such as the best rate on rooms, a house drink on the house for all guests on every Epicurean Collection stay, or even a free stay after every five overnight stays; there's never been a better time to try some of Britain's best pubs!
Disclosure: Our stays were courtesy of The Epicurean Club.