By
Judy Johnson
on Nov 30, 2019 in
Accommodation
,
Europe
,
Featured
,
Food and Drink
,
Going Out
,
Hotels
,
Regions
,
Restaurants
,
Travel Miscellany
,
United Kingdom
,
Western Europe
Founded in 1908, Stoke Park is the perfect place to enjoy life in a five star and friendly atmosphere. They provide a unique combination of the traditions of an exclusive club and the best of today's sporting, leisure, entertaining and hotel facilities in one of the most convenient locations in Britain.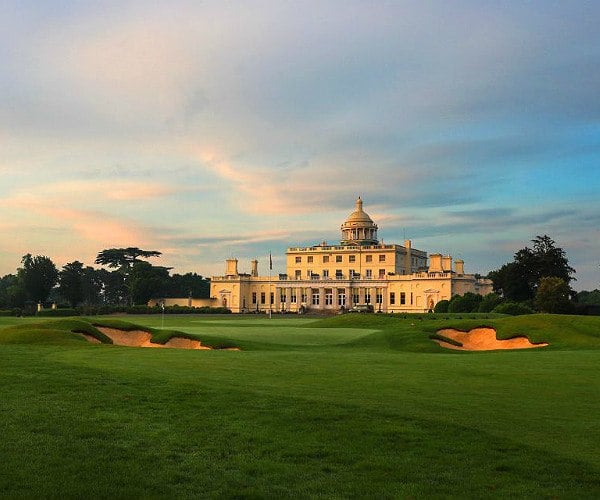 Stoke Park's Country Club, the oldest country Club in Great Britain, also offers social evenings
so…
…imagine an evening of delicious food with an unusual and unexpected choice of wines which perfectly match the flavours of locally sourced ingredients. Add that to beautiful surroundings bedecked with stunning Christmas decorations and stimulating conversation from a perfect gentleman and an enchanted evening is assured.
Chris Wheeler, the executive chef was in both the kitchen and front of house when Stoke Park hosted its gourmet evening for their country club members- the oldest country club in the UK. He introduced and explained the seven courses and Mark Dearing of Justerini & Brooks talked us through the wines. Justerini & Brooks have held the Royal Warrant for wines since 1761 to this day. They have a team of 6 people sourcing their wines from all over the globe and this night they chose wines from Spain. The Masia Gran Bach Cava – a blend of Xarel-lo, Parellada, Chardonnay and Macabeo grapes from Masai Bach, now owned by the Codorniu Group, gave hints of toasted fruits on the palate. It was served with a delightful selection of canapés.
After moving into Humphry's – Stoke Park's fine dining restaurant named after Humphrey Repton who redesigned the park for John Penn, son of the Hon Thomas Penn after whom Pennsylvania was named – we were treated to the most exquisite decorations for the festive season.
Here we were served the Amuse Bouche and were told by Chef that it would be a true surprise named as it was as "Chef Egg Surprise". He told us that it would not be quite the same as a Kinder egg and it certainly wasn't. The picture does not give full justice to the fact that the egg truly looked like a freshly laid egg served on a bed of (fried sweet onion to represent straw. On biting into it you realised that it was in fact a potato filled with bearnaise sauce – quite delicious. Marrying well with this was a bold sherry with saline notes – a Bodegas Tradicion, Fino from one of the oldest bodegas in the sherry region using Palomino Fino grapes.
Pan Fried Scallops with Tempura Roe, Textures of Cauliflower and Peas were cooked to perfection and perfectly presented as you would expect for our starter. The Listan Blanco, Artifice, Borja Perez Viticultor is also made from the Palomino grape but grown in the volcanic soil of Tenerife. This is not a fruity wine but has a mineral taste reminding one of the sea making it a perfect accompaniment to the shellfish.
The fish course was described as "Monkfish "Osso Bucco" with a Vanilla Spiced Ratatouille, Orange and Cardamom Reduction" but as with most of Chef's cooking there was a twist – the monkfish was the "bone" and a piece of carrot was the "marrow" of the marrowbone. The combination of beautifully cooked fish was perfectly balanced with a slightly spiced ratatouille. The wine that accompanied this course was another sherry – this time Bodegas Tradicion, Oloroso VORS 30 Years. This was dry and had an intense, nutty and concentrated palate.
The meat entree was Roast Loin of Venison – one of my favourite meat dishes I have to confess – with Smoked Haunch, Quince Puree, Braised Red Cabbage, Baby Turnips and Blueberry Sloe Gin Jus and was simply delightful. La Vitoriana, La Vizcaina de Vinos, 2016 was served with it and it was a brighter, fuller wine than might have been expected growing in the North of Spain between Castille et Lyon and Galicia. The menzia grape fermented in wooden vats on the skins for up to 90 days gave a red wine that was perfect with the venison and all the other flavours on the plate.
A selection of British and Continental Cheeses followed accompanied by Fig Jelly, Truffle Honey, Farmhouse Chutney, Grapes, Crackers and Pecan and Raisin Bread followed. I had never considered putting Truffle Honey and Cheese together but it was a marriage made in heaven. Mas Martinet, Martinet Bru, Priorato 2006 was served with this course – a blend of Granache, Merlot and Cabernet Sauvignon. The wine as one would expect was full, mature and well rounded.
Tonka Bean Parfait with a Caramel centre, Aerated Chocolate and Banana Caramel Sauce was new to me. I learnt however that the tonka bean is the black seed of a South American tree of the pea family resembling an elongated raisin. As I have an aversion to bananas I avoided the two slices and can assure readers that the dish was delicious without them. I did not have to miss out on the caramel sauce as there was plenty that had not been near the banana.
The 20 year old Bodegas Tradicion, Pedro Ximinez, VOS was as full and sweet but this had a clear, fruity finish on the palate. It is a complex wine and although many people might find it too sweet it was a definite success with this dessert.
During the service of tea and coffee at the end of the meal both Chris and Mark spoke to the guests, discussed the food and wines and answered questions. The staff were, quite rightly, applauded for their contributions to the evening.
Partnering the food with sherry was new to me and when I read the menu, I have to admit that I was a little hesitant as to whether it would work and I know from speaking to others that I was not on my own. It was a revelation however to find how much I enjoyed the combinations and how well they complimented the various courses.
This delightful evening for over 60 guests was executed and delivered to such a high standard that it is easy to forget how difficult it is to cater at this level for so many people. Chris Wheeler and his brigade consistently serve delightful food and make every diner believe that it has been prepared, cooked and served just for their table and that there is no one else in the room. That is the mark of excellence. Stoke Park, its country club members and residents are fortunate to have such a significant Chef in their midst.
Disclosure: The evening was kindly hosted by Stoke Park.