By
Trina Howes
on Jan 13, 2020 in
Croatia
,
Cruises & Boat Travel
,
Eastern Europe
,
Europe
,
Featured
,
France
,
Greece
,
Italy
,
Serbia and Montenegro
,
Spain
,
Speciality Travel
,
Western Europe
When it comes to choosing an opulent escape, there's no better way to leave it all behind than aboard your very own luxury yacht for a summer at your own pace in the Mediterranean. From May onwards the coast comes alive with a feast of activities to delight and entice all ages, and you can pick and choose how much time to spend in the cities before sailing away from all-night parties for a sound sleep.
It's possible to select a yacht with the decor to suit your personal style and interests – from detailed classical or art noveau styles to contemporary beach house appeal – so that you feel completely at ease. Indulge in multi-course meals from an expert chef then relax in the Jacuzzi, sunbathe or take to your own supply of water toys to explore sour location. When the day comes to an end, turn in to your comfortable cabin and wake to the sounds of nature the following morning.
So once you've chosen your perfect yacht, what are the top summer yachting holiday destinations for unwinding in the sunshine?
Dubrovnik, Croatia
There's so much to see and do in Dubrovnik that visitors might want to spend more than one day here to fit everything in: This UNESCO World Heritage Site is filled with luxury shopping opportunities, art galleries and cafes looking out onto medieval streets. Party-goers will be in their element in Dubrovnik where the bars and restaurants illuminate the ancient streets after dark. The local vineyards produce a wide selection of robust wines to accompany any meal on board or a day-trip to explore the countryside.
Find out more about Dubrovnik on a tour of the Old Town and the city walls, then kayak along the exterior or take a trip to Lokrum Island to discover the Benedictine Monastery of St. Mary and the Botanical Gardens.
Bay of Kotor, Montenegro
Montenegro is often paired with a luxury yacht charter to Dubrovnik and the southern part of Croatia, and this small country is a jewel in the Adriatic that shares many of the properties of the magnificent Dalmatian Coast: Towering cliffs covered in vibrant flowers and vegetation that tumble down to the topaz sea.
The Bay of Kotor is replete with impressive centuries-old forts and town squares where churches loom over quaint cafes and boutiques, and you'll have your pick of the beaches along forest-covered shores. The bay provides sheltered conditions for water sports and everything is closely placed together for easy commutes between destinations.
Mykonos, Greece
Mykonos is most famous for its windmills and characteristic blue and white buildings and it is a stunning destination for artists, photographers and those looking for unforgettable ambiance for their summer holiday, whether celebrating a special occasion or simply looking for a sunshine escape. After exploring the town and enjoying its shopping opportunities, cruise on to the deserted beaches at the other end of Mykonos, or one of the nearby islands, for complete tranquillity.
Nicknamed the 'Island of the Winds', Mykonos is a paradise for water sports enthusiasts: Windsurfers, kite surfers and sailing dinghies will find dependable conditions to learn skills or put experience to use on transparent waters.
French Riviera
The Cote d'Azur is the most popular luxury yacht charter destination in the Western Mediterranean thanks to its famous and glamorous locations including Cannes, Saint-Tropez and Monaco. Festivals and world-renowned events take place here every summer and if you book your berth early enough you can watch the Monaco Grand Prix or be among the after parties at the Cannes Film Festival.
Lesser-known locations such as Cassis set beside the picturesque Parc National des Calanques, or the Îles d'Hyères offer a peaceful escape from the sparkle of city lights, letting you focus on spending quality time with the family using the water toys.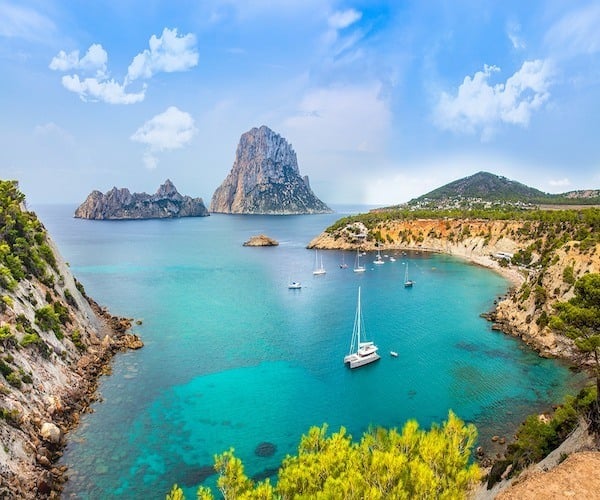 Corsica
This large island with over 300 beaches is right at the heart of the Western Mediterranean and it's a quick and easy cruise to the French Riviera and the west and the Italian Riviera and Tuscany to the north east and east respectively.
The beaches alone are worth coming for and you can choose to spend you evening dining next to the gently lapping shore as the sun dips down past the horizon, however, there are myriad snorkelling and diving sites around the area. Let loose on the jet skis or the Seabobs then head into town to discover the amazing forts and castles that withstood sieges and protected the island's inhabitants. Ajaccio is the birthplace of Napoleon and has a host of museums and galleries to fill a day in the city, and Michelin-quality restaurants can be found throughout the major towns.
Sardinia
A luxury yacht charter visiting Corsica often visits Sardinia and vice-versa for the perfect balance between untouched beaches and the very best in luxury dining, shopping and yachting events. Porto Cervo hosts some of the region's most prestigious regattas during the summer and the nearby La Maddalena Nature Reserve is a haven for wildlife both on land and in the sea.
Cagliari at the southern tip of the island has an impressive Roman amphitheatre, a bastion, several museums and a choice selection of mouth-watering restaurants and cocktail bars.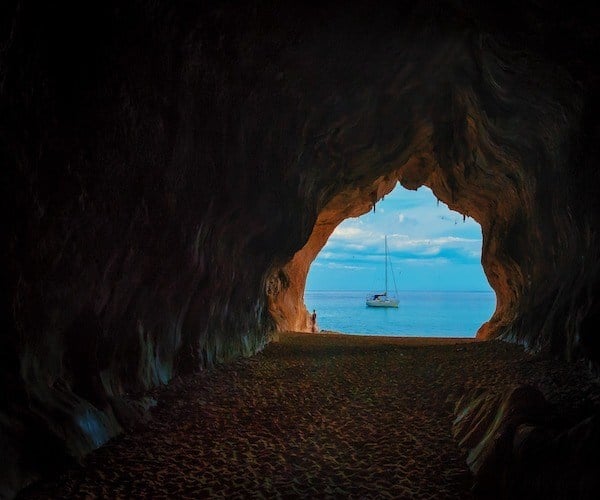 Balearics
The Balearic Islands have some of the Western Mediterranean's greatest cave and wreck dives, and once you've had your fill of underwater delights it's time to celebrate with the sensational nightlife in Ibiza Town, where international DJs play sets during the summer. If you want a more laid-back atmosphere, there are plenty of quiet bars and restaurants looking out onto pristine beaches and untouched forest.
Palma is rich in culture and the city offers castles, museums, art galleries and unique UNESCO Heritage Sites such as the Catedral-Basílica de Santa María de Mallorca. There's always time for some shopping in the boutiques or some indulgence in the beauty salons and spas.
Trina Howes is a Director of CharterWorld America. CharterWorld is a luxury private yacht charter company that creates outstanding vacations with excellent yachts at amazing prices – worldwide.
If you would like to be a guest blogger on A Luxury Travel Blog in order to raise your profile, please contact us.