When you think of a luxury trip to the Maldives, what first comes to mind? Sun, sea and breathless beaches. Well, did you know the Maldives has delectable restaurants that really add to that sense of awe? This means you can combine unforgettable sights with delectable delights. We've compiled six of our favourite places to eat in the Maldives that will take your breath away. Read them below.
M6m underwater restaurant at Ozen by Atmosphere at Maadhoofushi
Situated in the South Male atoll, OZEN by Atmosphere at Maadhoo is home to one of the world's few underwater restaurants, M6m (an abbreviation of its location beneath the surface of the sparkling Indian Ocean, minus six metres). For a unique experience, descend the spiral staircase into this blue-hued space where you'll enjoy a five-course menu of exquisitely presented seafood. Fine wines and specially selected cocktails perfectly accompany delicious dishes like razor clams with citrus foam and buttery lobster served with purple potatoes. M6m is open for both lunch and dinner, though it's worth noting that during the daytime you'll have a better view of the hundreds of brightly coloured fish that swim past as you dine – and if you're lucky maybe even turtles, eels and grey tipped reef sharks too.
As a guest at OZEN, you'll be able to dine at M6m once during your stay as part of the ultra-luxurious Indulge all-inclusive package, which lives up to its name with premium food and drinks alongside a dizzying array of activities and excursions.
Terra treetop dining pods at Waldorf Astoria Maldives Ithaafushi
The sophisticated and serene Waldorf Astoria Maldives Ithaafushi is one of the Maldives' largest island resorts and a real haven for foodies with no fewer than 11 restaurants. Perhaps the most unique is Terra, where you'll eat high among the treetops in natural bamboo private dining pods, perched on stilts. With dreamy views over the ocean and the twinkling lights of the resort below, these private love nests make for a super romantic setting.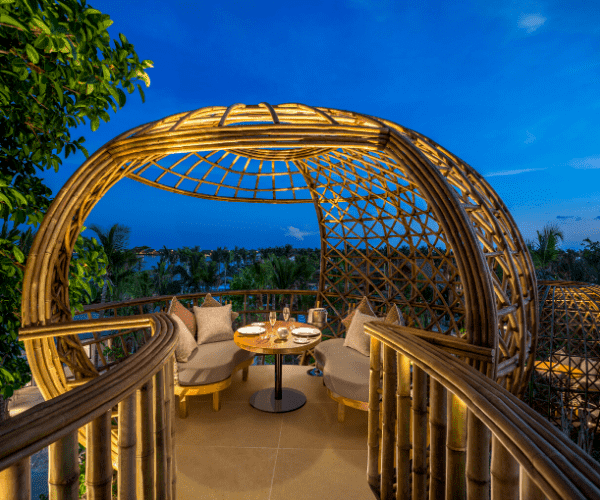 The food is as delicious as the views with a menu that showcases premium ingredients such as Miyazake Wagyu beef and Alba white truffle, and the resort's signature Krug Champagne has been handpicked by the first Maldives' Krug Ambassador.
Leaf garden-to-table restaurant at Six Senses Laamu
There has been a flurry of recent openings in the Maldives, but Six Senses Laamu continues to epitomise barefoot luxury at its best. Sustainability is at the heart of the Six Senses ethos and this is clear to see in Leaf, the resort's garden-to-table restaurant.
Perched on stilts in a lush garden blooming with herbs, lettuce and vegetables, and accessed via a wooden rope bridge, Leaf is a beautiful organic fine dining experience in a laid-back setting. In addition to plant-based cuisine, chefs work with local farmers and fishermen to source fresh ingredients for a creative menu that changes daily. Popular dishes include reef fish ceviche, root vegetable fettucine with garden basil pesto and thyme marinated beef tenderloin. As well as sitting privately, you can dine under the stars surrounded by the scent of fresh produce at the communal Chili Table, a great way to share your experience and meet new people.
If you're keen to learn more about Six Senses' ongoing sustainability efforts, the passionate staff will happily take you on a back-of-house tour to the resort's Earth Lab or explore the various marine conservation projects.
The Bubble Experience at Amilla Fushi
The Maldives is synonymous with honeymoons and romantic holidays. With sun-kissed, tropical scenery and intimate villa resorts, it's the ultimate destination to hide away with your special someone, order room service, forget the outside world and retreat into your bubble. If you're the literal type, there's nowhere better to fulfil this dream – and take it to a whole new level of indulgence – than super-chic Amilla Fushi.
Stay in a Skyhouse, a luxurious residence set high amidst the palm canopy that comes with its own infinity pool and a private bubble, 12 metres above the ground. To really dial up the wow-factor, Amilla Fushi offers a unique dusk 'til dawn Bubble Experience that starts with a sumptuous 4-course private barbecue dinner before you settle into your bubble.
The bubble is kitted out with everything you need for a romantic evening under the stars – rotating daybed, comfy cushions, blankets, Champagne, snacks and a telescope – you can even sleep in it if you wish. The next morning, awaken to an unforgettable floating breakfast experience – total Instagram goals, and very tasty too!
Tavaru at Velaa Private Island
Stunningly beautiful Veela Private Island is nothing short of idyllic with its powdery beaches, superb accommodations, an award-winning spa and distinguished gastronomic experiences. For us, the jewel in its culinary crown has to be Tavaru, the refined Teppanyaki grill, which also lays claim to being the highest restaurant in the Maldives. Set in a tall white cocoon 22m above sea level, the Tavaru Tower is the perfect spot from which to enjoy views of the island as you dine.
Talented chefs prepare your dinner with flair on the sizzling hot plates as they juggle ingredients and utensils, really putting on a show to deliver morsel after tasty morsel along with the occasional well-timed joke. Tasting menus feature Japanese delicacies including local yellowfin tuna sashimi, wagyu beef gyoza, soy-glazed salmon and teriyaki marinated confit duck leg.
The tower also hosts Velaa's extensive wine cellar, one of the largest in the Maldives with over 500 bins.
Tree House Destination Dining at JOALI Maldives
Located in the Raa Atoll in the north of the Maldives, JOALI is everything an island paradise should be – brilliant blue waters, bright white sand and swaying palms – with an emphasis on art and creativity to enhance your enjoyment of the natural surroundings.
The resort's destination dining concept encourages you to choose anywhere on the island for a memorable meal. We believe that the Manta Ray Tree House, crafted from native wicker by South African artist Porky Hefer to look like an actual manta ray, is the perfect spot. Relax in the natural hued interior as you drink in the views across the sparkling lagoon, accompanied by a glass of sparkling Champagne.
Your personal concierge, or jadugar, will take care of all the arrangements with a mouth-watering menu to suit your mood from a barbecue feast to delicate Asian-fusion dishes.
Sarah Roberts is Director of Inspiring Travel Company. The Inspiring Travel Company, established in 1974, offers exceptional tailor-made luxury holidays and experiences to some of the most elegant and desirable destination across the globe.
If you would like to be a guest blogger on A Luxury Travel Blogin order to raise your profile, please contact us.