Traditional European gourmet receives a special South American twist in Buenos Aires, where fining dining is far from limited to Argentina's emblematic roasted meats. Blending Italian, French and other Old World influences, the city's cuisine is a microcosm of its unique culture, reflected in a truly unique taste.
Recognition of Buenos Aires' exceptional culinary delights has reached the point that the Argentine capital now takes pride in being home to 8 of the 50 best restaurants in all of Latin America.
What we present here are overviews of these delectable dining venues in the "Paris of South America."
Chila Restaurant: Argentine traditions with a modern touch
With a focus on seasonal ingredients, traceable produce, and Argentina's multicultural make-up, Chila offers an "innovative interpretation" of traditional Argentine cuisine.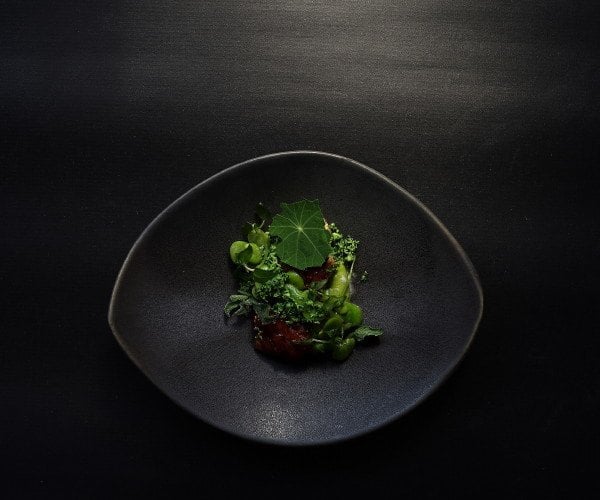 In an atmosphere that's both elegant and sleek, the restaurant's new open kitchen is visible for diners through a large window. At the same time, the restaurant's portside setting in a modernized warehouse location allows for romantic views overlooking the capital's docks and the city skyline.
Once situated at your table, Chila will take you on a journey through Argentine ingredients with plates that are as stunning as they are savory. You're also sure to note that this dinner-only restaurant has a special affinity for smart presentation techniques.
In a more interpretive take, the chef has deconstructed established Argentine classics and cleverly transformed them into haute cuisine using seasonal ingredients. During the year, Chila's 10 different menus continually rotate; so, depending on when you visit, you might order ostrich pâté with manioc or smoked eggplant with Criolla sauce. Then too, consider a Patagonia toothfish smothered in oyster sauce and pomegranate.
Don Julio: what Argentine "Asado" is All about
Winning the title of best parrilla (steakhouse) in a country of parrillas is a formidable feat, yet this is exactly what Don Julio has managed to achieve. With humble beginnings as a mom-and-pop restaurant, the establishment today holds a position as a veritable national institution.
Situated beneath a striped awning on a non-assuming corner in the city's low-rise Palermo neighborhood, you'll step through the wooden doors of this much-beloved steakhouse to come face-to-face with all sizes of Asado (grilled steaks) sizzling on a massive 110 square-foot indoor grill.
The walls you'll find lined with racks of wine bottles, as smartly dressed waiters dash from table to table explaining the various cuts of meat and recommending the best wines to pair with each cut.
Diners who pack this rustic space consists of a mix of local porteños (people from Buenos Aires, the port city) and visitors, all making a pilgrimage to this revered steak temple and wine sanctuary to savor every bite …too busy to chat.
Mishiguene: updating Argentine-Jewish haute-cuisine
Translating from Yiddish as "crazy" or "eccentric," the Mishiguene restaurant began as the Jerusalem-born chef's idea of opening an upscale Jewish eatery in Buenos Aires.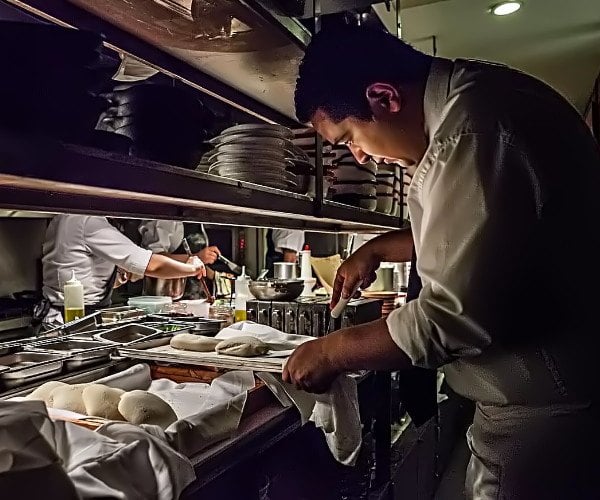 Serving up what he describes as "immigrant cuisine," chef Tomás Kalika's menu takes the diner on a journey through Ashkenazi, Sephardic, Israeli, and Middle Eastern food traditions – essentially dishes sprung from the food memories of immigrant Jews around the world.
The cozy space is convivial, filled with tables of varying sizes, walls lined with photographs and, more often than not, filled with a crowd that's quite …animated.
The pastrami comes in salty slabs, the latkes are crispy, and the tangy hummus should be drizzled liberally on every plate. Order whole roasted cauliflower dressed up with labneh, matbucha, and silky tahini, which you can enjoy alongside delicious homemade bread.
Typical dishes include dishes like sous-vide guefilte fish wrapped in carrot ribbons and topped with fish roe and microgreens; and Mi Baba Ganoush with char roasted eggplant, yogurt sauce, toasted almonds, and tahini;
But there's more. Every Friday night, Mishiguene celebrates Shabbat, when the whole restaurant breaks out in song and dance while led the live music of a klezmer band.
Tegui: ushering Argentinian cuisine onto the world stage
Less than a handful of South American restaurants have made their way onto the World's 50 Best Restaurants list, yet Tegui made its appearance here in 2017, helping to secure contemporary Argentine cuisine on the international map.
Frantic street art adorns the façade, centered by an iron security door with tiny lettering. Yet, when stepping into the Tegui restaurant, you'll enter a contrasting ambiance of restrained elegance.
This intimate, intentionally under-the-radar setting seats only 45 in a narrow living room with antique wood floors, black-painted ceilings, and picturesque lamps. The true beauty resides in the calming banana-tree-filled central garden and the brilliantly lit open kitchen. Both are visible in the background and each lends a theatrical tone. At the same time, the smart wine cellar holds over 300 labels and it tucked away in the impressive underground cellar that oenophiles will only adore.
Within the kitchen, a team of chefs serves an innovative tasting menu of contemporary Argentine cuisine, with starters like seared red tuna in almond gazpacho garnished with raspberries and arugula sprouts, followed by entrees like veal tenderloin served with potatoes and chimichurri layered with an egg and Brazilian manioc flour. For dessert, you can look forward to postres like a sophisticated banana split with coconut ice cream, gingerbread flakes and cream infused with Cognac.
Known for its smart interior setting, fantastic service, and an equally sophisticated menu, Tegui is one of the most sought-after dinner date setting in Buenos Aires.
El Baqueano: endemic ingredients making for a singular experience
Serious food lovers journey across Argentina on an exploration of exotic ingredients. The result? A memorable tasting menu and wine list at the El Baqueano restaurant.
Located on a nondescript corner in the Bohemian-style San Telmo barrio, a recent revamp has modernized the establishment, with the impressive wine cellar is now a focal point. However, despite this physical overhaul, El Baqueano remains exceedingly friendly and relaxed.
Dedicated to an eight-course tasting menu featuring locally harvested produce and carnes autoctonas (endemic wild game), chef Fernando Rivarola scours the country in his quest to unearth native ingredients.
From this effort, the restaurant features locally harvested produce for a menu that includes llama carpaccio (super thin slices of llama meat with three-color quinoa), falso bife de chorizo (a deceptive yet eye-catching fish dish), wild boar and even caiman dumplings.
At the same time, owner and sommelier Gabriela Lafuente handpicks some of Argentina's best bottles, selecting these for taste and pairing marriage, instead of wines that are simply popular at the moment.
Follow the path cleared by El Baqueano, which means "the guide," to find genuine and lovely service, a well-curated wine list, and an always an interesting experience.
Elena: an upscale take on classic Argentine flavor
This classic gem located in the Four Seasons Hotel of the capital city's smart Recoleta neighborhood is known for its savory BA cuisine revered by all culinary tastes.
An oasis in the city for breakfast, lunch, and dinner, Elena is a Buenos Aires institution that appeals to the whole family, making it the ideal spot for special occasions and family gatherings, as well as travelers unfamiliar with porteño dining and even for those seeking a quiet place for a late-night drink.
The setting is identifiably South American, with antiques as decor and artisanal furnishings. The luxurious two-story space within a historic building features a grand spiral staircase, lush wood, and leather furnishings, in addition to an open kitchen with a large marble butcher's block.
This stunning courtyard restaurant glows with light and features an exceptional wine service and an extensive selection of 200 labels of local Argentine wines. Complementing this is its impressive selection of Argentina's finest meats straight off the grill. Carnivorous dishes like 45-day dry-aged T-Bone steak and Argentinian kobe beef are prepared on the house's rotisserie.
To top it all off, every Sunday Elena serves one of the best and most popular brunch buffets in Buenos Aires, with everything Argentinian served with style and panache.
Gran Dabbang: a laidback joint whose flavors make you sit up
Gran Dabbang's young chef has been instrumental in bringing together Asian flavors, ingredients, and dining style with Latin American flair to create an original sensory experience.
Smartly set up with communal tables, a couch, and a few other close-together tables, the decor is minimal and the space has a relaxed, casual coffee-house vibe.
Similarly, you'll have only around 10 small but savory plates to choose from, with each dish served on camping ware.
Forgoing the frills, Gran Dabbang lets the food speak for itself in a laidback approach to dining.
In fact, the main star of the show is the food, as the menu focuses on bold flavors: think Indian and Southeast Asian influences, with South American roots. Standout dishes include the fainá, a chickpea cake topped with burrata, harissa, and smoked eggplant; lamb curry with coconut chutney and raita; and Swiss chard pakoras.
But keep in mind, as the meals are designed to be shared, the first-come-first-serve dining at Gran Dabbang's can be fast and furious. So, as each diner strives to get their fill of the delectable offerings, don't be timid. Dig in quickly, since a hungry table of four can easily go through the entire mouthwatering menu.
Narda Comedor: an cctive promoter of health-conscious dining
Chef Narda Lepes built her Narda Comedor restaurant (meaning "Narda's Dining Room") around a few simple concepts. She sought to encourage people to 1) eat seasonal produce, 2) include vegetables, 3) drink plenty of water, 4) try new things, and 5) eat well-balanced meals.
Opening her Buenos Aires restaurant in 2017, Narda wanted to show what a healthy diet looks like to her fellow Argentinians while proving to them that food could be healthy and delectable at the same time.
Narda — a household name in Argentina as a TV producer, a book author, and a chef — promotes dishes that feature fruits and vegetables, giving center stage to produce such as cauliflower, onions, bananas, nuts, and legumes, with meats and other proteins often accompanying these to add extra flavor.
One of Narda's signature dishes features an onion with 72-hour reduced beef broth, a juicy and flavorsome creation that is also easy on the stomach. Other highlights include chicory with herbs cream and egg, and cabbage with cauliflower purée and blood sausage.
Bonus points go to Narda Comedor in its bid to be a more inclusive employer. The restaurant hires and trains women over 60 years old to work in front of the restaurant at lunchtime.
Argentina is recognized the world over for its exquisite wines, seductive landscapes, and exhilarating tango, all of which you will get to experience on a Buenos Aires tour.
Still, when traveling here, be sure to add at least one of these restaurants to any visit – you'll literally taste the essence of this captivating city.
Alfonso Tandazo is President and CEO at Surtrek Tour Operator. Surtrek Tour Operator is a well-established firm, specializing in custom-designed luxury tours in Ecuador, the Galapagos and throughout the rest of South America.
If you would like to be a guest blogger on A Luxury Travel Blog in order to raise your profile, please contact us.