One of the most anticipated parties on Brazil's calendar, Carnival has, over the centuries, become an integral part of national culture. However, it is neither a Brazilian invention nor is it celebrated in Brazil only. In fact, Carnival dates back to Ancient Mesopotamia, Greece, and Rome. In Brazil, the revelry began in the colonial period with Entrudo, a festival introduced by the Portuguese and celebrated by slaves in the colony. Then came the cordões (street blocks), dancehall parties, corsos (parades), and samba schools, which, especially in Rio de Janeiro, have taken on the look of a major production and have enchanted the whole world for decades. But there's more to Carnival than just samba: it includes other traditional cultural and regional manifestations such as afoxés, frevo, and maracatu. From North to South, there is no shortage of attractions to indulge in. Check out these four insider tips to have fun:
1.São Paulo: the spectacle of samba schools in Brazil's largest city
In Rio and São Paulo, Carnival is taken very seriously. The two largest cities in the country start to prepare for the traditional samba school parades almost a year in advance. Behind each samba school there is a veritable industry of seamstresses, dressmakers, and musicians, who practice year-round on the school compound (quadra) to put on a show of music, dance, and magic for the audience in the stands. The grand parades, filled with costumes and floats, gather hundreds of people who sing along the samba school's theme song (samba-enredo) throughout the show. Carnival kicks off on Friday with the parade of special samba schools at Anhembi sambadrome in São Paulo and is followed by Rio's parade. São Paulo has attracted a growing audience, not only to samba schools, but also street carnival blocks have gathered a record-breaking number of attractions and revelers each year. In 2019, there were 516 street blocks and 556 parades for about 14 million people between pre- and post-Carnival. In 2020, over 800 blocks are already scheduled for a total of 960 parades.
Luxury hotels in São Paulo (Hotel Unique, Fasano, Emiliano, and Palácio Tangará) provide exclusive experiences for their guests in this Carnival and give them all the support they need to watch the samba schools.
2.Rio de Janeiro: spectacular samba parades
Rio is taken over by a contagious energy that captivates both Cariocas and tourists from all over the world. Rio's Carnival offers fun for all audiences: from traditional street blocks to glamorous balls (especially the Belmond Copacabana Palace ball), with the height of revelry taking place at the Sambadrome. Designed by renowned architect Oscar Niemeyer, the Sambadrome, also known as Passarela do Samba, can accommodate over 72,500 spectators on each of the five parade nights.
Learn more about how to enjoy the revelry while staying at luxury hotels in Rio de Janeiro (Janeiro Hotel, Fasano Rio, Emiliano Rio, Fairmont Copacabana, and Belmond Copacabana Palace).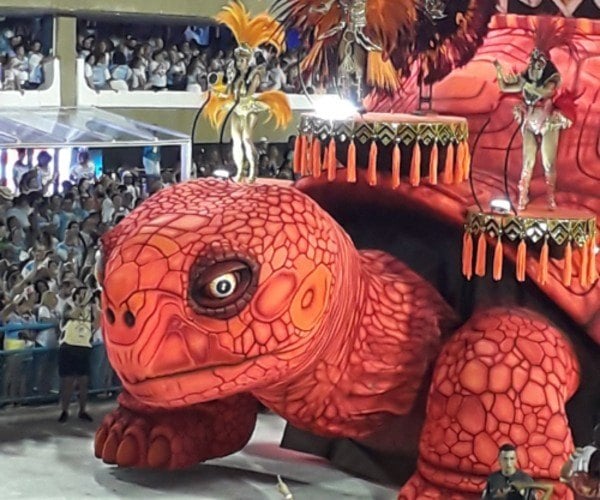 3.Recife and Olinda: party to the rhythm of frevo and maracatu
The largest carnival blocks can be found in Pernambuco, especially in Recife and Olinda. The largest and most famous one is 'Galo da Madrugada'. Each year this block draws over 1 million people to parade through the central streets of Recife. But 'Galo da Madrugada' is only the first to kick off the carnival season. To add to the fun, different stages throughout the city play a variety of contagious rhythms, such as frevo, coco, maracatu, and caboclinhos. Olinda is famous for its giant figures that roam its steep streets along with a crowd, filling this colonial town with dance and colors. The very name of the town, meaning 'Oh beautiful!' in Portuguese, seems to describe all the beauty of this revelry. Everything here is planned with lots of creativity and joy for the Carnival days, but if you prefer to bask on the beach, you can enjoy the tranquility of the resorts in Porto de Galinhas. After so much revelry, nothing better than having a good time in Porto de Galinhas, at Nannai Resort, where fun is guaranteed with a good dip into the sea!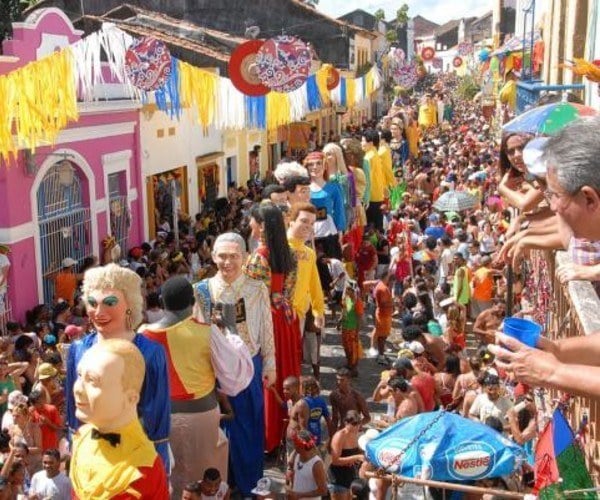 4.Salvador: behind the music truck
Six festival days in a row, at least officially. Carnival in Salvador attracts a crowd of revelers to the streets of the capital of Bahia. The main attraction here is to follow one of the trios elétricos (music trucks) as the entire city of Salvador stops to watch this great popular and cultural event. The celebration brings together a wide diversity of musical styles and cultural traditions. Trios elétricos are huge trucks equipped with lights and sound system, on top of which popular Brazilian performers sing and dance. Trios elétricos by Dodô & Osmar, Ivete Sangalo, and other artists parade through the city playing axé music, as well as afoxés and African Brazilian blocks such as Olodum, Timbalada, Filhos de Gandhy, and Ilê Aiyê. It's impossible to resist the axé from Bahia. The word Axé (pronounced ah-SHAY) comes from a Yoruba term meaning 'power, energy, or force present in every being or thing.' In African Brazilian religions, the term represents the sacred energy of the orishas. To enjoy the Carnival in Bahia in an accommodation with complete facilities, stay at Fasano Salvador.
5.Paraty: fun in a colonial setting
Located in southern Rio de Janeiro state (near the border with São Paulo state) and far from the buzz of big cities, the bucolic and historic town of Paraty (recognized by UNESCO as a World Heritage Site for its preserved colonial houses) is a fun alternative during Carnival. For four days, you can come across figures and costumed people playing in the cobblestone streets of the Historic Center, where the idea is to have spontaneous, relaxed fun. Seven organized street blocks attract hundreds of revelers throughout the season, but one of them has become the most popular: Bloco da Lama (mud block). It was created on a Carnival Saturday more than 20 years ago by a group of friends who were bathing in the medicinal mud of Jabaquara Beach and, when they found themselves unrecognizable with the mud, decided to hit the streets to play incognito. Ever since the block has attracted more and more people each year, who have fun muddy from head to toe and covered in rags.
Casa Turquesa and Pousada Literária, both in the historic center, offer the best accommodations for party-goers and the best rest for those who prefer to skip the party.
Simone Scorsato is Executive Director of Brazilian Luxury Travel Association. BLTA's main objective is to promote and strengthen Brazil as a travel destination to the global luxury market.
If you would like to be a guest blogger on A Luxury Travel Blog in order to raise your profile, please contact us.