An African safari is a bucket list item for many. No doubt. The problem being: will there still be safaris to go on in years to come? Amazing African animals to see? With endangered species on the rise, and desperately decreasing numbers of some of the most magical beasts known to man, if African safaris are still to be an option in the future, the way we travel must change today. Fortunately, many companies, like Rhino Africa, know this, and are tailoring their travel opportunities accordingly.
Rhino Africa, along with a thankfully ever-increasing number of African travel providers, is guided by a pure love for the glorious continent that is Africa. Along with the trip of a lifetime, travel with companies like these means your bucket list trip is actually doing more than fulfilling your own dreams: it's playing a role in the betterment Africa's people, preservation of its wildlife, and conservation of its landscapes. Here's how your bucket list trip with Rhino Africa is helping preserve the magic of Africa for generations to come.
The Wildlife ACT
In 2012, Rhino Africa formed a strategic partnership with The Wildlife ACT. This team of conservationists is completely dedicated to bringing endangered and threatened wildlife back from the brink of extinction. Rhino Africa is passionate about helping them, offering funding – generated by your travel dollars – and support in any way possible.
Save the Rhino Trust
It's true what they say: unicorns do exist… they're called rhinoceros! Like fairytale unicorns though, they too will become creatures of myth and make believe if we don't continue to do everything in our power to save the rhino. Rhino Africa continues to partner with Namibia's Save the Rhino Trust to help protect the endangered desert-adapted black rhino population in Damaraland, Namibia. Travel with them and you too can become protector and rhino-hero.
Khumbulani Day Care Centre
Khumbulani Day Care Centre is a haven for 300 HIV Aids-infected and -affected children; developed from humble beginnings by Gloria Bebeza, and with the support of Rhino Africa, it provides an incredible sense of community to help combat this dreadful disease.
Challenge4aCause
By travelling with a cause with socially responsible companies, you're supporting conservation and community based support efforts like Rhino Africa's Challenge4ACause. This annual cycling event raises money to support the conservation of Africa's endangered animal and plant species and finances projects that uplift poor communities. No bike-riding required to be a part of positive change! (Although wouldn't it be fun?)
Good Work Foundation
For long term conservation efforts to continue, we need to inspire next generations leaders. The key to this? Community upliftment and education. Programs like Rhino Africa's Good Work Foundation aim to do just this – but they need our help to do it. Travel with Rhino Africa, fulfil every African dream you've ever had, and support future conservationists and innovators in their African dreams, where the land not only survives but thrives.
Doing good and leaving a legacy in Africa
By travelling with a company committed to conservation, you are supporting their efforts to keep the African safari experience on bucket lists of future generations. More than this, you can be a part of saving endangered species, uplifting local communities, enriching lives, funding conservation projects, and keeping the African dream alive.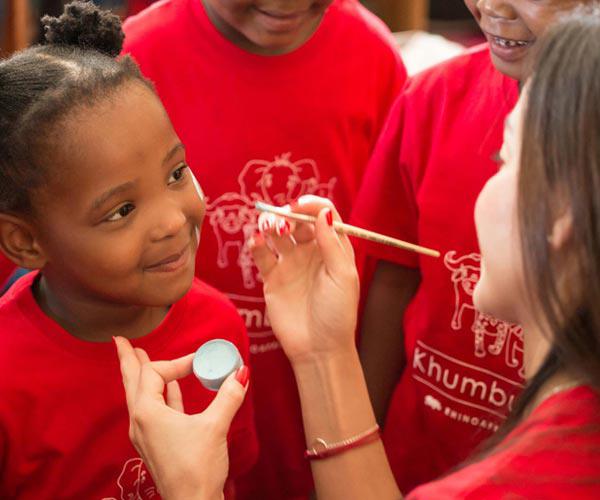 Disclosure: This post is sponsored by Rhino Africa.