Whilst Italy starts to see a partial easing of its lockdown restrictions, amidst mixed emotions of fear and joy, we hope that scenes like this will soon be more accessible to everyone.
On August 21, 1869, Paul Grohmann (alongside guides Franz Innerkofler and Peter Salche), completed the first ever ascent of Cima Grande, the highest of the three peaks that make up Tre Cime di Lavaredo. Exactly 10 years later, to the day, Michel Innerkofler and G. Ploner took the first ascent honours for Cima Ovest (the second highest of the three) on August 21, 1879. And on July 25, 1881, Michel and Hans Innerkofler became the first climbers to reach the peak of Cima Piccola – the third highest, but also the most difficult of the three peaks.
You don't have to aspire to these great heights  and achievements to enjoy the Tre Cime di Lavaredo (Italian for "Three Peaks of Lavaredo") though. These three distinctive battlement-like peaks, found in the Sexten Dolomites of northeastern Italy, are equally as impressive from your car as they are on foot. Either way, you are in for a breathtaking moment of wonder and awe. Brace yourself.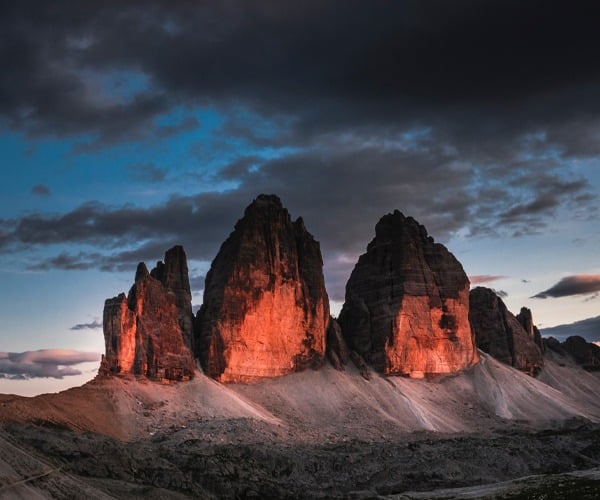 Probably one of the best-known mountain groups in the Alps, the three peaks of Tre Cime di Lavaredo are, from east to west, Cima Piccola – "little peak"; Cima Grande – "big peak"; and Cima Ovest – "western peak". Declared as a UNESCO World Heritage site in 2009, this trio is often used as the poster family for the Dolomites, with thousands visiting each year to tick this view of their bucket lists of amazing sights in amazing places.
The best way to truly appreciate the raw, rugged, yet carefully sculpted-by-nature beauty of Tre Cime di Lavaredo though? Undoubtedly by going all in and tackling one of the hikes in the area. The most popular, and manageable, of these being the Tre Cime di Lavaredo Loop – a 10km, 3-4 hour, relatively flat hike (expect an elevation gain of about 340m), which loops around the three majestic peaks, giving you eye-watering vistas from all sides.
When to go? The road to Rifugio Auronzo, the starting point and car park, typically opens in early June and closes with the first snow or the end of October, whichever comes first. But the best time to go would be in early summer when the wildflowers are in bloom, giving you a double dose of nature's wonder.
Whether you choose to visit for a quick photo opportunity, to hike the Tre Cime loop, or to stay overnight one one of the longer hikes in one of the most breathtaking parts of the world, you will not be disappointed.
If you have a really special photograph you would like to share with A Luxury Travel Blog's readers, please contact us.