Active outdoor types and those simply seeking sunshine and serenity will both be enamoured with the tropical Bahamas islands and the Florida Keys, made all the better when your accommodation, transport and entertainment go with you everywhere on a luxury yacht charter.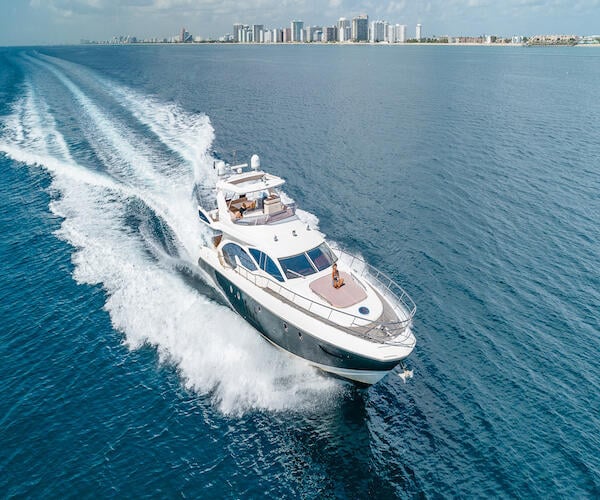 Avoid the traffic jams and set your own timetable, waking up to the sight of a different white sand beach every morning. Take a look at some of the best spots to visit in 2020 and to plan ahead for 2021.
The Florida Keys
You don't need to go far to literally immerse yourselves in a world of wonder – the John Pennekamp Coral Reef State Park is world famous for its Scuba diving and snorkelling among vibrant thriving coral reefs in the shallows. Elliott Key near Biscayne Bay is a wonderful stop for playing with the water toys followed by lunch on the beach and a hike along the scenic trails. Miami Beach is just a short cruise away for shopping, the Bass Museum, galleries and a sensational nightlife.
The Bahamas
With so many islands to choose from, the possibilities for what you see and do are almost endless: The Abacos Islands are a popular stop for many because of their incredible snorkelling and Scuba diving sites just a few metres beneath the surface. 'The Fly Wheel' is home to colourful yellowtail snappers and chubs that glide through the sunlit tunnels, and Reef sharks, manta rays and sea turtles are often spotted in the region. 'The Maze' at Scotland Cay is a complex tangle of reef home to many stunning fish species that will impress visitors of all ages, and back on land visitors can see the endangered Abacos Parrot among pine forest within the Abacos National Park.
Another memorable sight is the pink sand beaches along the eastern side of Harbour Island, which make the perfect location for a proposal or honeymoon under vibrant skies at sunset.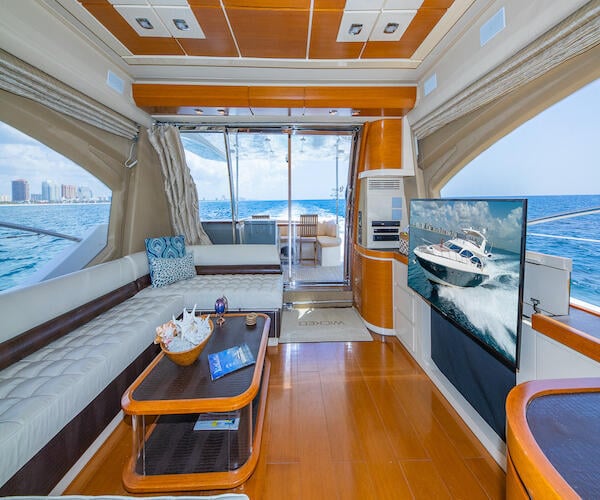 When it comes to modern entertainments, Nassau is at the heart of luxury shopping in the Bahamas. Paradise Island in particular is known for its casinos, and guests can indulge in some pampering with the available spa services.
Although it's not difficult to 'disappear off the face of the Earth' in the Bahamas, visitors who truly want to get away from the modern world should head south to the Inagua Islands. Nature flourishes here as young green turtles and endemic and migratory bird species are protected by reserves. Around 80,000 flamingos live on the island, along with hummingbirds, the Bahama Parrot and many other species besides that look majestic when captured on camera. To get to this sensational location visitors can add other amazing destinations along the way, such as Dean's Blue Hole – the world's deepest blue hole – on Long Island and the Bight of Acklins, a shallow and sheltered snorkel site teeming with sea life and fringed with white sand beaches.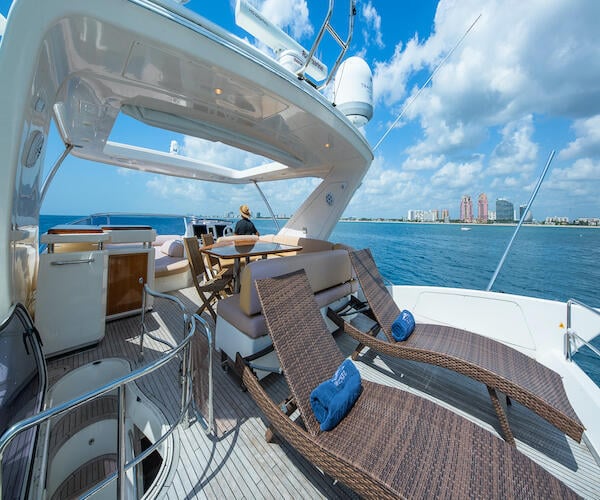 Motor yacht WICKED is an ideal family-sized vessel with the power and speed to take you to multiple destinations among an island chain: Spend the afternoon snorkelling and fishing on the islands and cay surrounding New Providence Island, then return to Paradise Island in time for its sensational nightlife and casinos while the crew take care of any children in your group.
The interior offers a comfortable large space suffused with natural light, where guests can admire the changing scenery or while away time in transit with a film on the widescreen TV. On the lower deck the accommodation sleeps up to eight guests across four en-suite cabins consisting of a Master suite, a VIP stateroom and two twin cabins ideal for two families with children.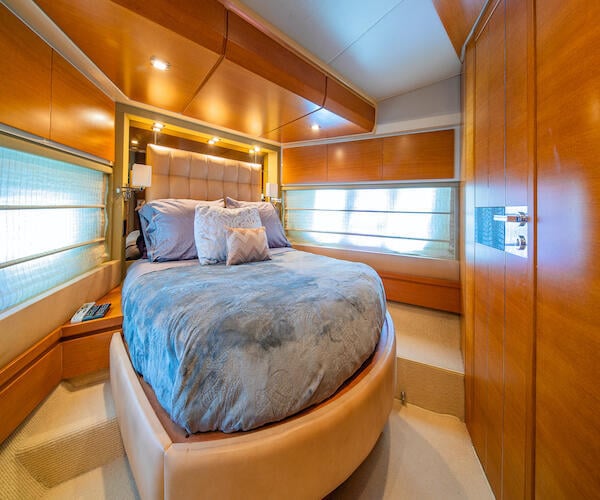 Outside, there's ample room for alfresco dining, and the flybridge above comes with a bar for a steady flow of refreshments throughout any social occasion. When all you want to do is stretch out in the sunshine, the flybridge and foredeck sunbeds will prove all too tempting to relax with uninterrupted views of your piece of paradise.
Whether celebrating a special occasion or treating yourself to an extended break, Florida and the Bahamas offer the perfect weather and scenery to recharge and leave behind your cares.
Trina Howes is a Director of CharterWorld America. CharterWorld is a luxury private yacht charter company that creates outstanding vacations with excellent yachts at amazing prices – worldwide.
If you would like to be a guest blogger on A Luxury Travel Blog in order to raise your profile, please contact us.