By
Paul Johnson
on Jul 31, 2020 in
Accommodation
,
Attractions
,
Florida
,
Going Out
,
North America
,
Regions
,
Resorts
,
Restaurants
,
Spas & Pampering
,
Speciality Travel
,
USA
Encompassing the communities of Port Salerno, Stuart, Palm City, Jensen Beach, Indiantown, Jupiter Island, Hobe Sound, Sewall's Point, Rio and Hutchinson Island, Martin County in Florida serves up more than 22 miles of beautiful uncrowded beaches and over 100,000 acres of parks and conservation lands – not to mention the most bio-diverse lagoon ecosystem in the Northern Hemisphere, the St. Lucie Inlet. But aside from natural wonders, Martin County also offers well-heeled travelers a range of luxurious experiences to indulge in. Below are some of Martin County Office of Tourism and Marketing's favorites.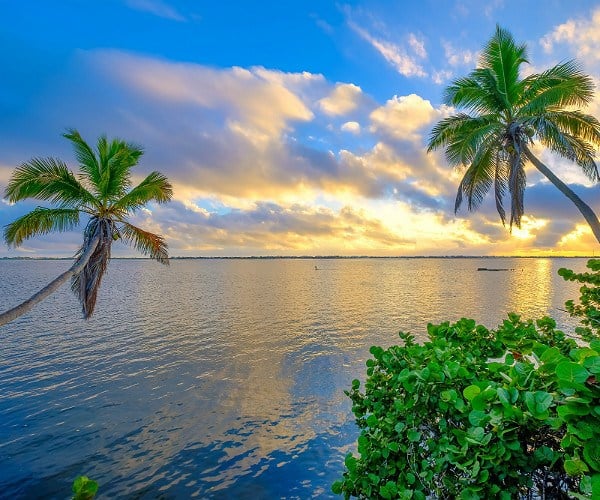 Book an oceanfront suite
Searching for oceanfront views that will take your breath away? Then look no further than the Hutchinson Shores Resort & Spa in Jensen Beach. The coastal-inspired respite offers 178 guest rooms that reflect the ocean's color spectrum of blues, greens and pearl. Greeted by a welcoming, architecturally beautiful lobby with a grand, floating staircase and elegant features, guests of the resort enjoy interiors outfitted in a décor of classic marble, rich leathers, sand-colored hues, bold stripes and delicate foliage accents. The resort's range of oceanfront suites offer breathtaking, unobstructed views of the Atlantic Ocean that are sure to melt your worries away.
Schedule a sunset sailing
Glide on inland waters (without the disruption of an engine) during a romantic excursion aboard the Schooner Lily. The historic wooden schooner rig was purposed built to haul cargo throughout the United States. After extensive renovations, she is now outfitted to offer people a unique experience and has been sailing the shores of Martin County since 2010. Help raise the sails or simply sit back and relax. Sunset sails are just under two hours in length, and passengers can bring their own picnic with snacks and beverages. Don't forget your binoculars – it's common to see local wildlife like dolphins splashing around as the sun sinks beneath the horizon.
Treat yourself to a rejuvenating spa treatment
There's no better way to truly unwind than with an immersive spa treatment. Guests of the Hutchinson Shores should take advantage of The Spa, which offers a range of signature spa experiences such as restorative facials, detox body wraps, stone massages, deep tissue treatments, reflexology, and more. They even offer a selection of day packages for a seamless experience. The Pink Cottage of Jensen Natural Day Spa is another popular option for visitors seeking relaxation. Tucked away in downtown Jensen Beach, their team offers a diverse collection of services, ranging from Mommy and Me packages to male-focused treatments. For a unique experience, visit Salt of the Earth Halotherapy & Spa in Stuart and try their dry salt therapy in a beautiful Pink Himalayan salt room. Antibacterial, antifungal, and anti-inflammatory, the treatments have been used to remedy a host of respiratory and skin issues.
Enjoy upscale eateries
Martin County simmers with enticing flavors, unique experiences, and mouthwatering selections. Alfresco or indoors, casual or extravagant, International or Caribbean, New World or Floribbean–Martin County plates them all. From waterfront views to charming villages, we have local flavors to satisfy every palate, served with a side of hometown hospitality and service. Some favorites include the newly renovated Black Marlin and the Gafford in Stuart; 11 Maple Street and Peter's Steakhouse in Jensen Beach; and the District Table & Bar in Port Salerno.
Explore Downtown Stuart's beautiful boutiques
In need of a little retail therapy? Then be sure to stop into the eclectic independently owned shops sprinkled throughout historic downtown Stuart. The unique assortment of boutiques will suit every style. To find that perfect necklace or pair of earrings, pay a visit to Eric Michaels Fine Jewelry or Argento Jewelry. Art lovers can peruse the one-of-a-kind masterpieces of local artists at galleries like Joseph Lynn Décor Gallery and Gallery 36. And there are countless clothing establishments featuring ever-changing inventories, like Gumbo Limbo Coastal Chic, Matilda's, and O'Sole Mio.
Hit the green
Channel your inner Jack Nicklaus and spend an afternoon putzing around one of Martin County's beautifully manicured golf courses. Some of the more challenging courses include Hammock Creek Golf Club in Palm City; Willoughby Golf Club in Stuart; and Lost Lake Golf Club in Hobe Sound. Youngsters will also get a kick out of a round of mini golf at 76 Golf World in Stuart. And the Martin County Golf Course is currently being redesigned to offer more of a golf experience (on par with the likes of TopGolf or BigShots) and is set to reopen sometime next year.